Chocolate freakshakes, Toblerone cocktails and a spa treatment that's good enough to eat – celebrate Chocolate Week with fair trade chocolatiers Divine.
Divine Chocolate has teamed up with chefs, restaurants, bakeries and bars across the country to celebrate Chocolate Week from October 10-16.
And to make sure you don't miss out, we've compiled a list of the best places to visit and recipes to try to satisfy your sweet-tooth this week.
Chocolate Layer Cake by Martha Collison
Fairtrade and farmer-owned chocolate company Divine has teamed up with Martha Collison – author of new baking book 'Twist' and youngest ever Great British Bake Off contestant – to create this indulgent chocolate cake with a sharp passionfruit curd filling.
Try it for yourself here.
Toblerone Cocktail by London Steakhouse Company
Head to Marco Pierre White's London Steakhouse Company for their take on a classic Toblerone Cocktail for Chocolate Week.
An indulgent concoction of Divine's Milk Chocolate Toffee & Sea Salt and Milk Chocolate with Whole Almond, served in a chilled Martini glass in the Chelsea restaurant, and as a Shake in the City venue.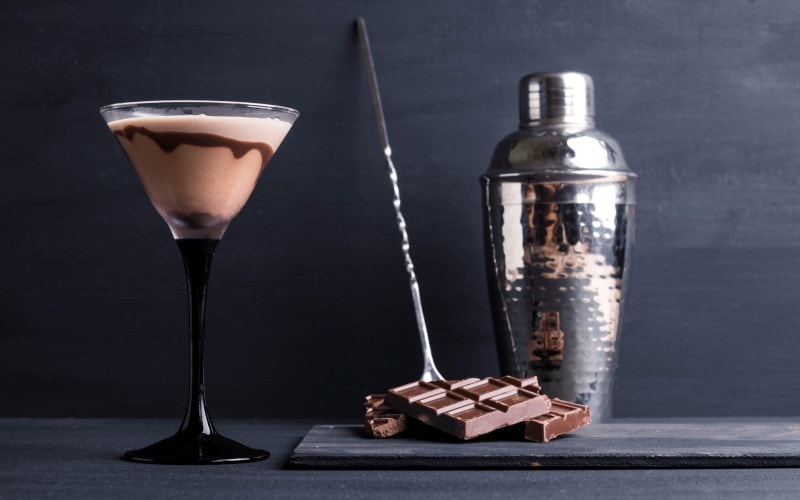 Chocolate Freakshake by Molly Bakes
Not your average chocolate milkshake – these indulgent drinks are a great way to wow your guests this Chocolate Week.
Let creativity shine in your kitchen – the sky is the limit when it comes to toppings.
FAIR cocktails in Soho, Brixton, Mayfair, Nottinghill and Camden
Working with FAIR, the world's first brand of spirits resulting from fair trade production, Divine bring you the fairest cocktail in town to celebrate Chocolate Week.
Mixologists across the capital will be shaking and stirring up cocktails that are truly Divine, with Divine and FAIR rum or vodka-based cocktails being served at Soho cocktail bars Jinjuu and 68 & Boston, Brixton cocktail bar Eckovision, Mayfair's THE BAR at The Athenaeum and Portobello House in Notting Hill.
Lockside cocktail bar overlooking Camden Market will also be serving a FAIR rum, chocolate liquor and mint cocktail.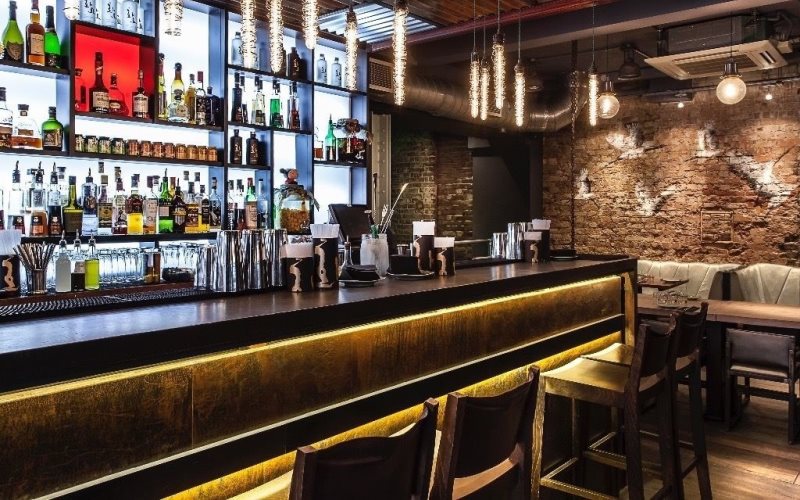 Milk Chocolate Cupcakes by Primrose Bakery
Primrose Bakery has re-created their signature cupcakes using Divine Milk Chocolate Baking Bars.
These limited edition cakes will only be around this week but you can give them a go yourself using this recipe.
Afternoon tea at Lancaster London
Lancaster London are once again partnering with Divine to provide an array of sweet-toothed offerings.
Indulge in a Divine Chocolate Tasting Plate with a delicious Divine Chocolate Trio including dark chocolate and raspberry fondant, white chocolate and strawberry ice cream and milk chocolate toffee and sea salt cheesecake, or for an extra taste of luxury, try a Chocolate Week Divine Hot Chocolate, served with a small bar of Divine Chocolate to melt into your hot chocolate for a bespoke taste experience.
Lancaster London will also be serving up a delicious duo of Divine Chocolate Afternoon teas. Following the launch of their hugely successful ARTea, Lancaster London will be putting a chocolate-y twist on their artist's favourites with an array of edible art, alongside Divine chocolate treats. State of the 'Art' Divine chocolate scones will be served with paint tubes filled with Cornish clotted cream and strawberry jam.
Or enjoy a traditional afternoon tea, with the addition of truly 'Divine' desserts: Divine milk chocolate scones, served warm with home-made strawberry jam and Cornish clotted cream, as well as Divine dark chocolate & popping candy lollipops. All teas and coffees at the hotel will be served with miniature Divine chocolates.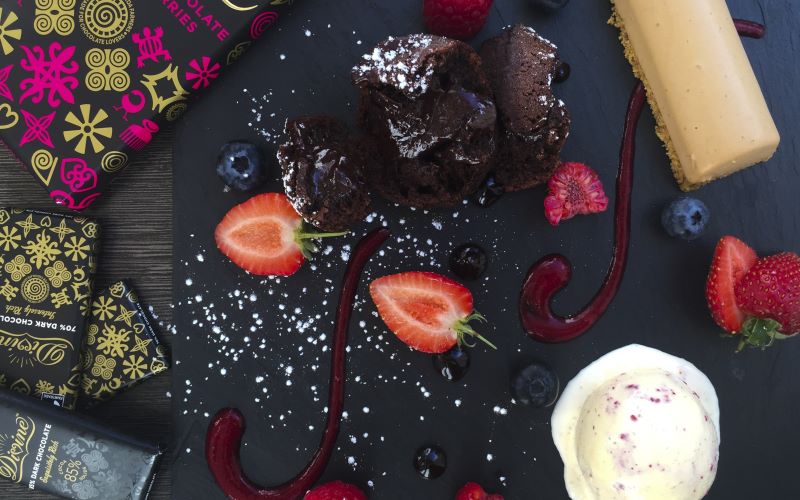 Chocolate and Caramel tarts at Tom's kitchen
Tom's Kitchen will be serving a Divine Toffee and Sea Salt Chocolate & Caramel Tarts across their four London restaurants in Chelsea, Canary Wharf, Somerset House and St Katharine's Dock during Chocolate Week.
Indulge in a limited edition Divine Tart, or enjoy a Divine mini bars with coffee throughout Chocolate Week.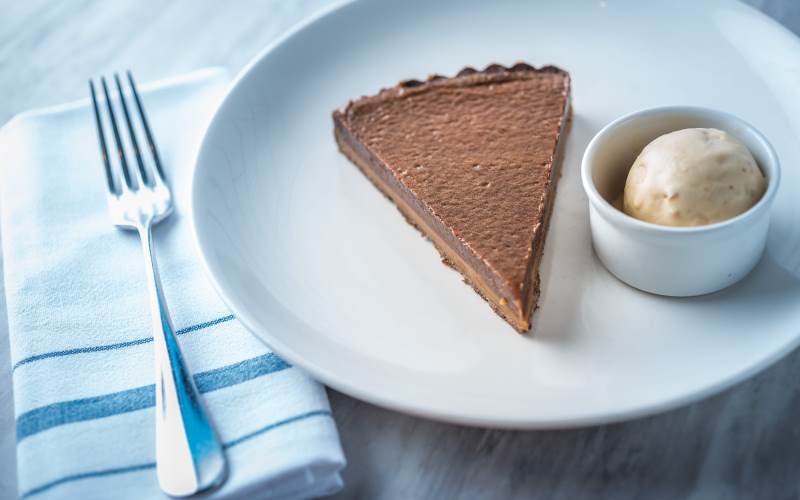 Penelope Choc at Brother Marcus – the Garden Café
Brother Marcus – the Garden Café in the heart of Balham serves all day brunch, Caravan Coffee, cocktails and loaded buns in the evenings.
During Chocolate Week they will be serving 'Penelope Choc', a decadent 70% Divine Dark Chocolate mousse cake with a chocolate biscuit base.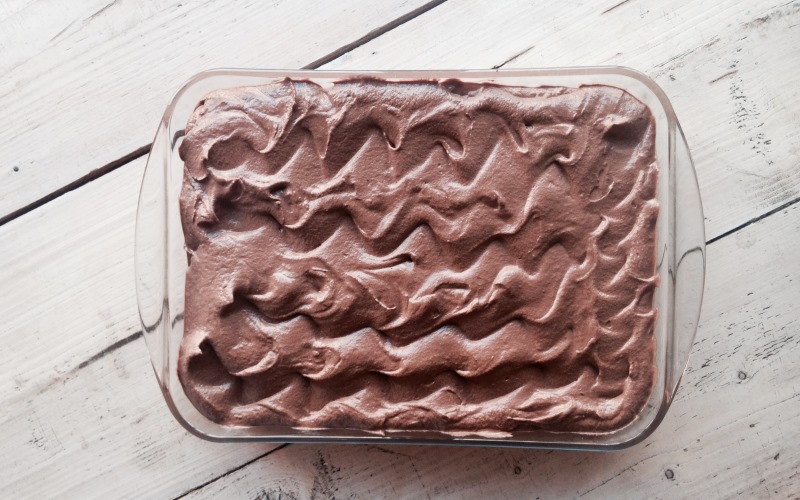 Choux Buns by Kooky Bakes
Kooky Bakes' choux buns are filled with rich Divine chocolate crème patisserie and topped with a cookie crust.
Impress your guests with this recipe.
Good Enough to Eat at K West Hotel & Spa
K West Hotel & Spa in west London will be offering a 'Good Enough to Eat' limited edition luxurious spa treatment harnessing the restorative powers and delicious scent of chocolate.
The treatment includes a Mediterranean orange scrub, back massage with sweet almond oil with a warm Divine Chocolate back mask to firm, detoxifying and hydrate.
Follow this luxurious treatment with a Chocolate Hopper cocktail in the Studio Bar, decorated with a Divine dark chocolate garnish.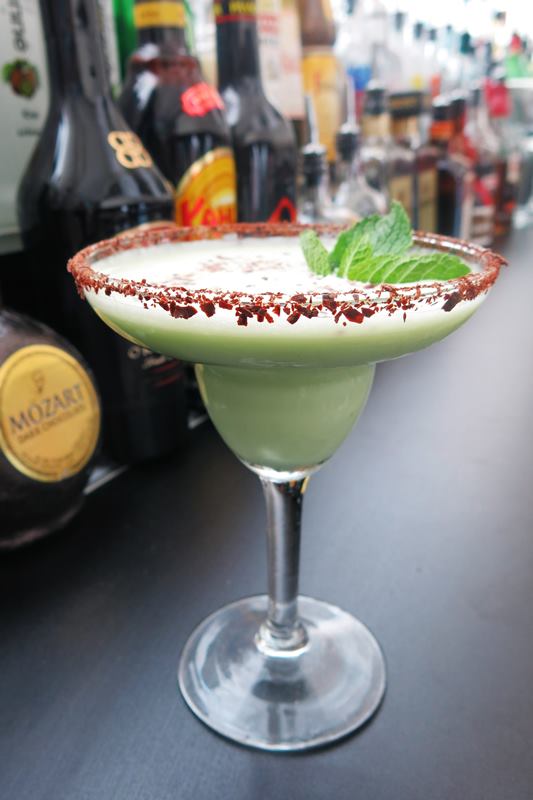 Want more? Head to The Chocolate Show at London's Olympia on October 15 and 16 to trial and buy Divine Chocolate, including the new Divine Chocolate Tasting Set.