An entrepreneurial duo opened their first restaurant in Twickenham last month amid increasing Covid-19 regulations.
Xhoi Hysa, 25, and his business partner Skender Shehaj, 23, planned to open Salty on Heath Road in February but put their passion project of two years on hold when the country went into lockdown.
Xhoi, who has eight years of hospitality experience working as a manager at several high-end London restaurants, said the decision to open on September 12 was a risk worth taking.
He added: "Even if it doesn't work out, I'd prefer paying 10 years of debt than a 25 year mortgage.
"It's not about making millions, it's about establishing relationships."
Xhoi and Skender declined to give a specific figure of how much they invested in the restaurant, but have since transformed what used to be Donna Lucia on Heath Road.
They now run the restaurant with just two chefs seven days a week from 11am-10pm.
The pair, originally from Albania, have been called 'brave' on social media for opening a restaurant during a pandemic, but the driving force behind their decision was the support from loved ones and neighbouring businesses.
He said: "We want to support our locals and they have been supporting us as well.
"The neighbours helped us build the website, gave us feedback and wished us good luck."
Xhoi said they source their bread from Ruben's Bakehouse, fish from Sandy's Fishmonger and meat from Browns Artisan Butchers, all of which are on helped create a menu with plant-based and meat options.
During lockdown the partners, who met after Xhoi began dating Skender's sister Valbona seven years ago, spent 14 hour days refurbishing Salty themselves to cut costs.
Xhoi said: "If you're doing it for your dream, you don't feel tired."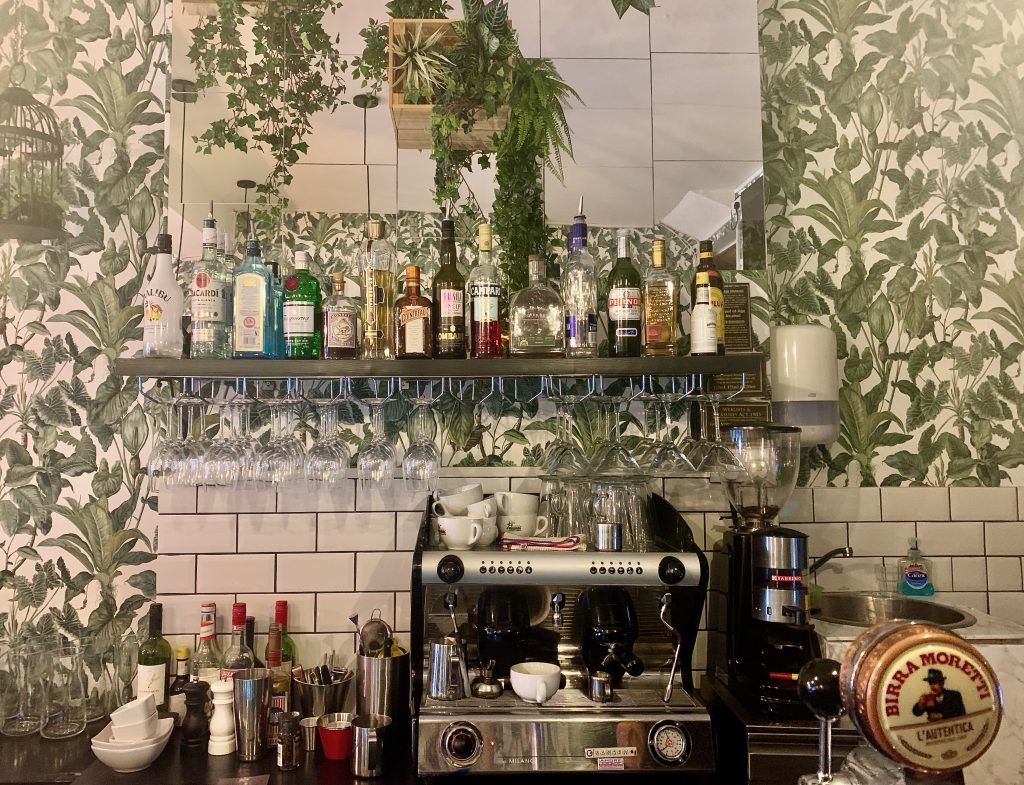 They put up botanical wallpaper, low-hanging lights and constructed a new bar fashioned with wood from the original restaurant exterior, which they said cost £800 less than the £1000 it would have taken hiring a professional.
The government's 10pm curfew on bars and restaurants postponed the duo's dream of turning Salty into Twickenham's late night cocktail spot, a venue they felt was missing from the area.
While the duo have a license to sell alcohol until 11pm, the curfew forced them to open earlier, broaden their breakfast menu and offer customers deals including 25% off the menu.
Xhoi said: "We didn't want to but we had to make our day longer."
The coronavirus hurdles encouraged them to get creative brainstorming future boozy brunches with fried chicken and Jackfruit waffles once a semblance of normalcy returns.
But normalcy remains far off for the hospitality industry. Kate Nicholls, chief executive of UKHospitality, recently announced they are anticipating the sector to suffer 560,000 additional redundancies by the end of the year.
Nevertheless, Xhoi remained optimistic about Salty's prospects: "We are definitely playing our part and supporting the government."
Salty isn't the only place fighting the pandemic to open in Twickenham, as a new brewery is also set to open in the area.
Feature image credit: Xhoi Hysa