The pakoras here are life-affirming: mushroom, broccoli and aubergine come together in a coat of golden batter. This is where it all started for Arvin Suntaramoophy, owner and chef at Amrutha Lounge, who used to sell these delicious fritters from a food truck at festivals up and down the country.
Daniella Santangeli, who has worked at this vegan restaurant in Earlsfield for two years explained: "The pakoras are incredibly popular.
"They're Arvin's own take on traditional Indian pakoras which are usually made with cauliflower. But he played around with different vegetables until he eventually found the sweet-spot."
And he really did. Crunchy at first but quick to dissolve on your tongue. They're so good you're put into a trance. Doused in homemade peanut satay and sweet chilli sauces, you know at once you're in safe hands.
"No Soul Goes Hungry"
Amrutha Lounge is a restaurant with a social conscience and one which caters for all budgets.
Unlimited refills mean you can eat till your heart's content and if money is tight you can volunteer some of your time in the kitchen in exchange for a meal.
This is one of the three core policies that underpin the values of the restaurant. The other two: BYOB (with no corkage fees!) and a Fair Price Policy that allows customers to pay whatever they like for a meal.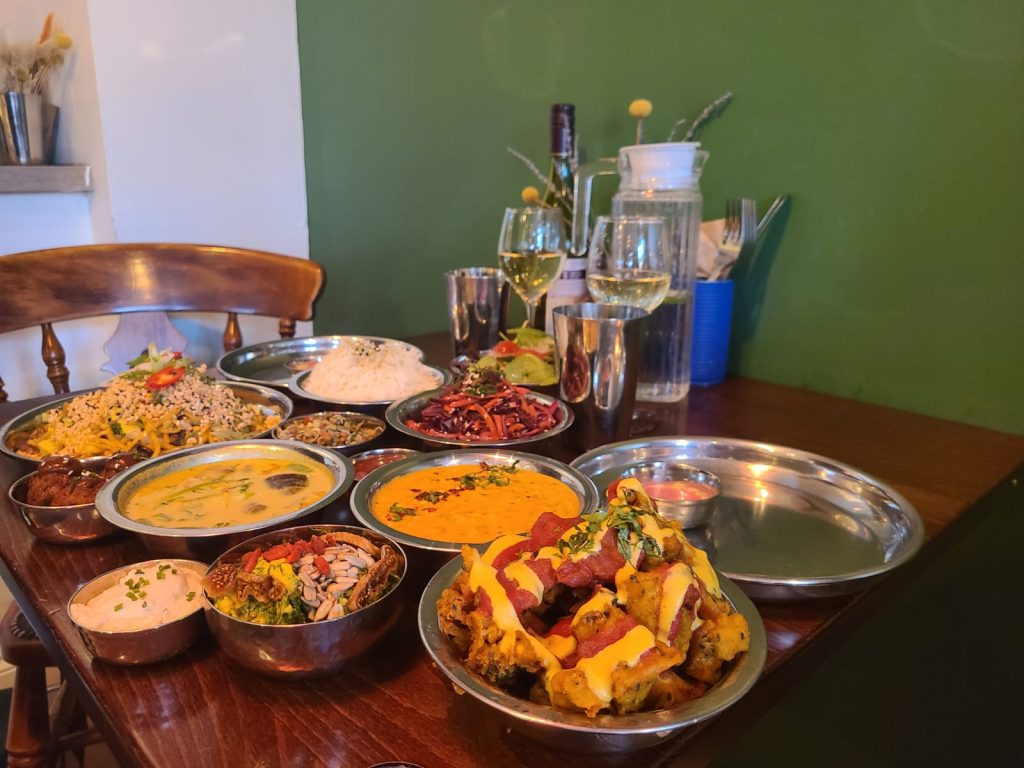 Next up I tried the lentil dahl. A hearty dish made with coconut milk, turmeric and rounded out with mustard seeds. It's creamy and comforting. Thick, not watery, and goes perfectly with the raw kale salad.
Daniella told me: "Kale is not usually that nice to eat raw unless you massage it for a long time to break down the fibres. We pair it with an orange dressing which gives it a lovely sweetness as otherwise it might be too bitter. Sunflower seeds are the base of the dressing and then we add oranges, orange juice and tamarind paste."
It really hits the spot with tropical, fragrant notes that subtly offset the dahl.
It would be amiss not to mention the cashew cheese: lemon, rosemary and salt are added in the blending process to create a versatile dish that, as Daniella said, is also great to spread on your toast or put in a pasta dish.
And this is what Amrutha wants you to do. Everyone is encouraged to take any leftovers with them so no food is wasted.
Trust me when I say you're in for a treat the next day too.
To discover more about Amrutha's menu, check out their Instagram page here.