By Lucas Hill-Paul
November 1 2019, 10.25
Follow @SW_Londoner
Brand new Peckham restaurant Babber successfully launched its innovative chargrill menu at the White Horse pub last week.
Guests kicked off their weekend early with free food and drink to celebrate the borough's hottest new spot for modish kebabs, the perfect accompaniment to after-work drinks.
For Babber's two-week introductory offer, visitors can enjoy 50% off all kebabs until November 8.
Head chef Joseph Ryan said: "Our focus with Babber is to bring some fresh perspective and quality ingredients to the humble kebab, keeping alive the essence, whilst exploring new and interesting flavour combinations."
Mr Ryan began his chef career with Hoi Palloi and Salon in Brixton Village, before heading up Peckham's summer rooftop spot Frank's Bar and opening the borough's vegetarian and vegan restaurant Wildflower.
While charcoal grill cooked kebabs don't immediately scream vegan, Mr Ryan says there's a little on the menu for everyone.
He said: "The world has definitely moved on in the last two or three years, but when I started restaurants were just trotting out the same old stuff."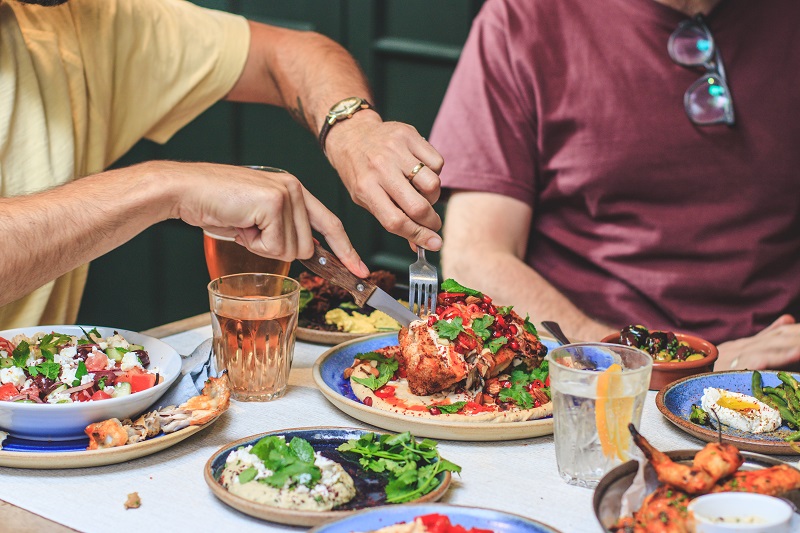 Co-owner Isaac Tooby said: "There's a vegan hero in the kebab section and there are lots of vegan small plates, but the nucleus would definitely be cooked meat."
He added: "Babber is a chargrill we're giving a clear identity, so if we want to we can move it elsewhere."
The new fixture in the pub has certainly achieved that, with a warm and inviting eating space behind the traditional front of house that feels distinct yet integrated within the White Horse's friendly atmosphere.
Last Thursday's selection of free samples began with a preview of Babber's incredible homemade flatbread with generous helpings of hummus and baba ghanoush.
A couple of satisfyingly crispy onion bhajis stirred up appetites for the main course, which proved to be the star of the show.
Designer Andrew Slade said: "To be treated to a lamb kofte of that quality is truly something extra special."
Chicken kebabs with harissa mayo, red cabbage, and apricot relish and the pork neck with n'duja, pickled turnips, and garlic yoghurt were also met with much approval.
As a vegetarian I was treated to the intriguing aubergine doner, paired with yoghurt, chermoula and bhajis, an incredible meat free take on classic drinking food that is guaranteed to bring veggie-conscious foodies back just as quickly as their meat-eating friends.
Babber is a thriving new spot, and Mr Ryan is keeping his fingers crossed that eventually leaving the EU won't hamper his support for Europe by sourcing ingredients from across the Channel.
He said: "Everything points towards the fact that importing stuff is going to get more expensive and I think it's a massive blight on the hospitality industry."
For now, Babber is taking Brexit in its stride and healing the country's divisive atmosphere with the cleansing power of great drinks and fresh and familiar food.
For more info, visit their website at www.babberkebab.co.uk.
Image credits: Spoonful Of Happy Photography