The Orange Tree Theatre in Richmond has continued its Recovery Season with the world premiere of Two Billion Beats. 
The coming-of-age play follows two sisters – Asha (Safiyya Ingar) and Bettina (Anoushka Chadha) – as they navigate various struggles at school.
Bettina looks to her older sister for guidance and protection, waiting for her at the bus stop every evening to avoid the bullies who torment her.
Asha is fighting her own battles with her mother and her teacher, who would rather Asha use her fierce intellect to write uncontroversial essays that guarantee her a university place.
However she is focussed on reassessing historical legacies and questioning the status quo.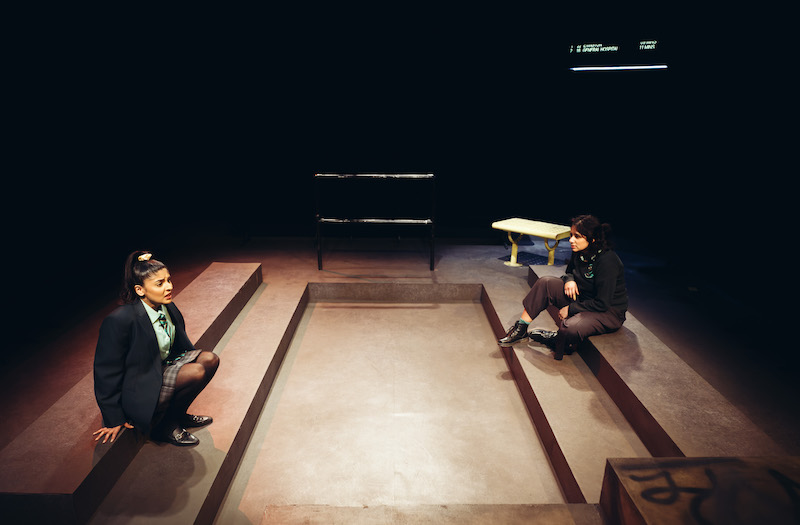 Both sisters face daily prejudices, and the play explores the notion of standing up for one's beliefs and fighting against injustice, as well as the various dynamics of a sibling relationship.
The Orange Tree Theatre's Recovery Season began in May 2021 when the theatre reopened for the first time in over 14 months, and this new phase coincides with the 50th anniversary of the theatre.
Two Billion Beats, directed by Nimmo Ismail and written by Sonali Bhattacharyya, began as a shorter production which was live-streamed from the theatre in March 2021, and was so successful it was commissioned as a full-length production. 
The play has received positive reviews across the board, with The Guardian calling it a 'moving portrayal of sisterly love', Time Out commending the 'sparky chemistry' and 'easy warmth' between the two actors, and WhatsOnStage praising the 'tender but rivalrous' dynamic 'which gives this short two-hander so much of its appeal'.
SWL met with Safiyya Ingar and Anoushka Chadha to discuss the play, what it is like performing in such an intimate space, and how audiences respond to uncomfortable issues.
Two Billion Beats is showing at the Orange Tree Theatre until 5 March.
It will also be livestreamed on 24 February.
Featured image credit: Alex Brenner