Streatham Hill Theatre has marked its fourth year on the Theatres at Risk register after being added in 2018.
The Grade II-listed theatre, which opened in 1929, first joined the register after it stopped being used as a bingo hall in 2017.
The annual register was released earlier this month by Theatres Trust, and features historic venues of 'strong architectural or cultural heritage' that are at risk of redevelopment or demolition, but which have the potential to be returned to arts use with the right support.
Since it joined the register, Streatham Hill Theatre has been included on several other 'at-risk' lists including ones released by the Art Deco Society and Historic England, and in November last year was labelled an Asset of Community Value by Lambeth Council.
David Harvey, chairman of The Friends of Streatham Hill Theatre, a group campaigning to restore the building, said: "Lambeth Council has been supportive in many ways with our campaign.
"It would be great if they would, like some of the other local authorities in the area and in London have done, acquire the building and then help redevelop it."
Currently, The Friends of Streatham Hill Theatre have no control of the building, but the Asset of Community Value status awarded by Lambeth Council means that the community has a chance to acquire the property should the owners want to sell it.
This status was granted due to passionate campaigning by The Friends of Streatham Hill Theatre and the wider community, which culminated in over 1000 people forming a flash mob outside the theatre to demonstrate their support.
The community also crowdfunded over 400 donations to raise the £34,325 required to produce a viability study on the theatre, which was published in April last year.
It said the renovated theatre 'could play a major role in leading the post-COVID high-street recovery, developing the 15-minute neighbourhood…ultimately making a significant economic contribution to the regeneration of this part of London.'
Catherine Russell, an actress who serves as a patron for The Friends of Streatham Hill Theatre, suggested that the idea of 15-minute neighbourhoods – that all a community's daily needs should be within 15 minutes walking distance – is particularly relevant as the UK enters the latter stages of the COVID-19 pandemic.
"The West End is minutes away on the train, but there are an awful lot of people who don't like to travel into the West End, particularly now," she said.
"I think it's even more pertinent to have something local."
Russell is currently performing onstage at the Menier Chocolate Factory in south London, a theatre that was derelict for 30 years until it was renovated in 2004.
She serves as a patron of the campaign group alongside famous names such as Simon Callow, Sir Mark Rylance and Baroness Floella Benjamin.
Fran James, the deputy chair and trustee of The Friends of Streatham Hill Theatre, said: "They lend an extra level of awareness that this is locally loved because they have connections to the local area.
"They know it personally, but they also bring that national and dare I say international recognition, and their own different sets of expertise and knowledge."
Despite national recognition, the group is focussed on keeping the building to serve the needs of the community, and the viability study focusses on how the theatre could contribute 'to Lambeth's Covid Recovery Plan and New Beginnings priorities in addressing wellbeing, supporting children and families, and strengthening communities by working with local people and neighbourhoods'.
Russell said: "I think it tells the local community, we think you deserve this, this is for you, this isn't something outside of your area, this isn't something that you have to travel to, and spend a lot of money on to go and do – we want this for you.
"And if you make people feel cared for, and looked after, and that they are important, that makes them feel better about themselves and their community and their local area."
Andy McKeane, the creative director of the community-focussed Streatham Space Project, a theatre, comedy and music venue, agreed: "With a neighbourhood venue, you can feel more connection to it, whereas the National Theatre belongs to the whole nation. The West End belongs to the whole nation."
However, the viability study makes clear that being community-focussed doesn't mean small in scale.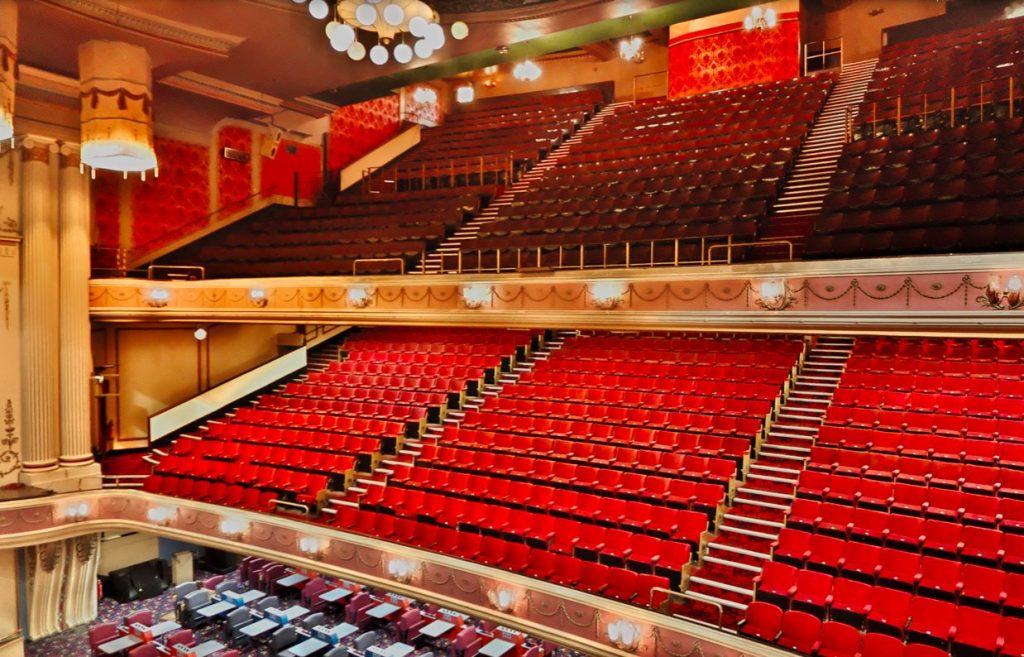 In its 20th century heyday, the theatre was the crowning glory of Streatham's high street, an area once known as the 'West End of south London'.
The viability study states that Streatham Hill Theatre could once again 'grow to become a major commercially operated large capacity 'number-one receiving house' for south London'.
David Harvey said: "The original slogan at the theatre when it opened in 1928 was 'West End shows at provincial prices', so you can imagine doing that again.
"Touring productions could come in so that people in the area can see big shows without having to traipse into the West End and take out a mortgage to get a seat."
The capacity of the venue currently stands at 2800, which dwarfs almost every other London theatre.
The viability study posits that the theatre could retain its large capacity auditorium, which would cost £22.7million to refurbish, or be reduced in size to accommodate smaller performing spaces and workspaces.
Theatres Trust notes that Streatham currently has a shortage of workspaces and arts and cultural facilities – last month, the Financial Times reported that only 7% of retail spaces in Streatham are empty, well below the national average.
Whatever plan is chosen, it will be some time before it is removed before Streatham Hill Theatre is removed from the at-risk register.
Fran James said: "Having seen other campaigns to save theatres and historic assets, we know it happens over a number of years.
"To try and pin an exact date on it, when a lot of key decisions lie in the hands of others would be hard to do.
"What I would say is we're all trying to push forward as quickly as possible with what we can control."