You know you've had a crackin' night when you leave the theatre with your face aching from laughing manically for the past two and a half hours.
So if you're a fan of chuckling until your cheeks hurts then One Man, Two Guvnors will be right up your street.
Add to that the opportunity to tuck into a great chippy tea in an exclusive pre-theatre dining experience before settling down for the show, and you're in for a great night.
Nicholas Hytner's five-star production tells the madcap story of Francis Henshall who, fired from his skiffle band, becomes minder to the much-feared Roscoe Crabbe.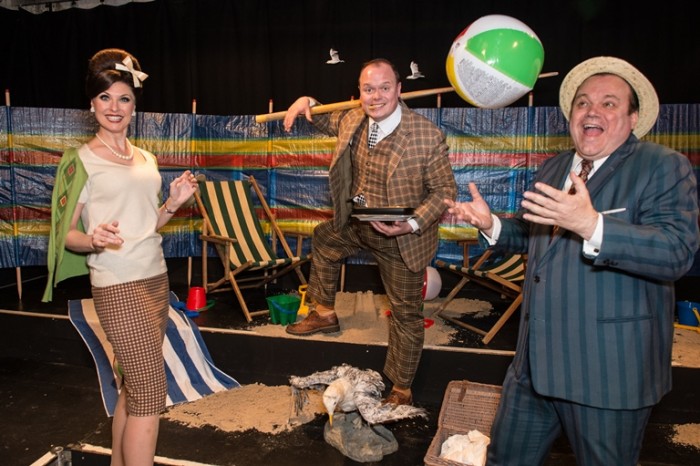 SHEER DELIGHT: Some of the One Man Two Guvnors cast

But Roscoe is really Rachel, posing as her own dead brother – who's been killed by her boyfriend Stanley Stubbers.
Francis spots the chance of an extra meal ticket and takes a job with one Stanley Stubbers, but to prevent discovery he must keep his two guvnors apart.
Confused yet?
It doesn't really matter if you're not always on top of who what or where is going on – it's a sheer joy to watch the mayhem unfold on stage.
The show celebrated everything great about British comedy and paid homage to the likes of Fawlty Towers, Acorn Antiques and Father Ted with revolving doors, food flying everywhere and hilarious, and at times bawdy, one-liners.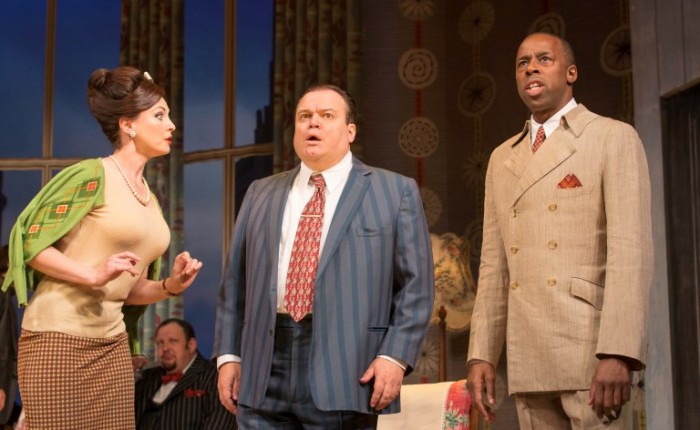 SWINGING SIXTIES: Dolly, Charlie and Lloyd share the stage

As a northern lass who's migrated to the big city it was a joy to hear Emma Barton, who spent many years as an Eastend gal, get her tongue around the accent perfectly and play her role with a huge dollop of sass.
Huge credit should also go to the disgustingly hairy (it's only a suit!) Patrick Warner as Stanley Stubbers who delivered some crackin' one-liners, Michael Dylan's portrayal of the heart-stopping Alfie and the fabulously melodramatic Edward Hancock as thespian Alan.
But the tireless scene stealer was Gavin Spokes as Francis Henshall who was absolutely superb firing out one-liners and indulging in a fair amount of audience participation.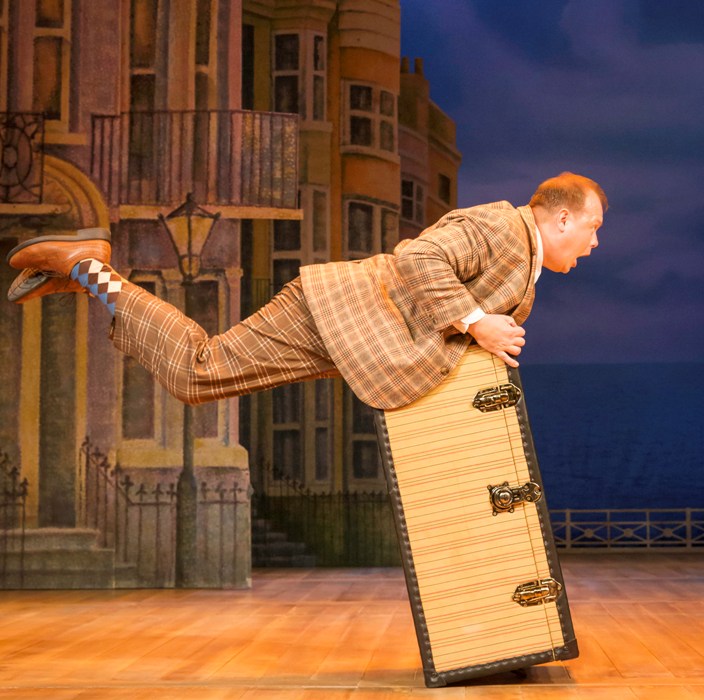 COMEDY MAYHAM! Francis Henshall attempted to lift a trunk
Skiffle band The Crave who performed before and during the show as well as a cheeky track or two during the interval, were both easy on the ear and the eyes too.
What I particularly loved about the show was the familiarity yet freshness of it.
It was great to recognise bits of comedy history incorporated into a show that the cast have performed countless times, but who made seem like it was their first time and appeared to be having as much fun as the audience.
My advice? If you're looking for a comedy tonic to pep up your week – this is the show for you.
One Man, Two Guvnors is at New Wimbledon Theatre until March 7.