When one of the wheelchair rugby players walked out of their chair at the end of our session, I couldn't hide my surprise, writes Josh Graham.
Having just spent the evening experiencing wheelchair rugby for the first time, I ignorantly had presumed all my teammates and opposition would be full-time wheelchair users.
A forgivable assumption given Paralympic wheelchair rugby is strictly aimed at tetraplegics.
However, Great Britain Wheelchair Rugby (GBWR) introduced Wheelchair Rugby 5s in 2017, expanding the reach of the sport outside the tight Paralympic criteria and making it accessible to anyone with a physical impairment.
As the name suggests five, rather than the traditional four, players per side are allowed on the basketball court on which the game is played, and earlier this month, I was the extra individual benefitting at the launch of Harlequins' new wheelchair rugby team.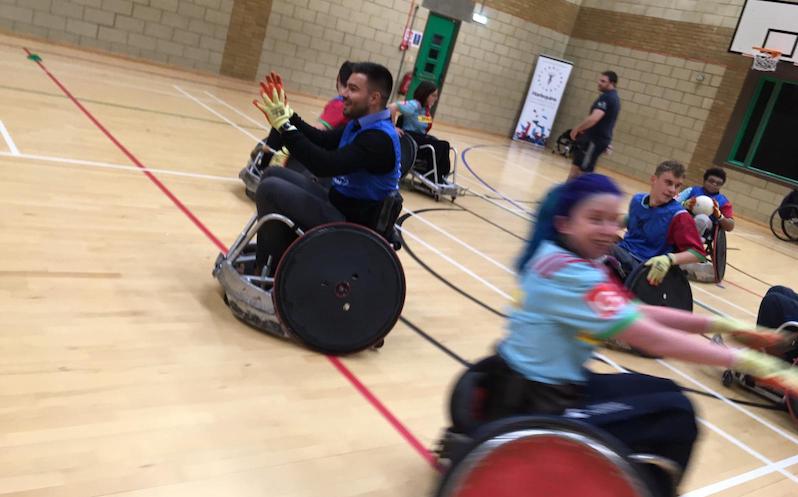 Once I'd had my protective gloves duct taped on, I was itching to get strapped into my chair, unaware of what I was rolling into.
And seconds in I had a rude awakening.
My chair was jolted sharply by a heavy head on collision; reminding me immediately why this physical sport began life as 'murderball' in Canada in 1977.
That challenge was perfectly legal and well-executed but there are rules that mean this is no place for cheap shots or thuggery – if you make contact behind the rear wheel of an opposing player you risk serving a one-minute penalty or even being disqualified for example.
While it is one of the only disability contact sports, to my pleasure I found it to be more than just an enjoyable physical battle and plenty of rules and intricacies exist beyond the smashing together of specially altered wheelchairs.
I recovered from my first contact and was aware any lapse in concentration would give the opposing side an advantage.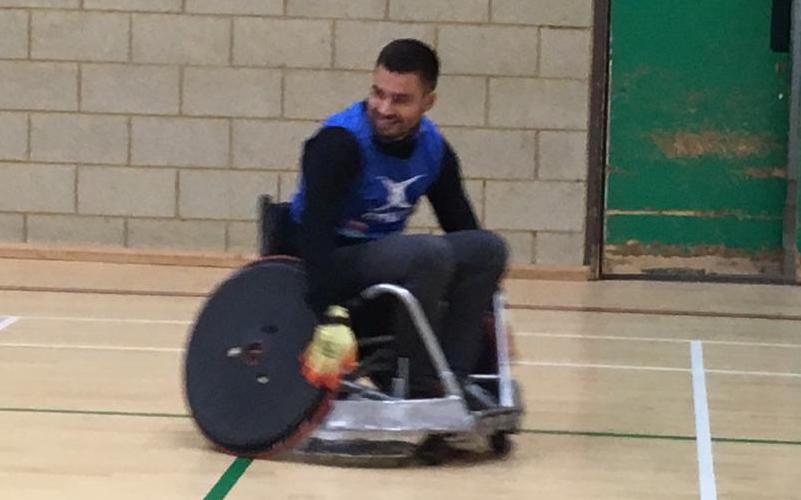 Having received a barrage of instructions before entering the court, I became increasingly stressed at the inevitable mistakes I was making as I drowned under the pressure of combining all my new responsibilities.
To avoid losing possession players have to bounce or pass the ball every ten seconds, they have to navigate their chair around with speed and guile making sure to always be in the right position on court, while communicating with teammates and not losing sight of their opposite number.
A never ending to do list.
As a novice I tended to play it safe, passing immediately to avoid any negative repercussions.
Yet, the skilful control and passing on show from more seasoned players was incredibly impressive and even resulted in a debut try for myself.
But those exploits left me physically and mentally drained and the coach had hauled me off, ending a thrilling wheelchair rugby experience.
On reflection the sport was everything that's great about rugby and much more.
An inclusive and demanding game that gives an outlet to players who don't fit the bill for other more selective sports.
Players displayed teamwork, physicality and skill throughout and I would highly recommend watching, playing or getting involved to anyone, regardless of ability.
To find out more about the sport visit www.gbwr.org.uk.