Streatham Redskins 10-3  Oxford City Stars
Dom Hopkins believes Streatham Redskins' free-scoring start to the season has dispelled concerns over their strikeforce after they thrashed Oxford City Starts on Saturday.
With last season's sharpshooters Callum Best, Sean Scarbrough and Jakub Klima all departing over the summer, there was concern Redskins would struggle to find the net.
But 26 goals in their first four National Ice Hockey League South One games suggests otherwise and there were nine different scorers against Oxford – with Kamil Kinkor the only player to score twice – as Redskins kept up their 100% start to the campaign.
"I think throughout all the games so far the scoring has been quite evenly spread," said man of the match Hopkins, who scored the second.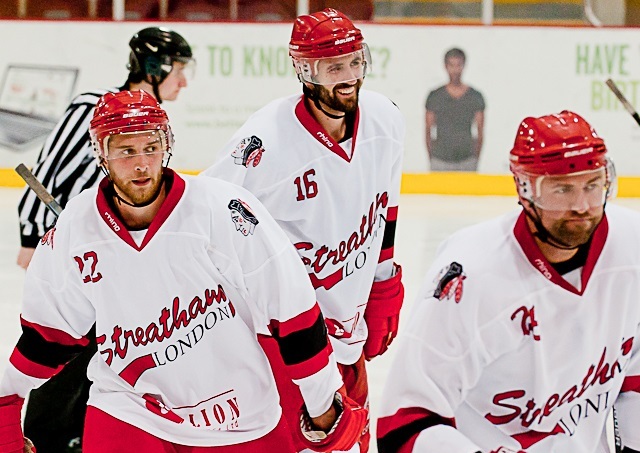 SMILING ASSASSINS: Redskins' Adam Wood, Casimir Madren-Britton and Dom Hopkins
"We've got a lot of good guys in the team, a lot of talent.
"The goals can come from anywhere on any night so we're not fussed about what people say or having the out and out stars and foreign players."
Having led 2-1 at the first intermission thanks to goals from Kinkor and Hopkins, Streatham eased ahead in the second period with two wraparound strikes in the first five minutes from Adam Wood and Evander Grindell.
That was followed by a tap-in for Chris Wiggins and a penalty shot from Steven Fisher either side of Joe Edwards' backhand goal for the Stars.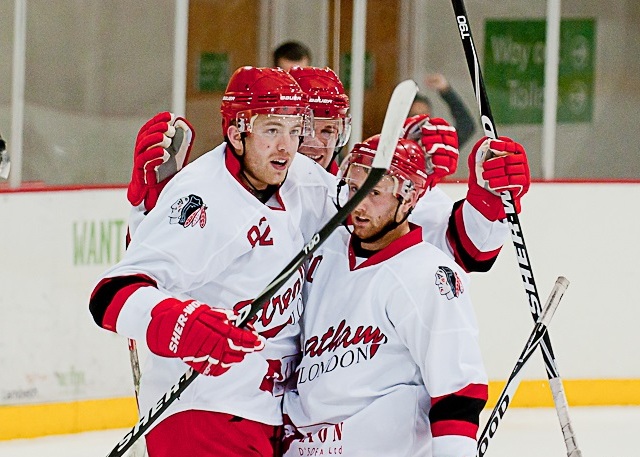 SIMPLES: Chris Wiggins celebrates scoring with Steve Fisher and Kamil Kinkor
The third period started slowly before Redskins scored four in four minutes through Jack Tarczycki, Adam Rasmussen, Kinkor and Joe Allen, with Hopkins admitting the match was easier than he expected.
"I was expecting more," he said.
"They've signed some good guys over the summer and have a pretty good team that's well coached.
"At the end of the day we just had to too much for them really, they didn't really have an answer to our physical play."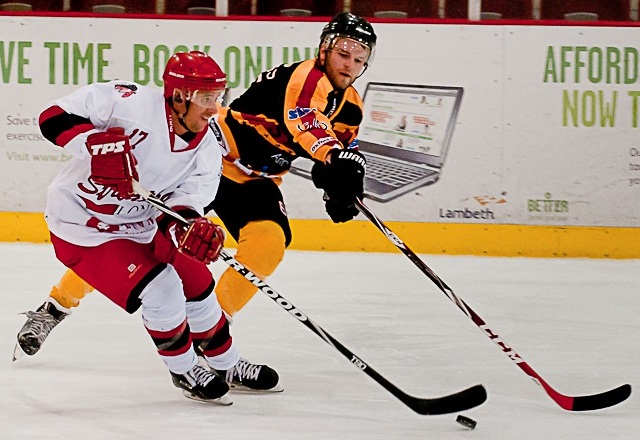 GETTING HIS SKATES ON: Captain Joe Johnston starts another attack
Oxford City Stars assistant coach Simon Anderson was critical of his players.
"Our guys just weren't at the races," he said.
"Right from the drop of the puck, we didn't have any intensity levels, we just got outworked all night.
"You can probably carry a couple of players having a bad night but you can't carry 15 players and that's what we had tonight. The only players that come out with any credit are our goalies."
Redskins were unable to transfer their league superiority into the South East Cup on Sunday as they opened the competition with a 9-1 loss to Chelmsford Chieftains.
Missing a number of first-choice players, they were outplayed and only had Wood's consolation goal to show for the trip.
Next weekend, Redskins host Invicta Dynamos on Saturday and Bracknell Hornets on Sunday in the league.
Feature image of Dom Hopkins. All images courtesy of Rick Webb, with thanks