The Tyrrells Premier 15s is in just its second season as a competition, yet talk of breaking records has already begun at second-place Harlequins.
More than a year on from inviting a crowd of 4,542 spectators to Twickenham Stoop for their 14-12 victory over rivals Richmond, Quins are looking to surpass that British record attendance for a women's club match when they host Gloucester Hartpury on Saturday.
The match will form the showpiece of The Game Changer event launched by the club in November last year as an annual celebration of the women's game at the Stoop, and prop Vickii Cornborough believes this demonstrates the club are putting their money exactly where their mouth is.
"Harlequins is, in true form, game changing in terms of women's rugby across the whole of the Premiership, and I'm fortunate enough to play and be supported so phenomenally as part of the Harlequins Ladies' set up," she said.
"We have had 17 Harlequins players turn up to training here and it has been absolutely phenomenal. That just goes to show the type of commitment Harlequins has to putting out a brilliant team.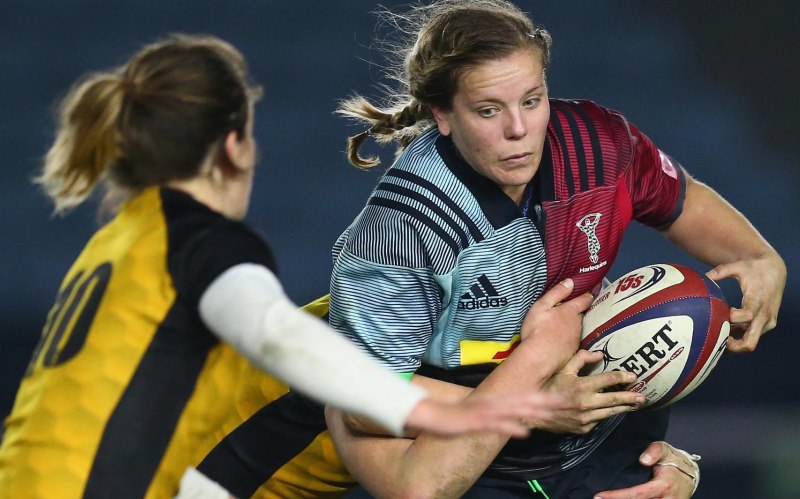 GAME CHANGER: Harlequins' Vickii Cornborough
"It is the buy-in that sets the club apart from any other team in the league and they actually practice what they preach, it is not lip service that they are paying to us.
"I have met the chief executive and the chief operating officer of Harlequins as well and we have got support from the top down in the whole organisation and you can see the desire to be that leading team both on and off the pitch and try and be that true game changer."
However, Cornborough acknowledges the club's initiatives are far more wide-ranging than just the event taking place at the end of the month.
"We have access to fantastic facilities and world class coaching from both the Harlequins men's and women's sections," she added.
"The club has tried extremely hard to have leading coaches come in and deliver those sessions.
"From a Harlequins Ladies' point of view, Karen Finley and Gary Street have done a remarkable job with us and from the men's side Paul Gustard has come down and delivered sessions.
"I've had Adam Jones come down and do different row sessions with us, players from the men's side coming over as well.
"That is where you make the difference, those small but regular sessions throughout the season that prove to be the difference with Harlequins."
Another feature this season that has started to filter into the women's game is the increasing visibility of the sport, and Cornborough's Harlequins and England teammate Leanne Riley is grateful for the club's pioneering efforts.
"I am not sure there are that many clubs that have got our faces outside stadiums and have got The Game Changer plastered over bus stops and big billboards all across town," she said.
"So however many turn up against Gloucester, whether it's 4,500 again or it's 8,000, we will know that they have actually come to watch us.
"They haven't come to watch the men and though 'oh, I will stay on because this is happening', they have come here because they have seen the advertisement, they are interested in women's rugby and they are coming to watch us play.
"There has been a lot of work done behind the scenes and we are really thankful for that to get the exposure that we are getting individually but also as a team.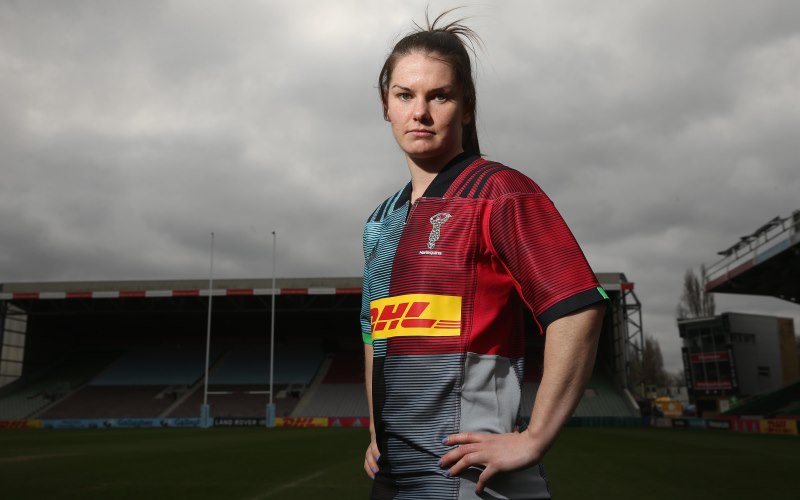 CENTRE OF ATTENTION: Leanne Riley is enjoying the new exposure for Harlequins Ladies
"It is something Harlequins are proud of, that we are going out there and putting on the performances that we are, coming where we are in the league.
"Last year we narrowly lost the final but that will stand us in good stead for this year, so we are really looking forward to it and I am really proud to be a part of it."
While the club revel in the euphoria of what the game against Gloucester Hartpury in the final round of the Tyrrells Premier 15s could bring, the mention of that 24-20 defeat to Saracens Women in the inaugural Premier 15s final still causes a lot of pain among the playing staff.
However, scrum-half Riley believes Quins, who will be hoping to take another step towards securing a home semi-final against Loughborough Lightning, will use that loss as motivation if and when the situation presents itself again this season.
She said: "I am not looking at a potential game against Saracens, I am not looking at the final, we remember last year and we remember when we narrowly lost 31-28 to them in January, and we will hold that in our hearts and our bellies so that if and hopefully when that does happen and we get to the final we have got that behind us to be able to use that on the pitch.
"But we cannot underestimate Loughborough, we have got a fight to keep second so that we can play them here at the Stoop and that is going to be a challenge in itself."
The Rugby Football Union will hope these challenges keep on coming for Quins as they look to enhance the reputation of the Premier 15s as part of a plan to have 50,000 women and girls playing the game in England by the next World Cup in 2021.
And Riley believes they are well on their way to achieving that goal because of the added willingness of players to compete at the top of the game, and that is translating into positive results.
"A lot more people are wanting to play at the highest level," she said.
"When I was 18 years old just coming through into the women's game, you had professionalism in terms of the internationals even though they weren't professional at the time, but then you had people who just did it for a hobby and they wouldn't necessarily go the gym, they wouldn't work on extra skills, they wouldn't work do fitness if they needed to because it was just a hobby for them.
"Whereas I think now people still do it for a hobby but they are really passionate about that hobby and they see what the internationals are having to do and what we are having to put our bodies through especially on a full-time programme.
"No matter who we have got in the squad, whether they are development or first teamers, whether they are international players or not, everyone is working really hard on everything as a result and that has translated onto the pitch."
Riley however concedes that the girls among that target figure of 50,000 wanting to make it at the highest level face a topsy-turvy journey if they are to get there, but urged them to revert back to what makes them happy in the face of adversity.
"Ultimately there are going to be tough times, it is a rollercoaster especially if you do want to get to the top and you are being invited to trials, but something I still come back to now is if you are having any down days or a couple of weeks, just go back and play it with your friends.
"Whether that is at your club or your county, wherever you might be in the pathway, if you are playing rugby with a smile on your face you are going to play the best rugby.
"If you are starting to lose your way, whether it is mentally or physically go back, pick the ball up with your friends at school or at a rugby club and just remember the reason why you started because that will ultimately get you to where you want to be."
Harlequins are attempting to make history this month by breaking their own record for the highest attendance at a women's club rugby match in the UK with The Game Changer. Ticket prices start at £5 for juniors and £10 for adults and can be purchased here.
Images courtesy of Getty Images for Harlequins, with thanks