By Lucy Murgatroyd
October 23 2019, 13.05
Follow @SW_Londoner
A 16-year-old Kingston paraswimmer won two gold medals and achieved several PBs in a major championships in Sardina last month.
Caitlin Trevor, who has Down syndrome, spent a total of 10 days training in Italy and came first in the 50m and 100m breaststroke in the the DSISO European Championships as a junior swimmer.
The dual-national, who has trained in Delaware, USA for the past few summers with Brandywine Barracudas YMCA swim club won a further three bronze medals, two silver medals and gained many personal bests.
Speaking of her success, Caitlin said: "It was fun, the best part was celebrating with my friend Maggie having gelato."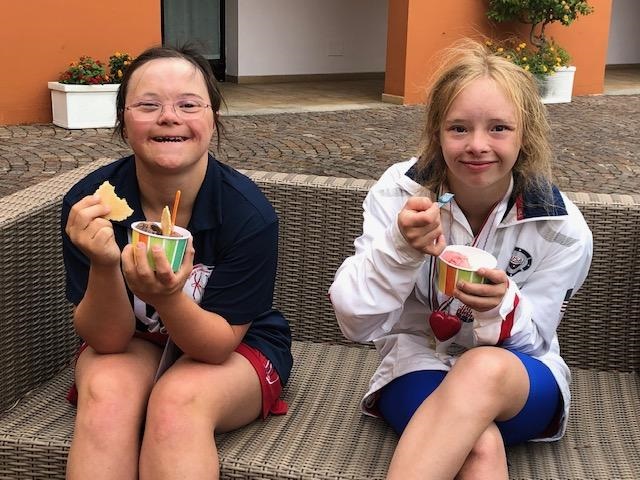 Despite not being keen of water when she was younger, Caitlin is now known as "the fish" in the Trevor family.
Falling into the sport two years ago has changed Caitlin's life and opened many doors to different opportunities in her life.
Kelly Trevor, Caitlin's mum, said: "It has absolutely changed her life.
"As a mother I couldn't really see how we were going to map out the future and coming in to be a teenager and not having the social network others have, it's been a real challenge."
She added: "Swimming has given her a way to vent and gain skills that she can transfer away from the pool and to the classroom and in life."
Caitlin is a member of the London Disability Swim Club, but she spends most of her time training six days a week with Kingston Royals Swimming Club (KRSC).
She also occasionally swims for Electric Eels swimming club in Windsor when she's in the UK. 
Caitlin said that she likes all her coaches from both the UK and the USA because they make her work hard.
The 16-year-old is currently studying a mixture of GCSEs alongside a BTEC in travel and tourism at Canbury School in Kingston.
She balances her training and school work around her hobbies which include dancing, drama and horse riding and is also completing her silver Duke of Edinburgh award.
"I like my school and swimming routine. Yes, it's busy but I like school and come home in the afternoon and do my homework," she said. 
"I like to make a list of what I have to do and get it done before training."
Since finding her passion in the pool, Caitlin has won gold in the London Youth Games and also represented the USA in the DSISO world championships in Truro, Canada in July last year.
For all her efforts, Caitlin was awarded the Disability Sports Achiever Award by the Royal Borough of Kingston in October 2018.
Caitlin was then asked to speak to pupils at Alexandra School in Kingston and she now works there every Wednesday for half a day – which has opened her eyes to the possibility of completing a BTEC in childcare. 
Ms Clancy, headteacher at Canbury school, believes that her swimming commitments have allowed Caitlin to become self disciplined as her independent focus and concentration has improved immensely. 
The school as a whole celebrate Caitlin's success and take pride in her being a world champion swimmer through their school assemblies, weekly newsletter and prize givings.
She said: "Her social skills, although always very good – you always know when Caitlin is in the building – have again improved further with regard to listening, taking turns to listen, hearing other people's views and responding effectively.
"Her physical strength and core have improved which again impact her concentration positively.
"Overall Caitlin's confidence has soared, a delight to witness."