Players and staff from Corinthian-Casuals visited France on Sunday to commemorate and honour the players the club lost in the Battle of the Somme.
A party of 22 from the Tolworth-based football club visited a number of graves, including that of Thomas Rowlandson, who kept goal for Corinthians 150 times.
It completes 12 months of remembering the past for Casuals, in which they visited Brazil and played Corinthians, completing a tour that was cancelled because of the First World War.
Executive committee member and former striker Chris Watney, 34, said: "It's been incredible. I'm just proud that we've managed to do this.
"Two years ago, when the idea was born, we had no idea how to go about what we've achieved.
"We didn't even have a phone number for the club in Brazil but we were so keen to commemorate our ancestors who themselves made the ultimate sacrifice.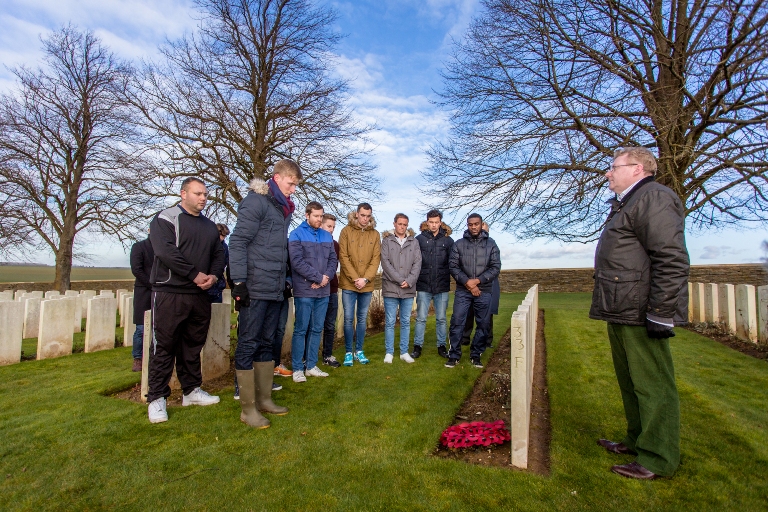 HONOURING: Players and officials paid respects to former goalkeeper Reginald Rogers
"It's amazing that we've finally done it.
"The story of the Corinthians is just unbelievable and no-one needs to know who we are or what our results were on Saturday, but everyone should know the story of the Corinthians.
"They gave the world football, they were national treasures and true heroes who gave their lives fighting for their country.
"We're incredibly proud to be doing our bit to try and ensure this country remembers them."
The original Corinthians toured Brazil in 1910 and 1913, inspiring five Sao Paulo industrial workers to form S.C. Corinthians Paulista, who have gone on to become twice World Club champions.
They were due to return in 1914, but returned to England without kicking a ball after the start of the First World War was declared and the team headed home to fight for their country.
Corinthians lost 22 men during the war, including Rowlandson, who was killed at the Battle of the Somme in September 1916.
He was posthumously awarded the Military Cross in October 1916.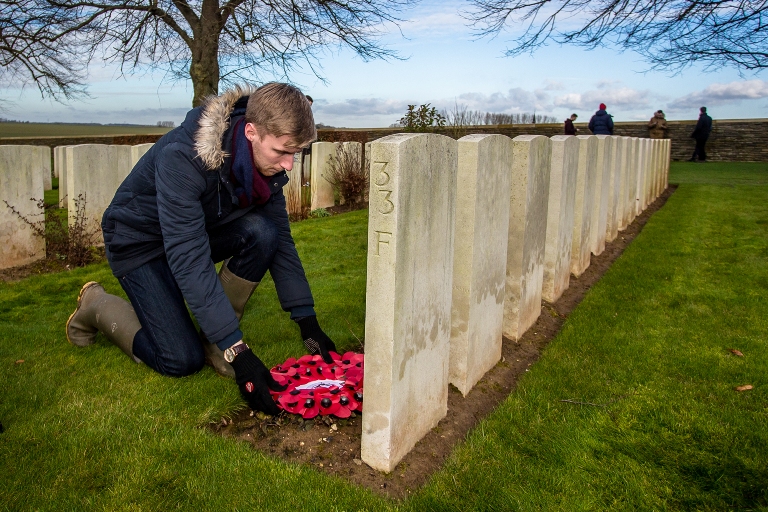 NATIONAL HERO: Current goalkeeper Danny Bracken lays a wreath at his predecessor's grave
Current club chairman, Brian Vandervilt, laid a wreath emblazoned with the Corinthians crest at Rowlandson's grave, at Becourt Military Cemetery on Sunday.
"The man was a national hero," Vandervilt said.
"He was the epitome of the Corinthian spirit, a famous goalkeeper who used to stand aside for penalties.
"He donated his house to the Red Cross before coming here today.
"They were amazing young men, we're all proud to remember what they did for not just us, but the entire country."
Images courtesy of Corinthian-Casuals, with thanks