The UK's first and only competitive gay men's basketball club is gearing up to host London's first queer basketball tournament for over a decade in 2024.
The London Knights, who train weekly at the Black Prince Community Trust in Lambeth, will welcome up to 15 teams from across Europe as a show of community in the gay men's basketball scene.
The tournament is scheduled to take place in the last week of July next year and will serve as a trial run for larger competitions to coincide with the club's 25th founding anniversary in 2025.
Club Chair Nick Brown, 28, spoke in glowing terms about the prospect of bringing the European queer basketball network to the nation's capital.
He said: "You get to go right into somebody else's culture and they'll take you right into their home and introduce you to all sorts of things.
"It's just beautiful and I don't think it exists at a wider level outside of this."
Aiming High
The Knights have seen great success at gay men's basketball competitions throughout their history.
Most recently, the club sent two teams to a meet held by Peacox Basket Milano and both came away with medals, one gold and one bronze.
Though elevating their level of competitive play remains a priority for the club, with hopes of one day joining the London Metropolitan Basket League, the club also wants to increase its opportunities for beginners.
To this end, the club will offer three months of beginner sessions free of charge, through its partnership with the Black Prince Trust.
Club Vice Chair Carl Ntfo, 25, said: "I think there's a lot more people we can cater to.
"There's a large basketball community and there's also a large LGBTQIA+ basketball community so it would be nice to have more people and more sessions in the future."
Keeping the community strong
Above all else, though, the overriding priority for the London Knights remains preserving and strengthening the inclusive brotherhood that attracted so many of its members in the first place.
On his own first experiences with that feeling, Brown said: "One training session was all it took.
"I could speak about having a boyfriend with people I'd never met before for the first time in my life.
"It was a moment that really struck me because there's always been a concern over how people might judge that.
"It's such a welcoming environment that any other fears that I had were completely eliminated."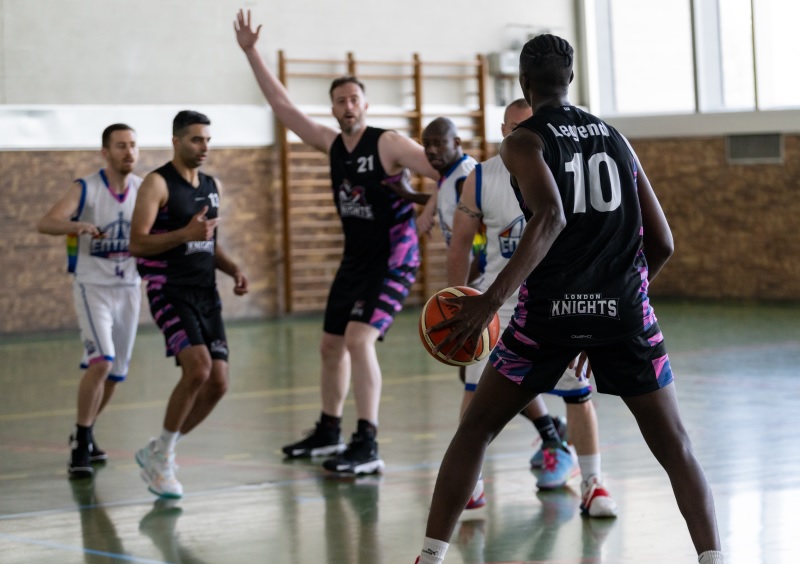 More needed than ever
The efforts of the London Knights and other LGBTQIA+ clubs to create safe spaces for queer people in sport have become more important than ever, as evidence suggests the UK is becoming a harder place to be gay.
Newly released figures from the Office of National Statistics have shown that the number of reported hate crimes motivated by sexual orientation has risen since 2019 from 14,161 to 24,102.
Meanwhile, Stonewall have reported that 17 per cent of LGBTQIA+ people have experienced discrimination on the basis of their sexual identity in sport while 49 per cent have witnessed it.
Ntfo was candid in discussing his own experiences of homophobia in basketball.
He said: "It's not often overt, but it is there and people ignore it.
"Ideally, we'd be in a situation where you don't need to have a safe space as everywhere should be a safe space.
"But since that isn't the case, having my Tuesday session to play basketball with people who I know love me and aren't going to say anything to to hurt me is just something that I can't replace."
Though the issue is too large for any single person to solve alone, he stressed that there are little things everyone can do to make the sports they care about more welcoming.
He said: "The main thing is that if you care, when somebody says it in front of you, challenge it.
"If you leave it to become a joke or something that no one talks about, then somebody in the room is probably going to be uncomfortable and won't be able to speak up."
Those interested in joining the London Knights should contact them through their Instagram @londonknightsbasketball
Feature image courtesy of London Knights Basketball Club