Ben Marsden says his Wimbledon team are buzzing ahead of Saturday's top four clash with rivals Surbiton.
The Dons are four points behind the Now: Pension Men's Premier Division leaders and victory could set them up for a grandstand finish to the campaign.
Last weekend's battling 5-4 win against relegation-fighting Canterbury has left Marsden believing his players are more than capable of upsetting Surbiton.
"We showed real grit and determination, it wasn't the best performance but showed the belief that we have in the team," said head coach Marsden.
"There is a real positive mood in the camp and everyone is buzzing, you could see at training on Tuesday how happy everyone is.
"We have played Surbiton three times this season and have drawn twice and won once so we have nothing to fear."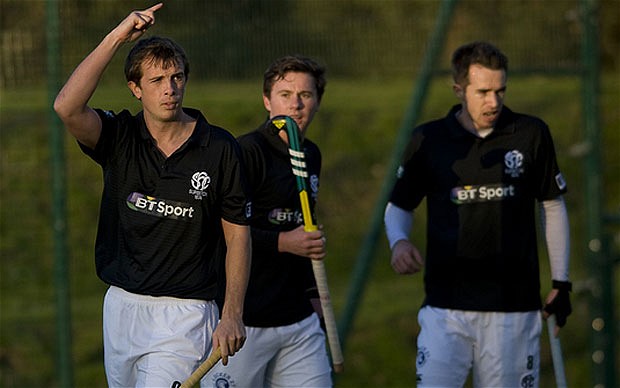 Ready for the battle: Surbiton are prepared for a tough game against Wimbledon this Saturday
Surbiton head coach Todd Williams is wary of the threat Wimbledon pose given their record against them this season and knows his team will have to be at their best.
He said: "Wimbledon are a genuine top four side and come as a package with lots of really good players.
"They have recruited lots of excellent players and have made a great effort to make themselves hard to beat, it will be a tough game."
Phil Roper will again be available for selection for Wimbledon after making a goalscoring return against Canterbury.
New arrivals Blake Govers and Ian Sloan scored their first goals for the club, and Marsden says he is delighted with how his new players have settled in.
He said: "They have settled well and it is a big plus for them to get their first goals for the club. It is a big boost for their confidence."
Surbiton's 49 goals makes them the league's most potent attacking force and Wimbledon will have to be particularly wary of Matt Daly.
The former team GB member has scored 21 times this season, and heads into the tie on the back of scoring twice in a 5-0 trouncing of Cannock.
"Matt has been playing really well and the best thing is how much he is enjoying it," added Williams.
"He scored a fantastic goal last weekend and the reaction of the crowd was amazing.
"He is normally a calm bloke but he broke into a massive smile and you could see how happy he is here."
Marsden though is refusing to get distracted by Daly's form and is instead focussing on his own side's qualities.
He said: "We will study videos of our games against them, but our main focus is on what we can do well and playing to the best of our abilities. That is how we will get a positive result."
Feature image of Wimbledon hockey courtesy of Rob Holding, with thanks