Croydon's Anna Smith is relishing the pressure of an Olympic year as she looks to represent Great Britain in the ladies doubles in Brazil this summer.
With British tennis enjoying a resurgence in 2016, Smith's success has gone under the radar. But at the Australian Open in January she and partner Jocelyn Rae made the third round of the ladies doubles at a Grand Slam for the first time.
As a result Smith saw her world ranking climb to its highest ever position of 68, but she doesn't plan on stopping there.
"Ideally by the end of May we want to be top 40 and that is what we are striving for. So that means we have to do well at tournaments going forward," says the 27-year-old.
"Each tournament is really important for us, so we really need to focus."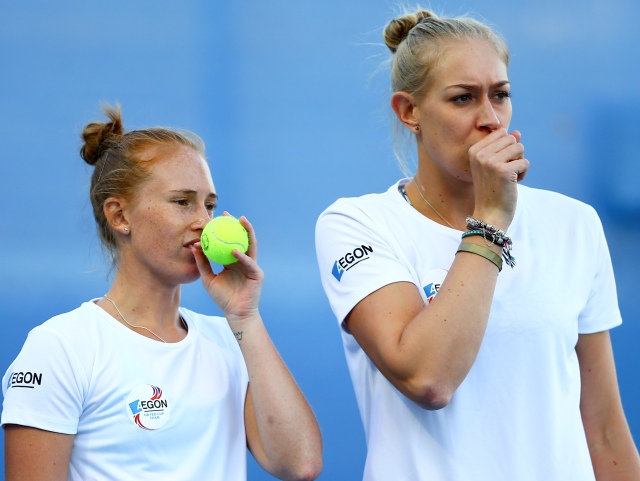 SECRET WHISPERS: Anna Smith, left, and Jocelyn Rae in action at the Fed Cup
Their victims at the Australian Open included fellow Brits Heather Watson and Johanna Konta in the second round and former world number one ladies doubles player Peng Shuai from China.
And Smith is focused on continuing that form as she strives to make the grade for selection for Great Britain at the Rio Olympics.
Qualification for the Games will be tricky though. Those ranked in the world's top 10 on June 6 – the first ranking after the French Open – will gain direct selection alongside their partner.
Another 14 places will then go to pairs with the best combined ranking score, with a further eight places reserved for the host nation and regional representation. If those eight places cannot be filled, they will go to those next in line on the rankings list.
It means Smith and Rae will have to work hard to get as high up the rankings as possible before the cut off date but Smith believes it is a realistic goal.
"That is probably the big target this year," she says.
"Obviously we want to play at all the Grand Slams and do as well as we can at those, but we need to do well up until the French Open which is when the cut is.
"For us our strongest surface is hard courts so ideally we want to try and stay on hard as much as possible.
"We will probably play two or three lead up events on clay and then go for the French Open.
"We set ourselves smaller and larger targets so at the moment we are 20 spots off being able to play the premier events like Miami and Indian Wells on a consistent basis. That is a short term objective for us."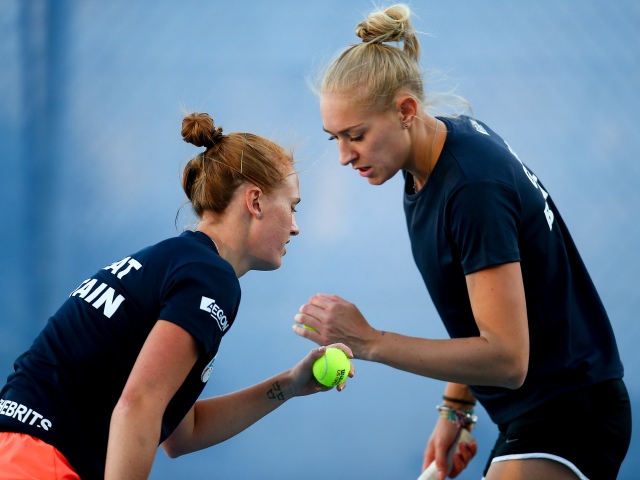 ROCK, PAPER, SCISSORS: Smith and Rae have formed a formidable partnership
And with the tennis events at Rio being played on a hard court surface, Smith is optimistic they can come back with a medal.
"I am quite happy about our chances, obviously we need to qualify first but I think if we qualify we don't just go there to make up the numbers – we go there because we want to try and medal," she adds.
"Being on the hard court it gives our chances a boost."
Smith and Rae head to Mexico this week to play on the hard court surfaces at two tournaments in Acapulco and Monterrey.
Their partnership began in 2013 – after Smith suffered a two-year spell out injured between 2011 and 2012 – and they have since picked up 11 ITF titles.
Reflecting on the reasons for that success, Smith laughs that one of the keys could be their height difference – she is 5ft 6in and Rae 6ft 2in.
"She is a lot taller than me there's that," she says.
"Off the court we get on very well, we have been friends for a long time so I think we know what makes the other person tick in terms of bringing the best out of each other.
"Our game styles are also complimentary – I am slightly better from the back of the court and she is a massive presence at the net.
"I suppose it helps that we are from the same nation and we have a bit of an advantage in that we can practice together more than teams from different continents."
Earlier this month Smith and Rae played doubles for Great Britain at the Fed Cup in Israel under captain Judy Murray.
Despite early encouraging signs, the team failed to make it to the next stage of the event as they lost to Belgium without the in-form Konta.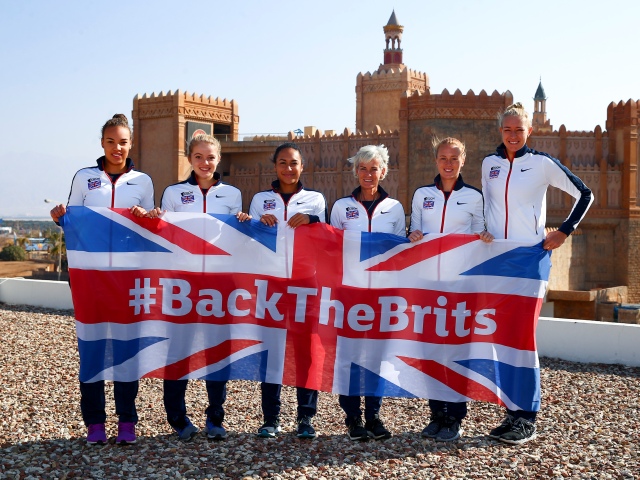 NEAR MISS: The British Fed Cup team came close to reaching the next round
"We all look forward to playing Fed Cup but unfortunately we didn't make it through," she says.
"Jo was ill but if we had her with us then we could definitely have qualified for the next round.
"It's just a shame that we have to wait a whole year until we can even get a chance to qualify and play again."
Smith believes that more can be done to improve the structure of the Fed Cup which is far less publicised than the men's alternative – the Davis Cup.
"Instead of having the 16 nations in one place they could maybe split us up into groups and have a nation holding each group, therefore someone gets a home tie," she adds.
"The only matches shown on television are the semi-finals and final so there are definitely areas that can be improved.
"It is also quite an expensive event to hold and you have to think about climate, expenses and getting people there."
The Abierto Mexicano TELCEL event in Apaculco begins on Monday.
Anna Smith is managed by Global Sporting Connections, visit www.globalsportingconnections.com.
All images courtesy of LTA, with thanks