By Dan Brookes
June 16 2020, 18.00
Follow @SW_Londoner
CHELSEA average fewer shots faced before a goal is conceded than any team in the Premier League.
Statistics for the 2019-20 season show the fourth-placed Blues concede a goal for every 6.33 shots against them.
And that puts Frank Lampard's side rock-bottom of the table in terms of the average number of shots taken by opponents before conceding.
Chelsea faced 247 shots in their 29 Premier League matches before the season was suspended in March due to the coronavirus pandemic – the second-fewest in the Premier League.
But the 39 goals the Blues have conceded this term account for a league-high 15.79% of the shots they have faced.
That figure jumps to a whopping 44.32% for shots on target conceded – over 5% per cent more than any other team.
Goalkeeper Kepa Arrizabalaga eventually paid the price for his poor record between the sticks.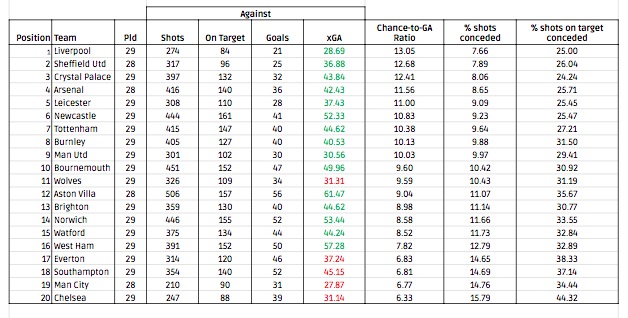 The Spaniard was dropped in favour of Willy Caballero for four Premier League games before returning to the lineup in Chelsea's 4-0 win over Everton prior to the shutdown.
Chelsea's expected goals against (xGA) value, which measures the quality and quantity of chances created by opposition teams, does not reflect well on Kepa either.
Their xGA stands at 31.14, which indicates the Blues have conceded eight more goals than the number of high quality chances they've given up would suggest.
"Kepa has certainly let in shots that he should have been saving," said Chelsea writer for The Athletic Liam Twomey.
"They had a recurring pattern of losing at home to teams they really shouldn't be losing to.
"Where the narrative doesn't look too good for Kepa is when the other team has had a really low xG and still come out of the game having scored.
"As a team they don't defend badly but when they've struggled to create in games, you don't have that margin for error."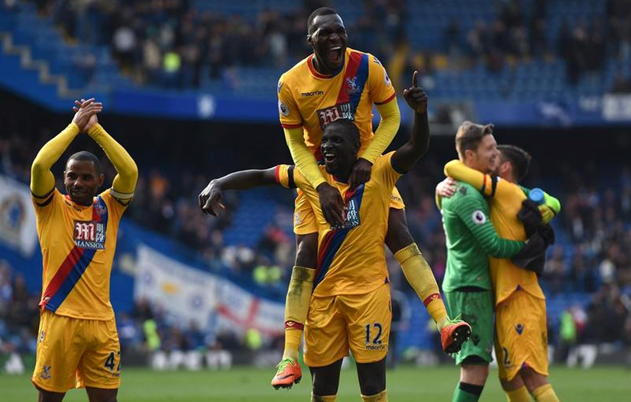 Manchester City are the other surprise contender for the Premier League's worst defence with an average of 6.77 shots against before conceding, which goes some way towards explaining their disappointing title defence – that average is down from a third-best 10.26 average in 2018-19.
Southampton (6.81), Everton (6.83) and West Ham (7.82) round out the bottom five.
Crystal Palace meanwhile, can boast the division's third-best defence by the same metric with 12.41 shots per goal conceded, behind Sheffield United (12.68) and champions-elect Liverpool (13.05).
That is an improvement on the average of 10.1 shots before a goal was conceded by Roy Hodgson's side last season.
The 11th-placed Eagles have conceded only 32 goals from the 397 shots they have faced so far this season (8.06%), outperforming their xGA by 11 goals.
Chris Hambling, presenter of the Crystal Palace podcast Back of the Nest, admits that while the Eagles have been fortunate on occasion, their own Spanish goalkeeper has been the catalyst for an improved backline this term.
"I think at times we have been a little lucky with certain things going our way defensively," he said.
😮 Another week, another incredible Guaita save.#CPFC pic.twitter.com/igADCtW0Dn

— Crystal Palace F.C. (H) (@CPFC) October 6, 2019
"Roy is an organised manager and over a period of time, he's really worked on the wide players supporting the fullbacks because we were traditionally quite over exposed in those areas.
"But Vicente Guaita is that good and he's making saves of such a high quality that he genuinely wins you games and wins you points.
"I don't think he gets the attention he deserves."
Guaita joined Palace on a free transfer from Valencia in the summer of 2018 but spent the first half of last season competing with Wayne Hennessey for the number one shirt.
This season he has played all but two of the Eagles' Premier League games, conceding 28 goals in 27 matches.
Chelsea will be hoping Kepa can compete with his Palace counterpart in the shot-stopping stakes when Project Restart kicks off this week.
Crystal Palace visit Bournemouth on Saturday 20 June while Chelsea go to Aston Villa on Sunday 21 June.