Will Sanderson believes club youth systems must be improved if Great British ice hockey is to become a serious player on the international scene.
Having won gold at the 1936 Olympics, Team GB has struggled on the ice for the past half century – failing to qualify for the Winter Olympics since 1948 and not appearing in the World Championships since 1994.
The national league scene though is starting to grow in popularity again and Streatham Redskins goaltender Sanderson – who, along with six other teammates, recently completed a coaching course enabling him to coach the club's juniors – believes it can grow even further.
"I think with anything really it's about going back to basics," he says.
"You've got to make sure the kids are getting the right coaching and it's something that's focused on more now. We're also focussing on it as a team here.
"If clubs can start to drill more consistent training and coaching from actual players rather than parents you can really start to build a better future for kids playing ice hockey in this country.
"Obviously, money is going to be big factor in what sets us apart in places like Canada, America, and Finland that have great systems.
"Those countries have also got ice because of the cold winters so kids in Finland for example can play ice hockey on frozen football pitches but, unfortunately, we don't have that in this country."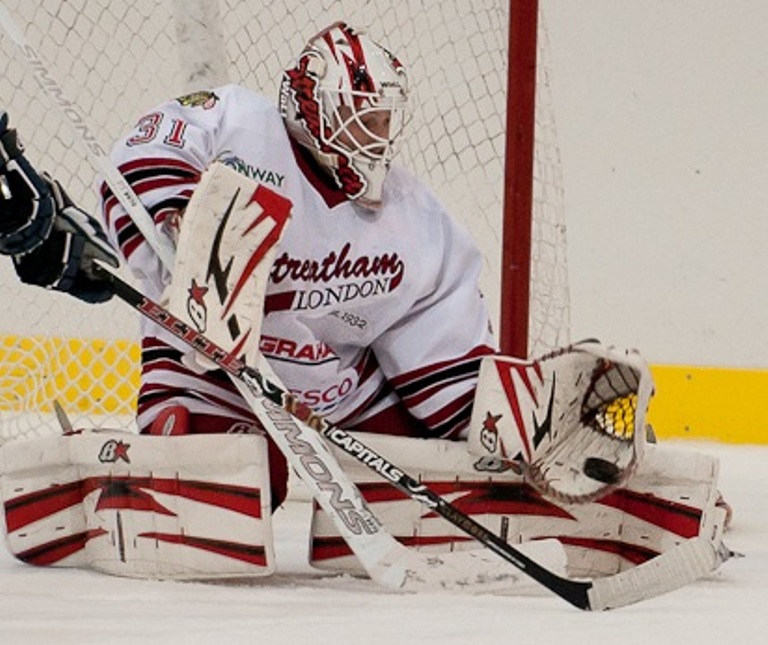 Sanderson – who first joined Redskins as seven-year-old in 1994 and then returned in 2009 after 12 years at Slough – has a Finnish mother and feels there is plenty Britain can learn from Finland's ice hockey structure.
"It all stems from the facilities. In Finland there are so many ice rinks while in Britain there are so few," he says.
"A lot of money also goes into all the winter sports over there and the fact is kids even play ice hockey in schools.
"If we could get the type of government funding that is put into sports such as football then ice hockey would go a long way, but until people realise how excellent ice hockey is that's not going to happen."
Despite the struggles that face British ice hockey, Sanderson still speaks proudly of the progress Streatham Redskins and the English National Ice Hockey League South One have made.
"The level of this league is so much higher and more competitive than what it was when I started out," he says.
"There has also been a lot of progression in Streatham since I joined.
"At that time things were going downhill for the club with many of the junior teams getting kicked down into the leagues below, which is one of the reasons I had to move to another club to get better coaching.
"But things have changed so much since then with the new ice rink, the number of fans we are attracting every game and the number of players we are bringing up through a good system."
And Sanderson is hopeful that if the right systems are in place, then youngsters could learn to love ice hockey as much as he has over the past 20 years.
"It's such a different game from all the others," he says.
"I remember putting my skates on for the first time, I didn't want to get on the ice because I was so scared but the minute I did I didn't want to get off.
"From day one I've never wanted to step back, I've loved every minute of playing ice hockey.
"It's the biggest part of my life. My fiancé would probably not be very happy with me saying that but it's definitely been a huge part of my life ever since I was a kid.
"I don't know if I have ever had aspirations of being an NHL super star but I've enjoyed it so much, even if there was never a kind of future to it.
"It's helped me grow as a human being. To be part of a team my whole life has and will always be a big thing for me."
Images of Will Sanderson courtesy of Rick Webb, with thanks