Wimbledon 8 East Grinstead 5
Wimbledon Hockey Club are NOW:Pensions Premier League champions for the first time in just their second ever top-flight season after defying the odds to beat table-toppers East Grinstead in a 13-goal final at Lee Valley.
Dons' striker Blake Govers netted five times, four from short corners, to claim the Man of the Match award and fire his side to victory, with Alistair Brogdon, Jack Waller and Phil Ball also getting on the score sheet.
Having gone into the half-time break level, four goals in eight second-half minutes saw Wimbledon blow their opponents away.
"It is an amazing feeling," said Dons' captain Ben Hawes.
"A lot of guys in the crowd and on the pitch have put a lot of time into getting us here and we owed it to them to put in a performance. That performance turned into a win which is great.
"We played without any fear. On Saturdat we were under more pressure because we felt we had more to lose.
"It's a massive achievement. We beat Surbiton, East Grinstead and Beeston away from home this year so we believed at the right time we could do it.
"A lot of us have come a long way with Wimbledon, just two years ago we were playing in a play-off to get into this league – I don't think we can quite believe it.
"We've got it this far and we've won the championship but we've got to view it as a starting point.
"The vision is to become one of the dominant teams in the country, we've done it once we have got to start looking to back that up over the next couple of years."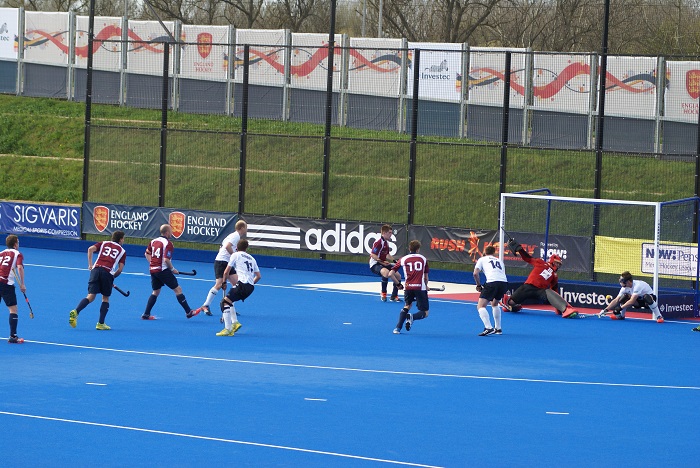 FOURSOME: Blake Govers nets his fourth goal for Wimbledon
Great Britain's Ashley Jackson opened the scoring in the fourth minute for East Grinstead before Govers struck twice to give Wimbledon the lead at the end of the first quarter.
Waller extended the Dons' lead to two before first Tony Wilson and then Mark Pearn netted for East Grinstead to send the sides into half-time level at 3-3.
Another Govers strike from a short corner put Wimbledon back ahead before Brogdon restored their two-goal advantage with a fierce drive through the legs of East Grinstead keeper Patrick Smith.
Govers added his fourth and fifth either side of Ball flicking in from close range to give Wimbledon an unassailable five-goal lead.
Jackson restored some pride for East Grinstead securing his hat-trick with two goals from short corners but it wasn't enough as Wimbledon held on for an historic victory.
"It's great because we certainly weren't favourites heading into the weekend," said Govers.
"This club has never gone this far before. A couple of years ago you would have never of thought this club would get to where it is now."
Hawes hinted he could have played his final game for the club but insisted he would wait to make a definitive decision.
"Whether it was my last game or not who knows," he said.
"I will make a decision when the emotion settles down. It's a long old summer and I'm not getting any younger but I will still be a big part of the club."