The history of the Women's Six Nations can be told in three tiers.
At the top is England. The Red Roses have won 12 of the 20 tournaments contested since the competition expanded to six teams in 2002, including the last three iterations.
Trailing them by a small margin is France. Les Bleues have won six of the remaining eight titles and are perennially England's main rival.
And the third tier houses everyone else. None of Ireland, Scotland, Wales, Italy or Spain (who Italy replaced ahead of the 2007 tournament) has managed a sustained period at the summit.
According to Rugby World Editor Sarah Mockford, the distinction is concerning.
She said: "You've got two leagues in one. England and France are vying for that top spot and then the other four playing off. It is a huge issue in the women's game."
By any metric, England and France are streets ahead.
England have won the most matches (89), followed by France (76). Ireland have the third-most (47), but their total is closer to Scotland (20), who have the fewest wins out of the teams currently in the competition, than to the French.
After the 20th Women's Six Nations last year, 59% of the points in the tournament's history had been scored by England and France.
Since Italy replaced Spain in 2007, the two dominant sides have notched 60% of the tries.
The cumulative average finishing position of each team displays how sides can compete with England and France for a small period, but struggle to push for top spot consistently.
Ireland are the perfect example.
Their titles in 2013 and 2015 were the only occasions when the Women's Six Nations eluded the two traditional heavyweights, but their success was neither the result nor the start of regular contention.
Their current average finish of 3.50 is the third-best but is closer to sixth-best Scotland (4.85) than to France in second (2.05).
Such a glaring trend signals deep-rooted inequalities, according to The Times sub-editor and women's rugby journalist Jessica Hayden.
She said: "The opportunity to play below international level in England and France has been really good, whereas in other countries they tend to take athletes from other sports and convert them into rugby players.
"In Wales, for example, they have been decimated in recent years and they are only just coming back, so they have struggled to nurture international talent."
For Mockford, the absence of competition at the top of the Women's Six Nations reflects a simple geographical problem.
She said: "When women's rugby first came to the fore, a lot of it was through universities. It's not like there was often girls' rugby at clubs.
"France and England have a much wider base. There are a lot more universities and there is a bigger population in those countries than in Wales, Scotland or Ireland.
"When you are starting something from scratch, you need that volume of people."
The gap is not closing, either. In the 2022 tournament, England and France romped to comfortable victories in each of the opening three rounds, and the title appears certain to be decided by the duo's encounter on the final weekend.
The growing gulf is indicative of a more nascent advantage – professionalism.
In 2019, England became the first nation to offer permanent full-time contracts to its women's 15-a-side players when 28 deals were distributed.
Mockford believes professionalism is central to England's success over the past three years, which includes an ongoing 21-match winning streak.
She said: "Because they have got more time together, they can develop their skills, they can develop their fitness, they can develop that ability to recover and repeat their efforts."
France are the closest to matching England's world-leading structure. They announced their first part-time contracts in 2018, though any player who signed one had to be in full-time employment or education.
That policy changed ahead of this year's Women's Six Nations, meaning France have full-time athletes in their squad for the first time.
And below that, much like a typical tournament table, is everyone else.
Despite receiving per diems, Ireland are an amateur women's rugby nation and their board launched an independent review after 62 current and former players wrote to the national government last December calling for "meaningful change".
Elsewhere, Scotland head coach Bryan Easson revealed last month that around 35 of his players have agreements that help them fulfil both rugby and other commitments, but he refrained from calling them 'contracts'.
Italy also remain amateur and receive expenses for each game, but not a match fee.
Mockford commented: "A lot of players in Scotland and Ireland are working full-time jobs and training in the evening.
"If you want to be consistently challenging, you need that investment across the board."
Of course, it would be unfair to claim that only England and France are bothered about the women's game, as recent developments in Wales show.
In January, the Welsh Rugby Union handed out its first 12 full-time professional contracts to women's players.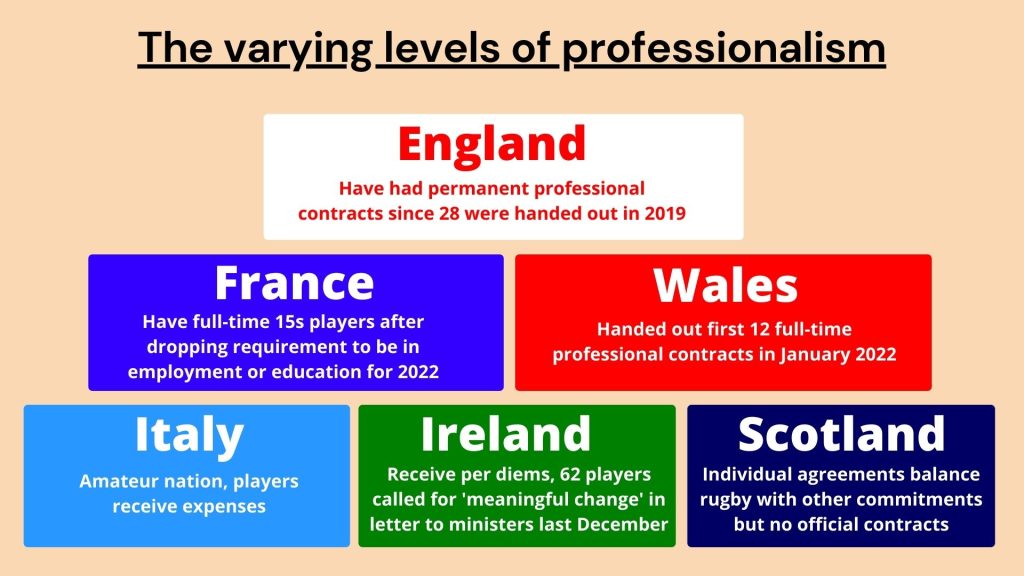 Wales opened this year's Women's Six Nations with comeback wins over Ireland and Scotland, displaying the exact improvements to fitness and execution that the contracts intend to yield.
Yet, a single landmark decision is not enough to reel in England and France, as shown by Wales' 58-5 loss to the Red Roses in round three.
Hayden said: "Once those contracts in Wales have been in place for a couple of years, the gap will close but it is going to take years of getting better performance pathways in place.
"It's going to take a long time to get where they need to be so you have that future of talent coming through."
Likewise, Mockford praised the new deals, but added that they are only for one year and uncertainty remains beyond 2022.
The issues are not limited to contracts. England's Premier 15s league is comfortably the top domestic competition in the UK and Ireland, while France's Élite 1 rivals it for quality.
Hayden said: "The Premier 15s is the highest league in the world, but France also have a very good league that pays money to players."
With these leagues naturally providing more opportunities for young English and French talent, the rich are set to get richer.
Rugby sevens is also a stumbling block for the 15-a-side game.
The simplified version of the sport requires fewer players and resources, making it a logical choice for cash-strapped unions that must balance the two disciplines.
Ireland, for instance, will be missing several first-choice players for at least the final round of the 2022 Women's Six Nations because they are playing a sevens tournament in Canada.
The diverse, complex set of problems makes it difficult to imagine a future where the Women's Six Nations is not a two-horse race.
Women's rugby is one of many sports competing for coverage and attention, so the lack of competitiveness at the top is not ideal.
Mockford said: "In a lot of women's rugby, you know who is going to win before the match kicks off and that is the biggest challenge.
"If you do want to grow the game, you need it to be more competitive across the board.
"People like sport because there is uncertainty and you don't know who is going to win."
At present, the tournament requires all viewers to watch through the eyes of a dedicated rugby follower.
There are exciting games beyond England v France. Both Mockford and Hayden highlighted Wales' dramatic 24-19 victory over Scotland in Round 2, which was watched by a record Cardiff Arms Park crowd and a live TV audience on BBC Two.
With its momentum swings, physical battles and nail-biting finish, the game possessed all the attributes that make rugby entertaining, even though the result is unlikely to have any bearing on the title.
Hayden said: "Some of the most interesting match-ups are between Wales, Ireland and Scotland. The Wales games against Scotland and Ireland were both incredible.
"We don't just watch the men's Six Nations to see who is going to win, we watch it to see the match-ups and how different teams are progressing."
Rugby die-hards will support this statement, but is the casual fan really invested in the development of the Women's Six Nations' bottom four?
The tournament will hope so because, beyond England and France's final-day clash, there is little reason to watch if not.
Featured image credit: Caroline Léna Becker via Wikimedia Commons (CC BY 3.0)