A Tooting teenager has already won the Brazilian jiu-jitsu European Championships this year and now she's aiming for gold at the World Championships in California.
Kyra Robinson, 18, won the International Brazilian Jiu-Jitsu Federation European Championships in white belt, 74kg division, in January and is competing in a whole host of events before the Worlds in June.
Kyra, who has lived in Tooting all her life, is following in the footsteps of her dad who has a black belt in karate and judo.
She said: "My martial arts journey started at about the age of 9 or 10 when I was told to try judo by teachers at a boys' school called Ernest Bevin.
"I was shocked because judo, wrestling and karate run in my family, we have world champions and all high-level black belts on my dad's side.
"So I tried judo and fell in love with it the first lesson and I stayed at Ernest Bevin for about five years.
"I then moved to Ealing Judo Club at the age of 16 and started competing properly at a national level, getting some good results."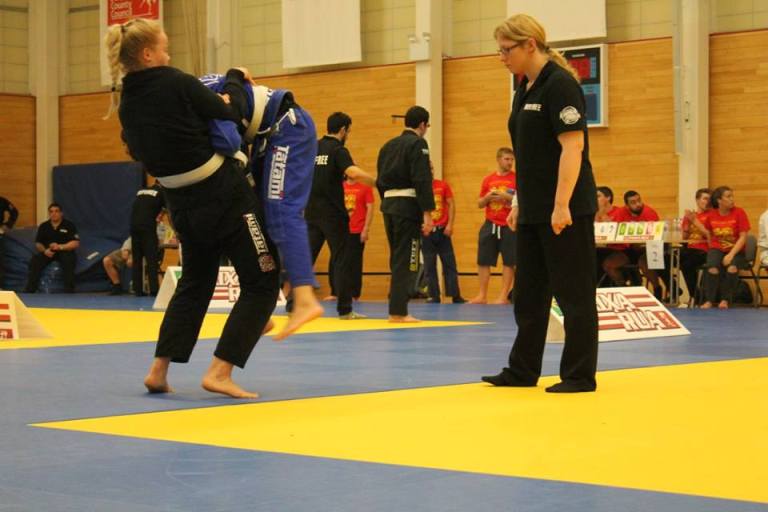 FIGHTING SPIRIT: Kyra took to the sport very quickly
In 2013, Kyra travelled to South Africa to train with her cousin Mark, a world champion in four different sports, he encouraged her to take-up Brazilian jiu-jitsu to aid her judo. This changed everything.
She said: "My love for judo slowly disappeared and I started training more and more Brazilian jiu-jitsu.
"I loved the whole atmosphere – the people, the vibe, the sport, how hard everyone worked."
Kyra now trains at Carlson Gracie academy in London, with her coaches Wilson Junior, Dickie Martin and Simon Hayes.
She said: "Seeing people from my academy take international medals, it became a dream for me to also be one of those people."
In her first year of competing, Kyra won three gold medals, one silver and one international gold medal at the European Championships in Lisbon.
She said: "It was such an honour to represent my team at such a high level and win.
"It was the toughest competition I have ever done and coming home with a gold medal was just unreal for me."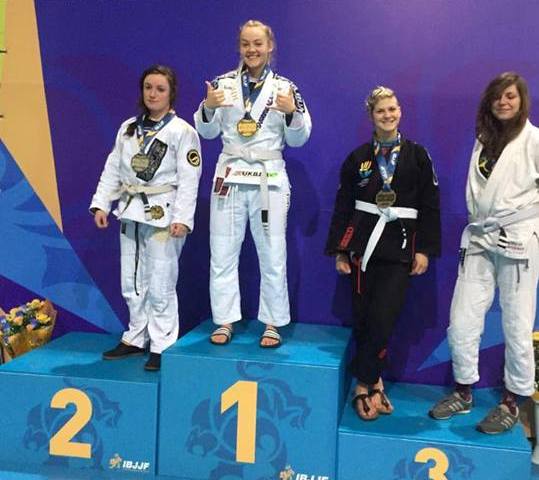 GOLDEN GIRL: Kyra aims for gold in all belts 
Kyra now dedicates her life to Brazilian jiu-jitsu, training once or twice a day, six days a week. Her hard work paid off when she was promoted to blue belt in 2016.
"It's not all fun and games, sometimes I'm so sore, I'm injured, I'm tired and I don't want to get up and go and train twice, but that desire to be the best and improve gets me out of bed," she said.
"I don't really do much apart from training. I don't drink or go out partying like most people my age, so to relax I just chill at home, eat good food and spend time with my family doing nice and relaxed things that don't take too much energy so I'm ready for training the next day."
Lisbon was just the start, Kyra plans to travel to Long Beach in June for the IBJJF World Championships.
She said: "Travelling is one of the best parts of doing what I do, being able to travel around the world meeting amazing people, seeing amazing things and being exposed to so much positivity and love."
But she isn't going to forget her roots any time soon.
She said: "I think growing up in south west London was a great start to my journey, being exposed to one of the best judo clubs in London at such a young age with great opportunities."
At just 18, Kyra is extremely motivated.
She said: "I believe motivation comes from something deep down inside you.
"People always look for exterior things to try and motivate them to do things but I think if you really want something then motivation occurs naturally.
"I have my big sister, Phoebe, by my side everyday training with me, she is one of the biggest motivations, the team we have keeps me going.
"The motivation from my family, all the generations before me competing at the highest level and winning, I just want to carry on the Robinson legacy.
"Also, having my sponsors Wootz behind me keeps my spirits high."
Kyra's dreams don't end at the World Championships, she eventually wants to teach others.
"My ultimate goal is to be world champion at every belt so eventually I will get to black belt and be world champion and then hopefully in many years to come open up an academy with my sister."