Sir Mo Farah returns to action on Wednesday – a much-needed knight in shining armour for a British team in desperate need of a hero.
Two years ago in Beijing, British athletes won seven medals at the World Championships, including four golds, and in the three editions before that won a total of 21.
But these home championships have not gone according to plan and the official slogan, 'See the best', has too often not applied to those in red, white and blue.
UK Sport have set a stiff target of six medals at these Games, which looks a major stretch in the days to come, with Farah's 10,000m gold the only medal so far.
And, after another night that saw the home team fail to trouble the scorers, even eclipsing the three medals they won in 2001 and 2005 looks a big challenge.
The retirement of Jess Ennis-Hill and an injury to defending world long jump champion Greg Rutherford hasn't helped their cause.
While Farah's contribution – six golds and one silver since 2011 – should be treated as an exception rather than the norm.
However, for all the glory of sport, true success is measured in cold hard cash. British Athletics has been awarded £27.1 million to prepare for the Tokyo Olympics, money that may well be under threat if their 87-strong team don't find some form – and fast.
Farah, in his last track appearance, could certainly give them a farewell boost. He will stretch his legs, after last weekend's dramatic victory, in tonight's 5000m heats.
And then all attention will turn to Saturday's showpiece final, with team officials probably more on the edge of their seats than an expectant crowd.
"I've had enough days to recover, rest up and get ready," said Farah. "Being smart has helped me to get to where I am but I'm not as fresh as I was six years ago, five years ago."
After medal contenders Katarina Johnson-Thompson, Holly Bradshaw, Sophie Hitchon and Laura Muir all fell short of their ambitions in the previous two days, last night appeared to offer slim pickings for the home crowd.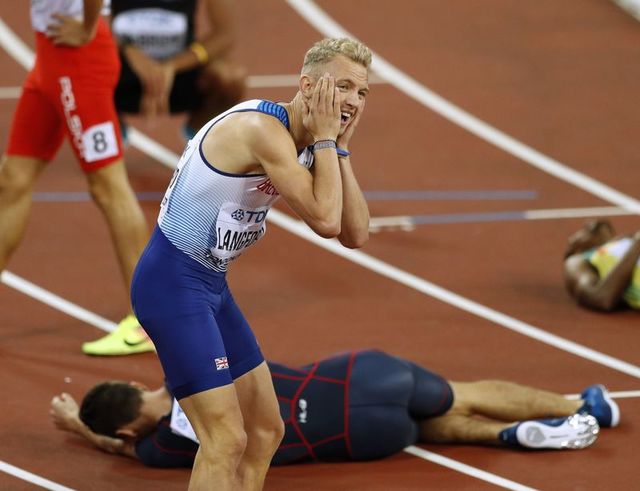 Kyle Langford produced a brilliant run to make the men's 800m final but delivering a knockout in said final was always going to be an ask for Anthony Joshua's former schoolmate.
However, Langford hadn't read the script and he finished just outside the medals in
fourth, lowering his personal best again and finishing just four hundredths of a second behind bronze.
And while others praised his run, Langford's more sombre reaction – after missing out on becoming the first British male to win a World Championship 800m medal in 30 years – gave you some hope for the future.
"I've got a mentality that says I want to win everything," he said, after clocking 1:45.25 in a race won by France's Pierre-Ambroise Boose.
"Perhaps you could say I would have taken fourth a few months ago but I wanted a medal and I'm gutted.
"I told my coach in the winter that I'd make the final and then pull out something special. I came here to win and I was so, so close. I need to take it on the chin and just learn from the experience.
"It was a scrappy race and perhaps I left it too late but I won't be making the same mistake come Tokyo 2020, I can promise you I'll be getting that gold.
"I'm only 21 and I've got lots of time. I'm a confident athlete and I'm just driving for that ultimate goal. I know a lot of people said making the final was good but in bed last night I thought it was destiny for me to get a medal."
Meanwhile, Eilidh Doyle has sprung to the defence of her team-mates as the pressure for a second medal starts to build
The role of an athletics team captain is largely honorific, usually consisting of a photo call, a press conference and saying the right things.
And Doyle loyally expressed pride in her team-mates, highlighting this team's potential, with fellow Scot Laura Muir's 1500m fourth place her case in point.
"It's so difficult, we've had a lot of criticism about medals this year but I think the performances have been amazing and people have just missed out," she said, after reaching the 400m hurdles final.
"People are really running well but it's the World Championships, it's hard to win a medal, it's the best in the world here.
"So I think you've got to look at this team as the future, they will be on podiums in time."
---
You can help the next generation of young British athletes by getting involved in SportsAid Week this September with London 2012 hero Greg Rutherford MBE. Find out more about how you can support the week of fun and fundraising by visiting www.sportsaid.org.uk/sportsaidweek.
---