With the battle to qualify for the Vitality Blast T20 semi-finals hotting up, MAYA PATEL went to The Oval on Friday night to watch Surrey beat Middlesex in what turned out to be a record-breaking night.
Sitting in the same area as the players as they awaited their turn to bat, with just a tape separating us, I was able to catch glimpses of conversation.
Most of the cricketers seemed relaxed about the game, sharing a casual joke as they cheered on their teammates.
I was also close enough to see hear Surrey's Jason Roy come to the fence and swear a couple of times before kicking the board in frustration as Middlesex started to rack up the runs.
Being an amateur, I was amused to learn the unusual names used for cricket positions. Where football has defenders, attackers and goalkeepers, cricket has silly points, short fine legs and leg slips.
I was also surprised by the strength generated by the bowler, demonstrated by the sharp thud of it landing in the wicketkeeper's hands.
Middlesex's first six was hit by Paul Sterling on his way to getting 50 runs by the eighth over and 109 altogether by the 15th before he was bowled by Rikki Clarke.
Throughout the match, three sixes were caught by three different guys in the crowd who all won £1000 each.
A six even landed in the row in front of me, but a group of men all missed the ball and instantly turned to blame each other in confused excitement.
It was clear the excitement ran like electricity through the crowd, resulting in two people bursting out on to the pitch and one evading the security guards well enough to get to the other side.
Middlesex topped 200 with another sixth in the 18th over and ended their innings with an impressive 221-5, equalling their best ever T20 score.
Before Surrey had the chance to reply, I interviewed Hitesh Patel, 56, a university manager from Middlesex, for his prediction.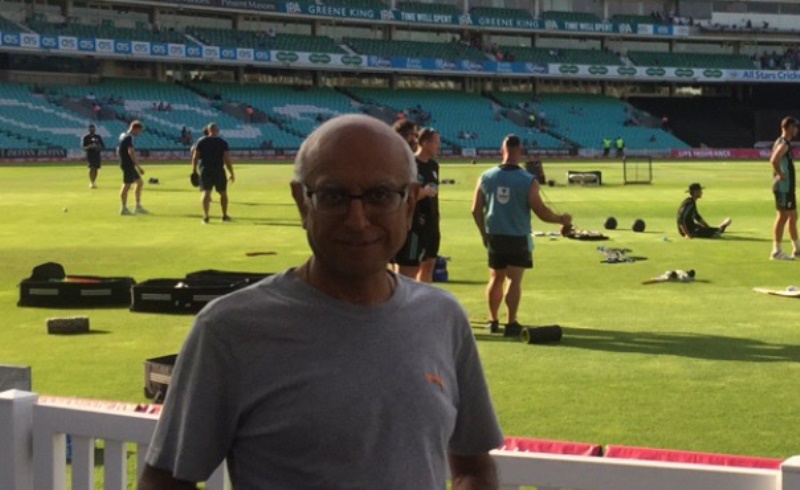 HIGH SCORING: Hitesh Patel predicted an exciting finish
He said: "It seems like a very high-scoring match, so it could be an exciting finish.
"We just have to wait and see how Surrey play. The runs seem to be coming thick and fast in the last overs."
I also got the chance to speak to Kate Newton, a 32-year-old actuary from south London, who had come to support Surrey on her sister's birthday.
"Anything over 200 is solid, but Surrey have Aaron Finch who is a record holder so I hope they win, because they definitely have the ability," she said.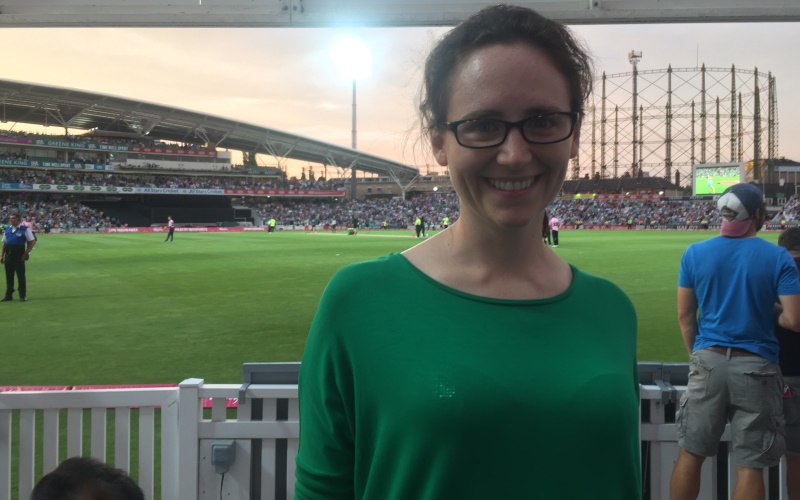 FORTUNE TELLER: Kate Newton correctly predicted Aaron Finch would have a big say in the result
Kate's prediction proved true as Finch scored 50 runs in just 16 balls – scoring three sixes and one four in one over.
He kept up that impressive scoring rate and passed 100 in 45 balls as he and Roy put on 194 – a record partnership for Surrey in the Vitality Blast – before Roy fell on 84.
It didn't take long after that for Finch and Nic Maddinson to reach Surrey's target as Finch ended on 117 not out from 52 balls, with the harmonious melody of Sweet Caroline sung around the ground in celebration.