Former British number one Annabel Croft was in Camberwell last Saturday in a bid to inspire the next generation of sporting stars on to the tennis court.
The 49-year-old joined regulars and newcomers alike as part of the annual Great British Tennis Weekend (GBTW), which saw a record 54,000 people pick up a racket this year.
Croft, who lives near Wimbledon, believes the campaign will persuade families to take up tennis throughout the summer, applauding the positive community response to GBTW.
"It's a wonderful way of accessing great tennis facilities, especially if you have children," she said.
"I'm a mum of three kids, I know how hard it is trying to keep them occupied."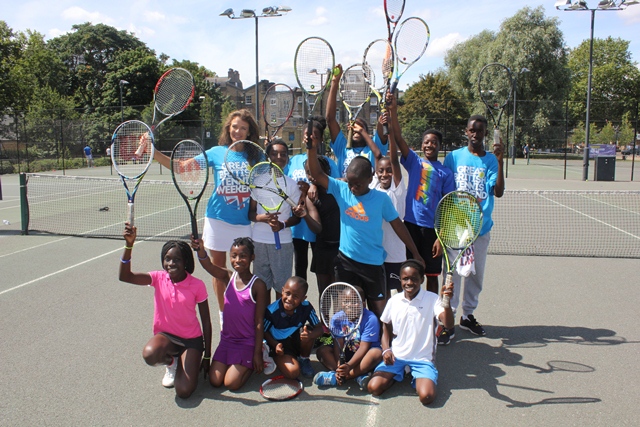 CAUSING A RACKET: Annabel Croft with the Great British Tennis Weekend participants

While she hopes to pass on her skills, Croft has no regrets about her own sporting career, which began in the 1970s, before she retired early aged just 21.
She can still remember sitting in her parents' room to watch the 1974 men's final when she was eight.
Three years later she travelled to Wimbledon for the first time, with tickets for the semi-final that pitted Virginia Wade against her idol Chris Evert.
"From that moment on I knew I wanted to play there," she recalled.
Wade became Croft's mentor after she won her Wimbledon junior title in 1984 and the two have been close friends ever since.
She said: "Virginia is like my fairy godmother. I've known her for nearly a lifetime."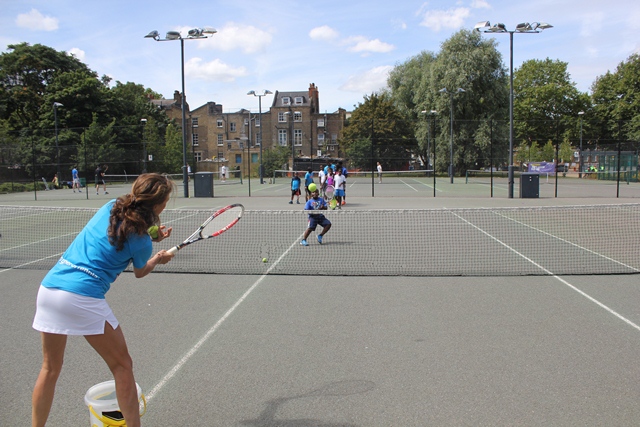 EYE ON THE BALL: Croft gives out some tennis tips
Croft also won the junior title at the Australian Open but she failed to make it beyond the third round in 18 senior Grand Slam appearances before retiring.
Now she is eagerly anticipating the successors to the likes of Roger Federer, Andy Murray and Serena Williams.
The former world number 21 picks Garbine Muguruza, Madison Keys and British hopeful Laura Robson among tomorrow's tennis champions.
"Laura could be a major challenger. I think Garbine's going to be a big star," she said.
"It's been such a privilege to work in tennis in this era. It's one of the greatest eras we've ever experienced."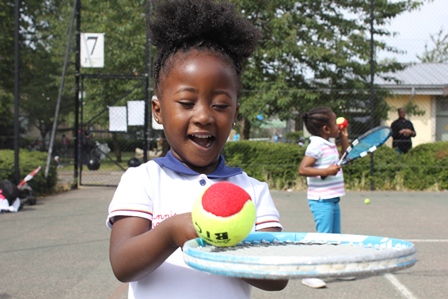 NEW SKILLS: A good balancing act
She advises youngsters who want to lift the Wimbledon trophy to commit themselves to the task, thinking back to the long hours she sacrificed for her own achievements.
"Take responsibility for your own training. Don't make excuses for yourself," she said.
"But it's not just about practising tennis to try to win Wimbledon. Tennis is a sport that you can play at a social level, in your community, as part of a healthy way of living."
Croft is adamant about the benefits of picking up a racket at whatever level, be it professionally or just having a go during GBTW.
She said: "Tennis has been such a huge part of my life and it always will be.
"It's a sport that can bring a lot of joy to people's lives."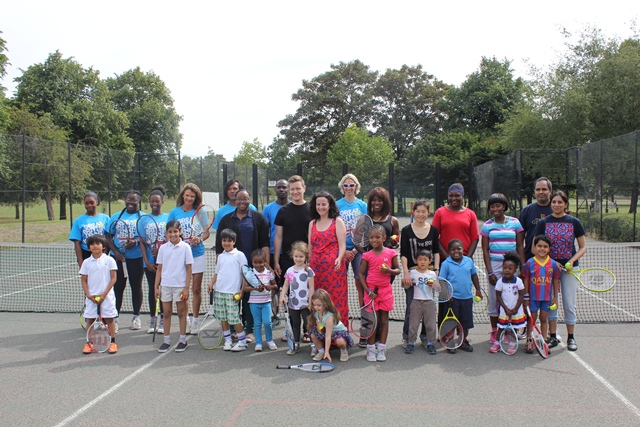 ACE DAY: The team that took part in Camberwell
All images courtesy of the LTA, with thanks