It had long gone midnight and Usain Bolt was still giving interviews, still signing autographs, still dancing and still playing to the crowd with that trademark pose. He was still smiling too.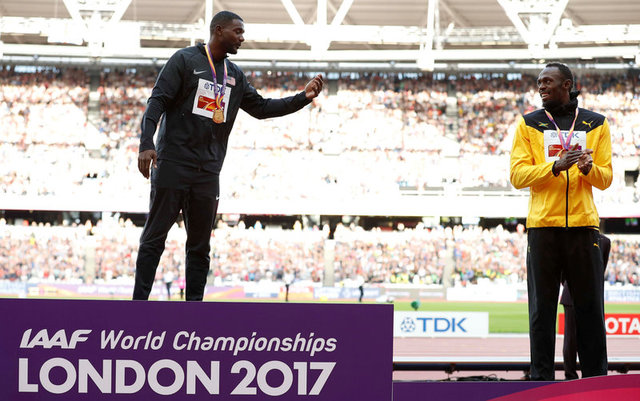 But never has a fizzing super-charged atmosphere quite so dramatically lost its electricity.
Justin Gatlin claimed the blue-riband event of these World Championships, leaving athletics officials just a little red-faced. As he flashed across the line it was like someone had flicked a switch and suddenly this Saturday wasn't quite so super.
This is not a pantomime, implored the increasingly desperate stadium announcer, as Gatlin was roundly booed, only it was.
And unfortunately for Bolt when the crowd chanted 'he's behind you' they were talking about him. He's won 29 medals in a career that started with gold at the World Youth Championship but this was a first – a first bronze.
Sunday night's primetime medal ceremony was brought forward to before the start of competition, to avoid a full house making their feelings known again.
But two-time drug cheat Gatlin still was booed while Bolt's name rung around a stadium, like he'd just scored the winning goal for West Ham.
Seb Coe who is in the race of a lifetime to repair his sport's tattered credibility, stared on glum faced and rightly so.
"I'm hardly going to sit here and tell you I'm eulogistic that somebody that has served two bans in our sport would walk off with one of our glittering prizes, but he is eligible to be here," he said.
What happens to this sport after Bolt is just one of many issues that should keep Coe awake at night.
Bolt is athletics and Bolt is these championships, concession tickets for children are even priced at £9.58 in recognition of his 100m world record.
He had it all, talent, personality and the perfect name, he was as quick-witted as he was quick-footed, delicately navigating that difficult tightrope between arrogance and humility.
"I've proved to the world I'm one of the greatest athletes," said Bolt. "I've done my part to uplift the sport and show it's getting better and I did my best.
"No matter what happened this season I was going to come out and do it for the fans, they really wanted me to do one more championship."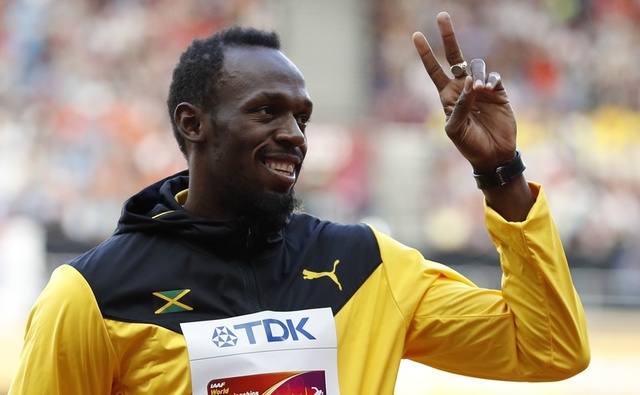 Time has caught up with Bolt – who turns 31 later this month – as quickly as his rivals. The fact he has remained so dominant for so long remains remarkable but it's fair to say this has not been a vintage sprinting year.
But silver medallist Christian Coleman is only 21, the same age as rising British star Reece Prescod, who finished seventh in the final.
Gatlin's winning time, 9.92 seconds, would not have earned a medal when Bolt won the 2009 world title in his world record time.
Prior to the final only Bolt and Coleman had gone below ten seconds this season, with some claiming slower times are equated to a doping crackdown.
It's a suggestion that infuriates Bolt – at his most tetchy around talk of the 'd' word – though he can hardly be surprised that the problems of this sport have created a disciplined chorus of cynics.
"That's just disrespectful," he said. "There's something called injury and sometimes everything doesn't go as smoothly as you want to – there's wind and so many other things.
"Justin was the better man and he executed it well. For me he deserves to be here because he's done his time and worked hard to get back to be one of the best athletes."
In the last seven years Bolt has lined up in 144 races and lost just eight times, but there was no denying this one hurt most.
In time he may reflect he was wrong to continue after last year's Olympic successes in Rio and 2017, in which he struggled with injury and lost close friend Germaine Mason in a car accident, has been tough.
But perhaps it was the loss of Mason, a British high jumper who won bronze at the 2008 Olympics, that put defeat into context. Sport is just sport after all.
Bolt has always seemed preoccupied by his legend and how he'll be remembered. Like Michael Jordan and Muhammad Ali – his two idols – he transcended his sport.
But like Jordan and Ali, he didn't quite know when to call it quits.
---
You can help the next generation of young British athletes by getting involved in SportsAid Week this September with London 2012 hero Greg Rutherford MBE. Find out more about how you can support the week of fun and fundraising by visiting www.sportsaid.org.uk/sportsaidweek.  
---