It may be something of a tired cliché, but the Lionesses have experienced an emotional rollercoaster over the past four weeks.
There have been soaring highs, such as Fara Williams' penalty securing a win and third-place against Germany, and the look of sheer adulation on Fran Kirby's face after scoring against Mexico.
But there have also been some crushing lows, like Laura Bassett's heartbreaking injury-time own goal against Japan in the semi-final.
Despite the Lionesses incredible World Cup journey being cruelly cut short, their success (and failures) on the pitch have inspired the nation and has seen women's football garner mainstream attention like never before.
But what effect will the Lionesses' success in Canada have on the women's football back home in England?
South West Londoner reporter Steven Salter joined AFC Wimbledon Ladies for their first pre-season training session to find out.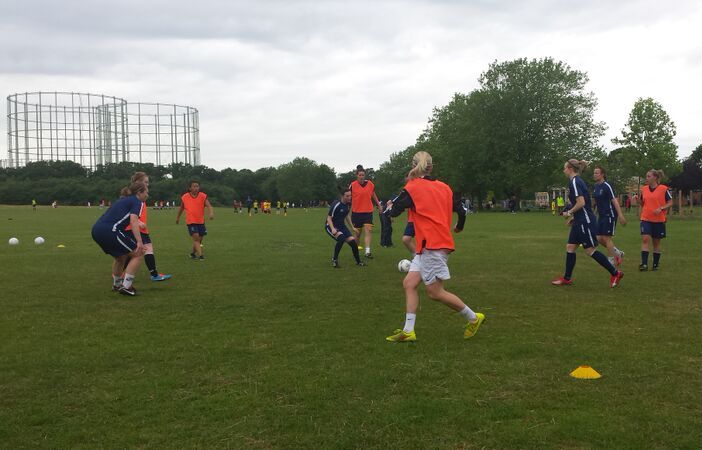 IN ACTION: Training on the St Joseph Hood playing fields in Motspur Park
"There has certainly been in a change in the perception of the women's game," first team manager Chris Lyons explained.
"I have been in the game for eight years now and when I started I found people had a very belittling attitude toward women's football but I think that bigotry is now subsiding."
Despite the late night games, television audiences have grown throughout the tournament, which culminated in England's first win over Germany in 21 attempts on Saturday, and the USA's crushing 5-2 final win over Japan last night.
"I think the BBC's televised coverage has been fantastic, and it is great to see high profile England legends like Gary Lineker, Stuart Pearce and Ian Wright promoting women's football – it's a massive step forward for the game," Lyons added.
He believes that part of the reason the nation has become so enraptured with Bassett, Steph Houghton and co is that they are easier to identify with than their male counterparts.
He explained: "Rather than players earning hundreds of thousands of pounds a week, you see a player on quite a modest salary and she's making sacrifices to play for her country.
"I think that makes them easier to relate to."
AFC Wimbledon Ladies vice-captain Libby Suchley was delighted to see the Lionesses progress and impressed by the character they showed to win in the third place play-off after the heartbreaking semi-final loss.
"I think we deserved to go through to the final. It was an awful, awful way to go out, I really felt for Laura Bassett," she said.
"We've all had something happen like that, such as missing a penalty, and it does stick with you but they bounced back brilliantly."
Suchley also said she thinks the Lionesses will provide great role models for the next generation of female players.
"I don't want to give away my age but when I was younger games were not on television and you didn't really have anybody to look up to," she said.
"But now everybody seems to be talking about it, there is a lot of enthusiasm, and we just need to keep that going."
Club captain Jess Trimnell hopes the FA continue to build on the momentum created by the World Cup.
"In the last five years the grassroots game has really improved, and hopefully the vision that the FA have for the women's Super League will continue to inspire a younger generation coming through," she said.
AFC Wimbledon Ladies have a strong youth set up of their own with girls teams starting at under 11s and progressing all the way up to under 18s, as well a development squad and the first team.
Suchley said: "Our set up and structure at the club is very supportive of the girls and ladies.
"It is really good to the see the youngsters playing and to think that in five or ten years time they will be playing for the ladies first team, maybe at a higher level and possibly for England."
After finishing as County Cup winners and just two points shy of promotion last season, AFC Wimbledon Ladies are looking to England for inspiration as they fight to try and win the league this time around.
Feature image of (left to right) captain Jess Trimnell, first team manager Chris Lyons and vice captain Libby Suchley