With softball's return to the Olympic schedule at Tokyo 2020 all but sealed, a mixed-gender version of the sport is booming much closer to home in Wandsworth.
The Greater London Softball Mixed League (GLSML) has 48 teams spread across six divisions, with nine of those sides using pitches on Wandsworth Common as their home ground.
There are another six sides in Colliers Wood, five at Battersea Ironsides in Earlsfied, one at Clapham South and another at Richmond's Old Deer Park.
Chris Carr captains the Pimlico Pirates and praised the availability of facilities in Wandsworth as contributing much to the sport's burgeoning popularity citywide, as well as the inclusive nature of slow pitch softball, the slower form of the game.
"As a sport, slow pitch softball is great because anyone can play," he said.
"It does not make a difference if you are a guy or a girl, you can be just as effective a player.
"It is a very social game. We play for two hours then go to the pub for about three or four hours."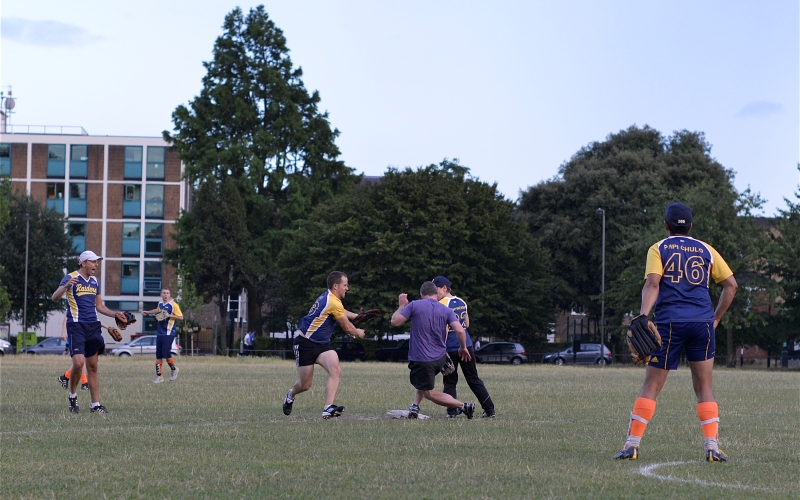 IN OR OUT: The Raiders in Greater London Softball Mixed League action
Kat Macann is the director of the GLSML, and chairs the committee of volunteers that runs the league.
She said: "Slow pitch softball works really well as the sort of thing that people do after work, then go for a drink.
"We have got a really good balance of social and competitive."
The GLSML enforces the sport's gender rules to make things fairer for everyone, meaning each team must have an equal gender split, with five men and five women apiece.
The batting order must alternate between men and women, and the fielding side are required to organise their players evenly according to gender.
As of this year, there is also a 'two-ball' system which gives women the option of using a slightly smaller ball, which travels further.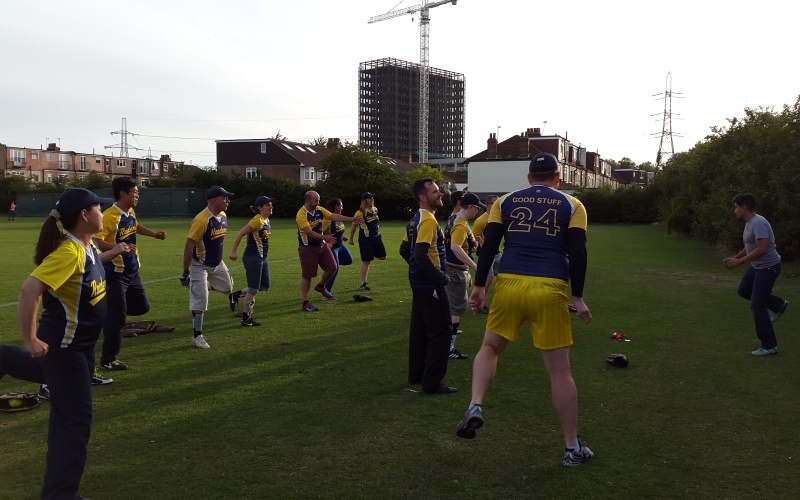 GOOD STRETCH: Raiders warm up before one of their games 
Ms Macann is also a member of London Raiders, who have five teams across the divisions and have existed for 20 years.
The Raiders are a predominantly LGBT club, although all are welcome, and Ms Macann believes that this atmosphere of tolerance pervades the GLSML – which she describes as an "inclusive sporting community."
While the majority of players are working people between the ages of 25 and 44, anyone over the age of 14 is welcome to take part.
There is a man in his late 60s playing in the highest division, and last year 10-12% of participants were over 45.
In the leagues, which started in May and run through to August, each team plays each other twice, with the top two from each league promoted and the bottom two relegated at the end of the season.
The league is a broad church in terms of ability, too, with international GB players in the top division and complete beginners in the lowest.
New members are always welcome to sign up and for more information go to http://www.glsml.co.uk/.
Feature image shows the Mouserats against the Kamikazes, with thanks to the GLSML