Chelsea FC unveiled their future at an exhibition in the club which included a scale model of their proposed new 60,000-seater stadium this week.
The search for a new ground has been going on for close to a decade with the club's owner Roman Abramovich – who is personally funding the £500million redevelopment – recognising that Chelsea are in need of a larger stadium.
The extra seats will help the club to cope with the ever-increasing demand for tickets and to increase revenue streams in light of Financial Fair Play regulations.
The exhibition gave attendees the opportunity to see what may end up as the final product – plans could change between now and 2021 – in scale, with the previous presentation only displaying tinted sketches of certain corners of the ground.
Fans and residents were invited to attend the event where, significantly, important information was divulged on how the work would affect the area.
Residents expressed their concerns over crowded streets in July over the proposed reduction in parking space from 276 spaces to just 100.
The discontent at the cutback was addressed and the construction team has agreed to reduce the amount of bays to 250 instead.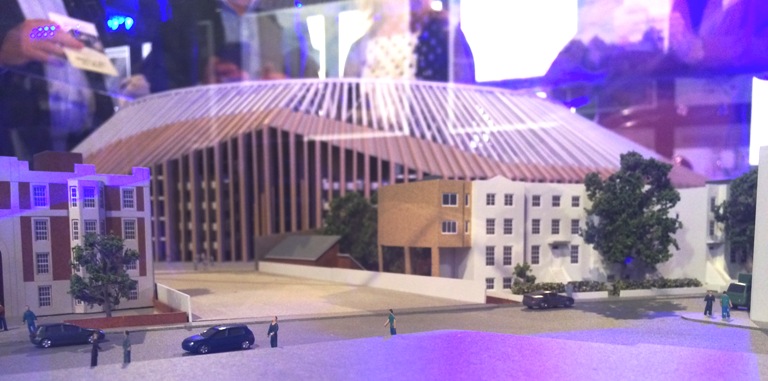 A video put together to demonstrate how supporters would exit the ground showed that the number of supporters spilling out onto Fulham Road from the new stadium will be less than the amount that do so today.
When construction is complete 31,400 spectators are expected to exit onto Fulham Road immediately after the game – nearly 10,000 fewer than today's number.
More than 15,000 will head straight into Fulham Broadway station and 6,000 will remain on site to enjoy the bars, cafes, restaurants and shops that are set to be incorporated into the new site.
Chelsea are set to continue playing at Stamford Bridge while work begins on improving access to Fulham Broadway throughout the 2016-17 season, before playing their games elsewhere for three or four seasons, with Wembley Stadium being the likely destination.
The architects Herzog & De Meuron have re-imagined the old Stamford Bridge, or Samfordesbrigge as it was known in the 15th century, which was an overpass over Counter's Creek, previously named Stanford Creek.
The re-imagination will take the form of a viaduct which will lead directly to the new stadium's East Stand.
Its arches will house the bars, cafes, restaurants and shops set to entertain match day punters after the final whistle.
Both walkways would only be accessible on matchdays.
The club has pledged to deliver apprenticeship schemes for locals starting their careers.
Trade training schemes are to be held on site, organised by the construction companies, with the aim of providing the apprentices with a wealth of experience that they hope will lead to successful careers in the industry.
Full-time and part-time jobs will be touted to neighbours during the stadium's operational phase, further cementing the club's grounding in its community.