Sometimes you can't find a superlative to describe what you witnessed and no amount of thumbing the thesaurus for a clever word will do. Sometimes you just need to sit back, slack-jawed in awe, and rub those disbelieving eyes.
He's done it! @Mo_Farah is a World Champion for the sixth time in his incredible career #London2017 pic.twitter.com/9KTYcMT2kc

— Eurosport UK (@Eurosport_UK) August 4, 2017
Did it really happen? Yes, it did. Will this really be it? Sadly, yes it will.
Mo Farah produced the performance of his career in the hardest race of his career to anoint himself without parallel in his sport – the undisputed greatest distance runner in history.
The history books will forever label him the 10,000m champion at these World Championships but they won't tell the story.
For six years this ruthless winner has been an unstoppable and unbeatable force but, for a while, it seemed the rest of the world had finally caught up at the house that Mo built.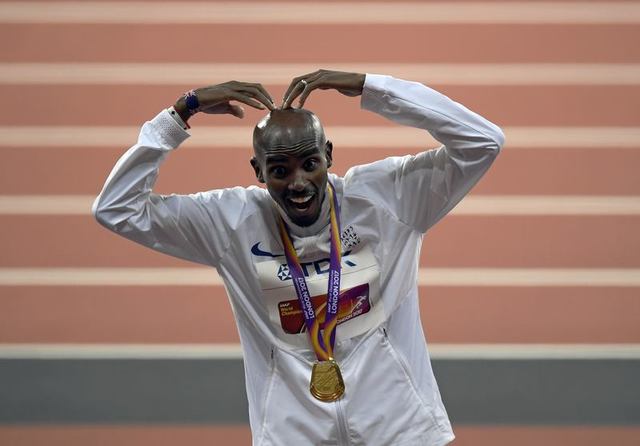 They came from Kenya, Uganda and Ethiopia and beyond and determinedly worked together to spoil the occasion for 55,000 expectant party guests.
They tried to sap his energy, with repeated injections of pace in a brutal and attritional race, but he stayed primed, poised and prepared.
They tried to clip his heels, twice on the final lap he needed to stop himself from taking a tumble, but he stood resolute.
In the final analysis, Farah saw those all-comers, with their younger legs, and raised them. Too much fight, too much heart, just too good.
And, as the wall of sound roared him on, begging and imploring, he hit the front and kicked for home, his winning time was 26:49.51, proving he can win fast too.
"I just didn't want to go down. I just love this stadium and these people, I wanted to do it for them," he said.
"This was an amazing experience, it's everything I dreamed it would be. It really proves that anything is possible if you train hard and work hard.
"You need to always see life in a positive way and work hard for it. If you come to hurdles and obstacles, you keep belief and you then you'll achieve your dreams. To finish my track career here is a moment of a lifetime, I can't really explain how much it means."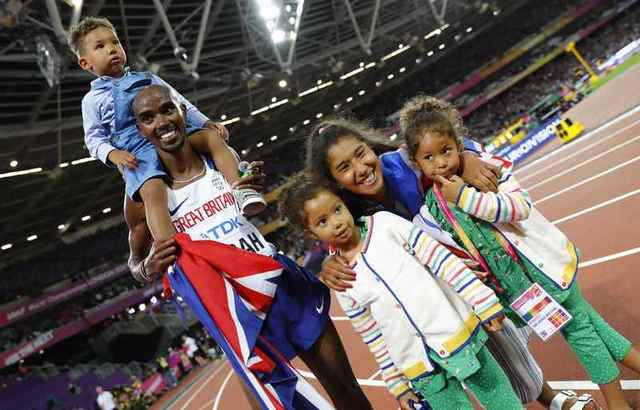 It's five years since that sporting summer whose memories we still stubbornly cling to, and for a moment under the Friday night lights of the one-time Olympic Stadium, we'd gone back in time.
And, as this stadium of full-throated and partisan fans, in their fading 2012 t-shirts and baseball caps, lost themselves in a sea of red, white and blue, a wide-eyed Farah accelerated and the opposition faded. History gloriously repeating.
Farah forgot to Mobot as he crossed the line, instead spreading his arms wide and soaking in the love from a crowd who have their hero.
Ethiopian teenager Abadi Hadis – the fastest man in the world this year – hit the front and then ran out of gas.
Uganda's Joshua Kiprui Cheptegei took silver ahead of Kenya's Paul Tanui in bronze but they were in all, ultimately, in Farah's slipstream.
This victory was his third consecutive 10,000m world title – his sixth world title in total and tenth global gold, when added to his four successes at the Olympics.
And there's still more, with the 5,000m to come. However, there must surely be questions marks about just how hard this exertion has taken out of him, with Farah boasting cuts and bruises to show just how tough this effort was.
"I had to get my head around this race," added Farah.
"When I walked out and saw that crowd and thought about my family and all the sacrifices we've made and I got a bit emotional. I needed to get focused and get in the zone. The crowd got me going but that wasn't an easy race, they really took it to me.
"I work on every eventuality in training and I was prepared for them to make it difficult for me.
"They put it out there but I proved a point. I just kept belief in my sprint finish and knowing I've been here before made the difference.
"The Kenyans, Ugandans and Ethiopians all gave me a race. Fair play to them, they worked hard. I just had to stay strong and remember that I didn't put all this work in for nothing and I didn't think I'd lose.
"I've got the 5,000m now and I need to put this aside and focus on that. I know how to do that, hopefully I can do it again but, if this is it, I can't have any complaints."
"I am hurt. I've got a few cuts and bruises but I just have to be strong now. I'll see the doctors and then get ready for the 5000m. I've got a few days now to get ready."
Farah's legacy has long been secure but Farah isn't done yet. He's got one more date with destiny and one more chance to raise the roof before he exits the stage, deafening cheers ringing in his ears.
---
You can help the next generation of young British athletes by getting involved in SportsAid Week this September with London 2012 hero Greg Rutherford MBE. Find out more about how you can support the week of fun and fundraising by visiting www.sportsaid.org.uk/sportsaidweek.  
---