When you hear the word 'esports', optimising physical health is probably one of the last things that comes to mind.
A former semi-professional goalkeeper turned sports psychologist and conditioning coach hopes to change that view.
Fabian Broich is the current performance coach for Twickenham-based esports team Excel Esports.
"If you're in esports or if you're in traditional sports, at the end of the day, it's just human beings. If you can work on the important things, understand what you need, it's essential towards being successful," he said.
While he is a big fan of games like FIFA, a career based around video games wasn't his original calling.
Broich got into football in his native Germany, before moving to America to play semi-professionally at colleges in North and South Carolina, while majoring in sports psychology.
He then had a brief spell playing in Iceland before returning to Germany, where he struggled to find a team.
He said: "It's easy to find a team in America, but in Germany there are too many good goalkeepers!"
With footballing opportunities scarce, Broich joined the esports division of Bundesliga juggernauts Schalke 04 on an internship, before signing with Excel as their Head of Performance.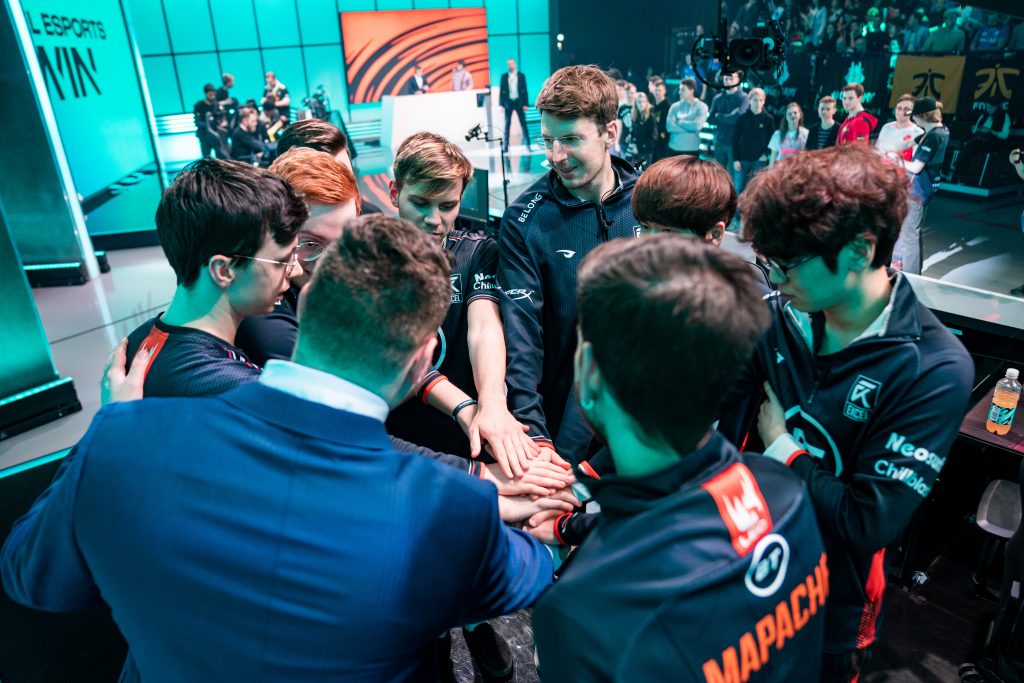 Broich derives his esports coaching philosophy from his experiences as a goalkeeper.
He said: "I would define myself by the English word 'goalkeeper' a lot. A goalkeeper is someone who is one the ground a lot and has to keep picking himself up. He has a goal, keeps focused on it and doesn't throw it away.
"He also doesn't forget his roots. The word has more meaning in English, than the German word Torwart.
"When I started playing football, I played as a striker but I didn't get to play as much as I wanted. I was tall but I was also quite overweight, so the coach suggested I play in goal.
"I had talent, but I also had an eagerness to learn, so even though I started out as the second choice I wanted to use my gain advantages to take the other guy's spot.
"I got a lot of injuries because I was overweight, and I recognised I wasn't mobile or agile, so I started stretching and working out.
"I then injured myself from working out too much, so I worked in rest breaks and worked on my sleep schedule. I tried a lot of different diets to find out what works for me.
"Different people have different genetic makeups, so it's impossible to find a diet that works for everyone. It's important to know what works for you."
Excel were bottom of the League of Legends European Championship (LEC) – the top division of European League esports – when Broich joined as an esports coach.
But within a few months, they moved within the top seven, and narrowly missed out on a play-off spot in the summer split.
Broich added: "I understand the athletes because I had the same issues they have had or are still having, and I understand how hard it is to change behaviour when you want something to happen right away. But then the habit starts to build.
"With traditional sports players, they tend to be more social and extroverted, and have developed their skills in a team environment. For esports players, they tend to be more introverted and have developed their skills on their own, before moving in with a group of people they might not know or trust."
Through Excel, Broich has released a series of short documentaries called 'The Playbook' which details how players can improve their performance through balancing gaming commitments with improved diet, exercise and sleeping patterns.
He added: "If the tactic the player is using is short-term, just playing the game all the time, they might have some short-term successes but in the long-term they will start having life issues. For example, they might develop insomnia, diabetes, posture issues.
"People should understand what happens if you don't eat enough, if you eat too much sugar, if you don't drink enough, in terms of what happens to your brain and to your body.
"It's not just about helping our players, it's about giving knowledge to people. I like to share my ideas and social media is a megaphone to reach even more people.
"If I can educate young people through these tools and give them information they might not be getting through the classroom, then I'm super happy for the things I do."
People will get more of an insight into Fabian's work as an esports coach in a five-part BBC documentary following Excel's 2020 Spring Split campaign, narrated by Peaky Blinders star Cillian Murphy, which is set to be released in early 2021.
Image credits: Riot Games