An oar-some foursome set themselves the challenge to cycle and row from London to Rio for Macmillan Cancer Support this year.
The Row2Rio crew kicked off the toughest leg of their epic journey on Monday — rowing 3,600 miles from Lagos to Recife, Brazil.
Day 1. Sunshine and a bit of wind as we head out into the Big Blue. Going to take a bit of getting used to!

— Row2Rio (@ROW2RIO) February 29, 2016
The crew, including Jake Heath, Mel Parker, Susannah Cass and Luke Richmond can potentially break three records along the way — for a new route, a mixed crew and a four-man team.
Jake, 29, a podiatrist from Twickenham said: "We want to do it in less than 60 days. It's a brand new route, so this has never been done before.
"The girls are the ones that have a lot of rowing experience and they were coaching us guys a little bit, so Luke and I are keeping up with them."
As a group, they will be rowing 24 hours a day on their Rannoch R45 in two-hour shifts.
To put that into perspective, the group will need 10,000 calories a day to power more than a million strokes to the north coast of South America.
Jake said: "We have got the fitness capability, now we've got to get the mental reassurance that we can do it.
"We will be doing one guy on, one guy off and same with the girls."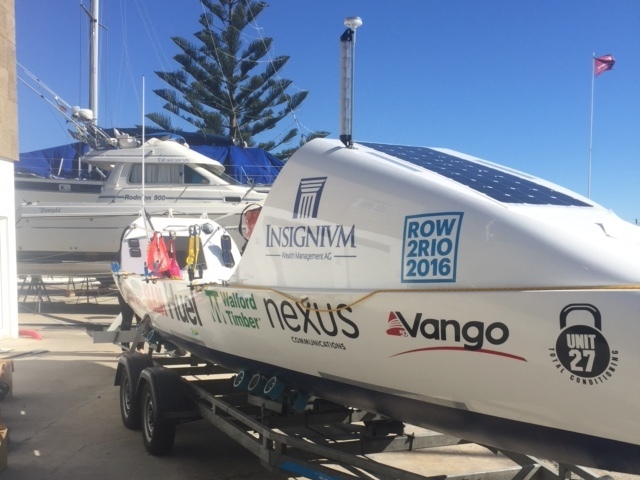 OAR-SOME: The crew are crossing the Atlantic in this Rannoch R45
The team will navigate in a south westerly direction for the north coast of South America to evade the strong currents on the eastern coastline — tackling 40-foot waves on route.
To date, more people have climbed Mount Everest than have ever rowed an ocean.
Just a quick update this morning from Chris Martin who is tracking the weather and route for Row2Rio. The team… https://t.co/4wB6dLtpTa

— Row2Rio (@ROW2RIO) March 3, 2016
With the Olympics taking place in Rio de Janeiro in August, the team were eager to embark on an Olympic adventure using only human power.
Jake said: "The whole idea of this was to link one Olympic host city to the other and carry on the inspiration and legacy.
"This was the whole basis of London 2012.
"Getting people to believe this adventure was going ahead and speaking to sponsors and family was the hardest thing.
"Most people were just thinking I couldn't do it because I've never done it before and they just thought it was a pipe dream."
The team set off on their world record journey on January 9 and have already completed their first leg of the trip, cycling 2,416 kilometres from London to Lagos.
The team started out at the Olympic Park, they then and headed south where they crossed the Channel before traveling through France, Spain and Portugal to reach their destination on January 31.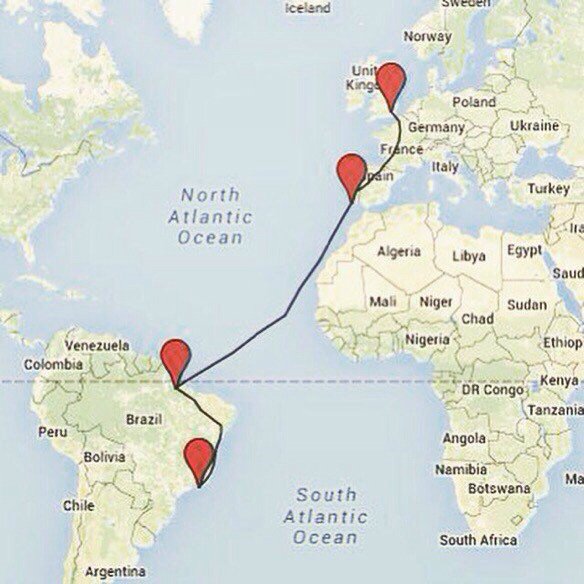 RECORD-BREAKING ROUTE: The epic challenge the team have set themselves
The group suffered a set-back for the second leg when one of their members, Johnny Keevil, fell ill with appendicitis but luckily they found a replacement in ex-special forces marine Luke Richmond.
After they complete the row to Brazil, their final leg of the journey sees the team cycle down the eastern coast of Brazil to Rio de Janeiro, which should approximately take two months.
The brave team are raising money for Macmillan, a cancer charity very close to their hearts.
He added: "They have been really supportive and really helpful and it just reaffirmed that we made a good choice to do something for an amazing cause.
"Currently, the Macmillan nurses are going round to one of our team members house.
"It just shows you the value of being able to handle that care that they give and it gives reassurance for the family as well, not just for the person."
Although the team face being isolated for a period of time, this enables them to escape any concerns back home and concentrate on the task at hand.
"This trip is total escapism from London and it's totally simplified what's important.
"No phones, no Facebook, no politics, no Donald Trump and just generally not worried about the world that's going to suddenly change.
"It would be the single biggest thing I have achieved in my life to date."