The Pearl Izumi Tour Series brings cycling to the streets of Croydon tomorrow as spectators hope to glimpse cycling royalty in the form of Sir Bradley Wiggins.
The tour sees nine teams of five riders battle it out across ten rounds for the glory of being crowned the fastest team in Britain, with Croydon hosting an event for the first time.
Wiggins formed his own Team WIGGINS earlier this year after splitting from Team Sky, but has so far not raced in the tour.
His rider Chris Lawless triumphed in the last race in Barrow on Friday so there are hopes he might be tempted to Croydon to cheer him on.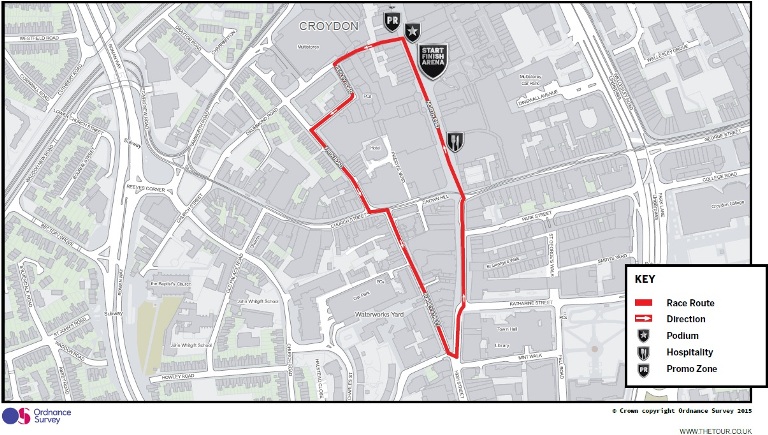 GET PEDDLING: The Pearl Izumi Tour series route in Croydon
There should though be other big names competing such as Olympic champions Ed Clancy and Laura Trott, who will be racing in the women's Matrix Fitness Grand Prix series.
The new cycling format is aimed at boosting the sport's presence outside the velodrome and so far it has proved to be full of excitement.
While a single rider may get the honour of the individual win, the thrill of these events comes in the teams vying for the lowest cumulative time across their five riders.
On Friday, tour leaders Madison Genesis claimed their fourth victory of the series in round six, but it was a nail-biting finish.
They nudged ahead of their closest rivals in the championship, ONE Pro Cycling, by less than a second to extend their lead at the top to three points with four events still to go.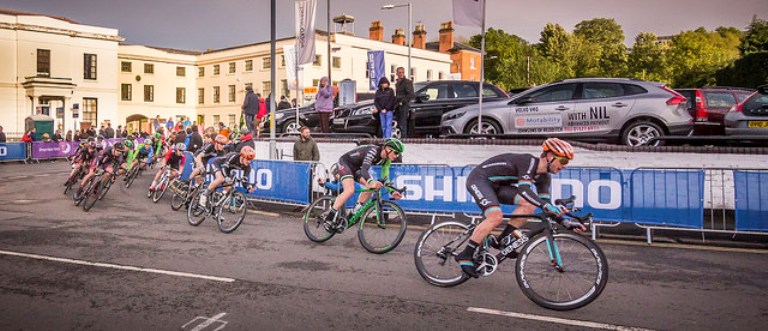 IN UNISON: Cyclists at the tour's Redditch leg. Courtesy of GSH1970 via Flickr, with thanks
Lawless, 19, claimed the individual win after escaping in a two-rider breakaway and, despite a charge from the peloton, he held on for the win.
There is no overall individual prize for the tour, but there is a points-based sprint prize as each race includes four separate sprints, including the finish, with the top five earning points.
Morgan Kneisky of Team Raleigh-GAC leads those standings, five points ahead of Tom Stewart of Madison Genesis.
In the women's tour, Team Giordana Triton lead the overall standings after two rounds, six points clear of Pearl Izumi Sports Tours International.
Nikki Juniper of Giordana is a point ahead of Pearl Izumi's Katie Archibald in the individual standings, and also leads the sprint standings ahead of Jessie Walker of RST Racing Team.
The race begins in North End and takes on a circuit that includes Frith Road, Surrey Street and High Street.
The women's race starts at 5.30pm with the men pushing off at 7.30pm.
Feature image courtesy of Pearl Izumi tour, with thanks