Track specialist Fiona de Mauny could hardly believe her achievement after beating her own personal best to win in the Brighton Half Marathon last weekend.
De Mauny, who races with Herne Hill Harriers, sliced nearly five whole minutes from her previous best when she took victory in Brighton in 80:25.
And the 35-year-old, who is better known for her 800m exploits, couldn't believe she managed to beat her PB in the event marathon by such a large margin.
"My dream goal was to run the race just a fraction quicker," said de Mauny.
"I trained for sub-80, but I knew I needed the perfect conditions and the right race for that.
"My main goal was to run faster than the 82:18 I ran at Brighton in 2016 which was disallowed because there were uncertainties over the course length.
"I'm so happy to have run quicker than both my official PB and my previous time and obviously to win was the icing on the cake.
"I never expected it. I was fifth at the turnaround point at three miles. I gradually worked my way through the field and it felt amazing to cross the finish line first.
"The race is longer than I'm used to, but I run well on the road if I can get into a rhythm.
"I just focus on keeping on doing the same thing – one foot in front of the other.
"It's all about finding the right pace and getting into that rhythm so I can minimise the losses when it gets tough."
With a road race victory already under her belt, de Mauny is confident her half marathon training will pay dividends as she prepares to race on the track.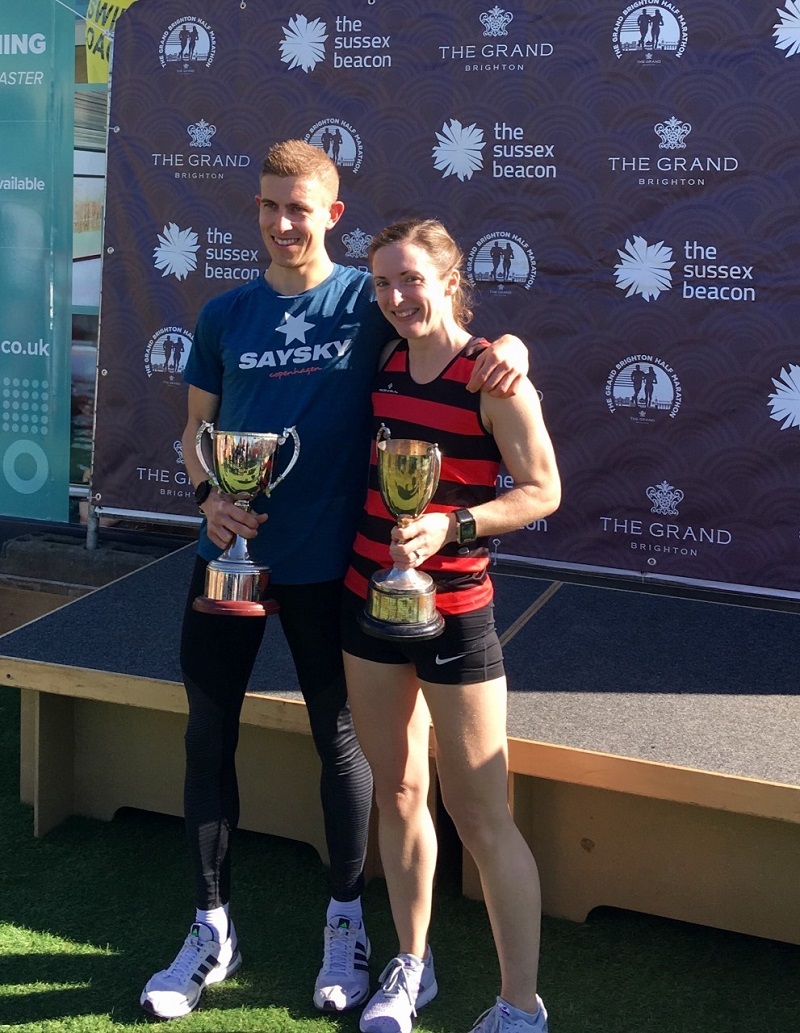 FOUND HER RHYTHM: de Mauny after winning the Brighton Half Marathon
"I've built up a great aerobic base over winter so now I can focus on hitting some faster interval sessions to get the legs turning again on the track," she said.
"I really want to shave a bit off my 800m PB so that I get an invitation to the British trials for Doha.
"I know I wouldn't make the final, but I would really love to experience running in the outdoor British Championships.
"At the end of the summer, I'll be racing in the European Masters in Venice. I don't have fixed goals for that yet, but I want to race well in the 400, 800 and 1500."
But after last year's achievements, de Mauny is aware she has set the bar high for 2019.
In March 2018, in her first year of Masters Athletics Competition having turned 35 in February, de Mauny became the European Masters Athletics Championships Indoor W35 800m champion, producing a perfectly-executed run in Madrid which saw her claim her indoor PB of 2:12.28.
She added: "It's going to be hard to top last year in 2019, but winning at Brighton is a very good start.
"I am determined to be more consistent this year and hopefully I will get the results."