CW: domestic violence, gender-based violence.
Richmond Council have appointed their second 'White Ribbon Champion' to work towards protecting women and girls across the borough.
Liberal Democratic Councillor, Katie Mansfield, has overtaken from Councillor Ben Khosa who previously held the position.
Prior to her appointment, Councillor Mansfield had taken an active role in encouraging residents to call out abusive and inappropriate behaviour in Richmond.
She said 'The White Ribbon campaign is particularly important at the moment as we're seeing increased violence against women and girls, across the world and elsewhere.
'It's vital that we push for awareness of abuse, as awareness can help bring about cultural change.'
Councillor Mansfield will be heading the Council's Violence Against Women and Girls (VAWG) Strategy, working to prevent abuse, helping victims to access support and holding perpetrator's of violence to account.
'We've got a clear strategy with four parts, the first is about changing attitudes and behaviour.
'We're also helping people to identify issues and are continuing to provide safe spaces across the borough, like our safe space by Richmond station.
'We want those who are guilty of domestic assault and violence to be held to account, to ensure victims are kept safe,' Councillor Mansfield explained.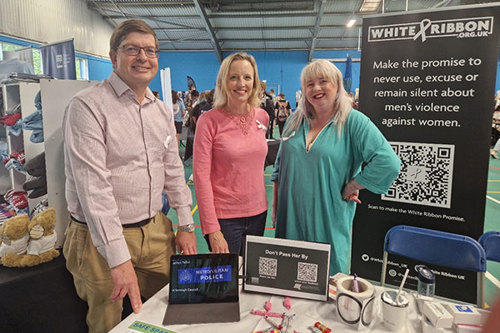 Richmond Council became a White Ribbon Accredited organisation in 2021 and has been delivering 'bystander training' for witnesses of gender-based violence since then.
White Ribbon is the UK's leading charity educating men and boys about violence against women.
It does this through campaigning, re-educating and training organisations towards White Ribbon accreditation.
Training in Richmond exists as part of the Council's work in the South West London Safer Streets Partnership, in collaboration with Kingston, Merton and Wandsworth Councils as well as the Metropolitan Police.
It has been used to support night-time economy workers and residents to develop allyship and encourage community members to intervene safely.
White Ribbon Day is coming up on November 25.
The charity is pushing individuals and organisations to challenge behaviour which normalises violence against women and girls.
Anyone affected by the issues mentioned in this article can call the National Domestic Violence Helpline on 0808 2000 247.
You can also email Abi Jonas, VAWG Community Safety Officer here, or check for safety training events and updates via the Richmond Council Website.
Photo credit: Katie Mansfield, Richmond Council, White Ribbon UK