Swimmers braved the dangers of the Thames's tides and waterways in Chiswick.
The adventurous dips offer more of a thrill than swimming in docks or lakes due to tidal currents, unique scenery and the river's busy traffic.
Despite low temperatures, strong currents and blustery winds fourteen people dived in and came out shivering and invigorated.
Peckham-based Lou regularly swims outdoors, decided to wear his wetsuit for this chilly June dip last weekend.
He said: "It was quite nice to see London from the water, another bit of London to where I normally swim.
"It was exhilarating but relaxing, I'd say it was pretty easy, you go with the tide so it's not a struggle, you're just gently pulled along in a group."
Lou and the other first time swimmers benefit from the group's experience, the safety of the National Open Water Coaches Association that recently took over organisation and the careful experimentation of  Steve Newell and Rob Newing who started Tidal Thames Swims in 2002.
The beauty of the swim is setting off just before high tide carries the group up river, flowing with the current instead of fighting against it, and then back down again as the tide quickly changes.
Setting off from the Black Lion pub the swim travels down a smaller channel between an islet called Chiswick Eyot and the Mall, staying out of the choppier and busier main channel.
The group sticks together, sometimes with a faster and slower group who both have inflatable high-vis buoys attached to warn boaters.
Swans, ducks, wildlife alongside a river busy with passenger boats, rowers, dinghy sailors and even the odd canal boat using the same tidal window to travel up the Thames with the current.
The excitement of being in a moving body of water compared to lakes and docklands that open water swimming groups regularly meet at adds an extra thrill.
Mr Newell said: "Serpentine swimming club people are used to a bit of open swimming, so having a bit of extra current adds to it.
"And you don't need to turn around every 20 minutes. It seems to strengthen the immune system and it's more adventurous, a bit out of the ordinary.
"It's more a question of being able to stand the cold water, it's probably about 17 degrees today, and can get up to 20 if there's decent weather in July, you wouldn't normally swim if it's below 15 or 14, if you did you certainly would want a wetsuit."
The PLA Port of London Authority warns of several dangers for river swimmers including 39 million cubic metres of sewage discharge per year.
Thames Water say London's sewage system was designed in the 1800s with a city of two million in mind, and that a combination of rainwater, high domestic water usage and 'fatberg' style blockages mean they do sometimes have to discharge sewage into the river.
They were unable to provide any figures on how often or much sewage is released into the river so the frequency of their email notifications to rowing clubs and swimming clubs is the only source available.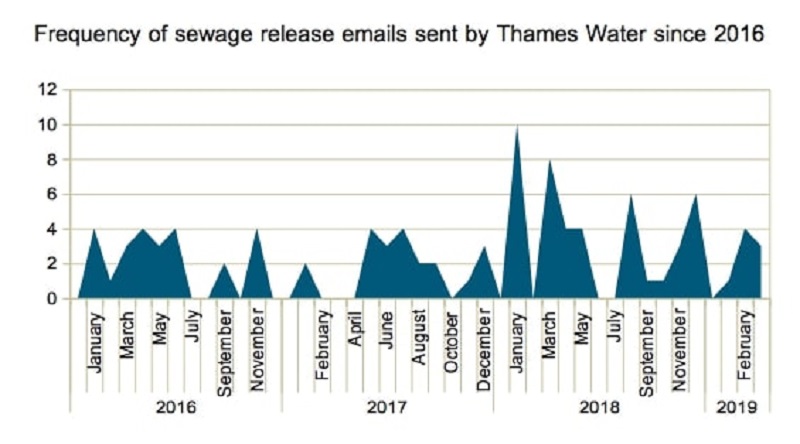 Tidal Thames Swims cancels any swims scheduled within 48 hours of a release, enough time for four high and low tides to flush out the offensive effluent.
Tidal Thames Swims co-founder Mr Newell said: "I always advise people not to swallow the water and certainly regular swimmers are not concerned about the quality.  
"Regular swimmers have built up a natural immunity, we get very few reports of people being ill after a swim."