Anxious Croydon parents were relieved when 82% of children secured their first choice school places week – despite predictions that the borough has the UK's largest pupil increase.

The success in Croydon shows that school places shortage is being 'effectively tackled' by the government, according to Vidhi Mohan, Conservative candidate for Croydon North
Despite receiving an extra 122 school applications, Croydon National Offer Day results show 4,049 pupils got their first choice – the equivalent to 82%, while 94% secured one of their top three schools.
Other London constituencies, such as Kensington and Chelsea, only managed a 59% first-choice rate.
Mr Mohan said: "Steps were very proactively taken by the Tories to address the lack of school places and the free schools give parents choice.
"I think the free schools programme has been one of our biggest success stories."
"I think the free schools programme has been one of our biggest success stories."
The government's free schools, which are run by groups such as parents, teachers, businesses and charities, have created more than 230,000 places since being launched in 2010.
Two free schools have already launched in Croydon, with a further five due to open in the next few years.
While many Croydon parents might be celebrating this week, forecasts show that the increasing number of families in the area will cause an even bigger strain on school places in future years.
Croydon is predicted to have 36% growth in school-aged children from 2013-2017, the highest forecast in the UK and double the London average, according to a 2014 London Councils report.
Mr Mohan said he was not surprised by the figures and if he is elected MP he will focus on three keys areas to help improve the anticipated demand for school places.
"I would lobby the government very strongly for additional school places," he said.
"I'd give more funding to Croydon so that existing schools can expand and I would also work with faith groups, charities or parents to set up new free schools."
The Tory candidate also said that an innovative approach to building schools is what is needed.
"I think we've got to look imaginatively at how we provide our schools," said Mr Mohan.
"We don't have the land in North Croydon to provide traditional schools, so we've got to be innovative about the kind of buildings we use and about sharing facilities."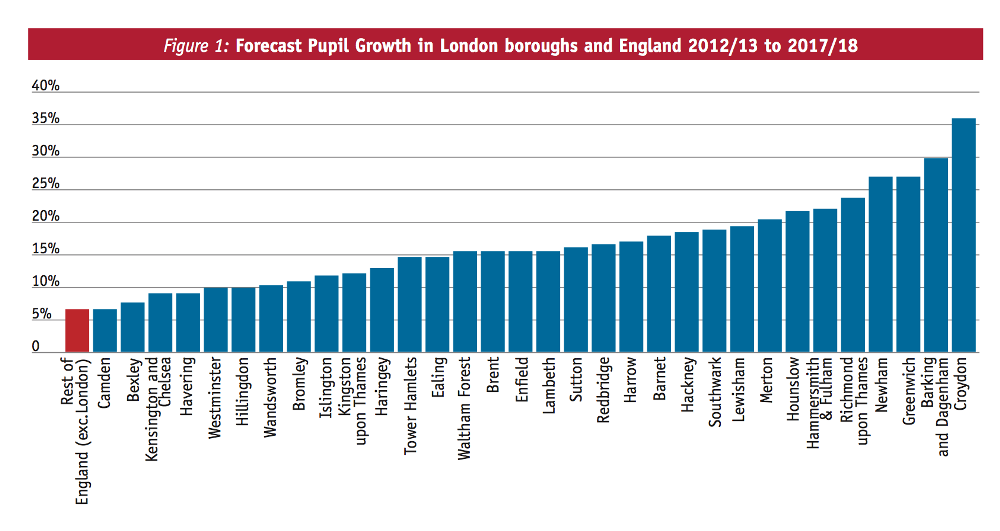 At a family hustings last week, Labour candidate for Croydon North, Steve Reed, blasted the Tory's free schools for not opening where they are most needed.
"Croydon has the biggest shortage of school places in the entire country," said Mr Reed.
"Because of the government's free school policies, supported by the Liberal Democrats, £240million has been spent building new free schools in areas that have already got enough places but denying children in Croydon the school places they need."
Mr Mohan has since responded to Mr Reed's comments by saying that he is politicising one of the Tory's biggest successes while also ignoring the fact that Labour immigration policies are partially to blame for a surge in demand for school places.
"I think for Steve Reed to deflect the blame of past and present Labour governments is wrong," he said.
Mr Mohan added that as a ward councillor and governor for Park Hill Infant School, he hasn't heard from disgruntled parents over school place shortages yet.
"Parents usually get in touch with me very quickly if they're unhappy with the school places, but since the announcement I haven't heard from anyone, which is a good sign," he said.
"Education is the great life transformer and unfortunately education is becoming a racket here."
Green Party candidate for Croydon North, Shasha Khan, voiced concerns over free schools and academies, which he claimed end up isolating less well-off families.
"Education is the great life transformer and unfortunately education is becoming a racket here in Croydon, so many schools are becoming academies here at the moment," said Mr Khan.
"We need to bring schools back under local authority of control so that we can ensure the academies are not siphoning off places to the children of middle class parents."
Mr Khan added that while school place shortages are a concern, 'supersize' classes of more than 30 children could also be affecting the quality of the experience pupils are getting.
"The Greens would like to see class sizes down to 20, that's an aspiration," said Mr Khan.
"That's got to be the way forward."
Labour revealed this week that the number of infants taught in classes of more than 30 pupils has tripled to 100,000 in just five years.
Picture courtesy of pete, with thanks
Graph on forecast pupil growth in London boroughs from 2012/13 – 2017/18. From London Councils Do the Maths report, 2014.