Eel Pie Island artists fear Brexit could make things difficult for the creative industry as they prepare for their second open day this weekend. 
Thousands of visitors will be crossing the bridge for a chance to have unrestricted access to artists' work created on the island from 11am-6pm this Saturday 2 and Sunday 3.
Centred around one the few working boatyards in London, the residents of the 26 working studios are undoubtedly anxious about what the referendum will mean for the future.
"It might take a year to kick in but I think it will affect artists, definitely," said Lee Campbell, an oil painter who has rented a studio on the island for 16 years.
"We could be in for a tough winter as I think people might be a bit nervous about spending on luxury items."
Hazel Richards, a potter specialising in domestic wear, agrees that people will not be as joyous in their spending.
"I feel like it might be something that makes people less likely to patronise the arts, because of the financial situation, but hopefully not," she said.
The annual open days are part of the Art House Open Studios Festival and are a chance for the public to explore the infamous island where there are currently about 50 modern dwellings.
"It's a beautiful place to be," said Ms Campbell.  "No traffic, just quiet."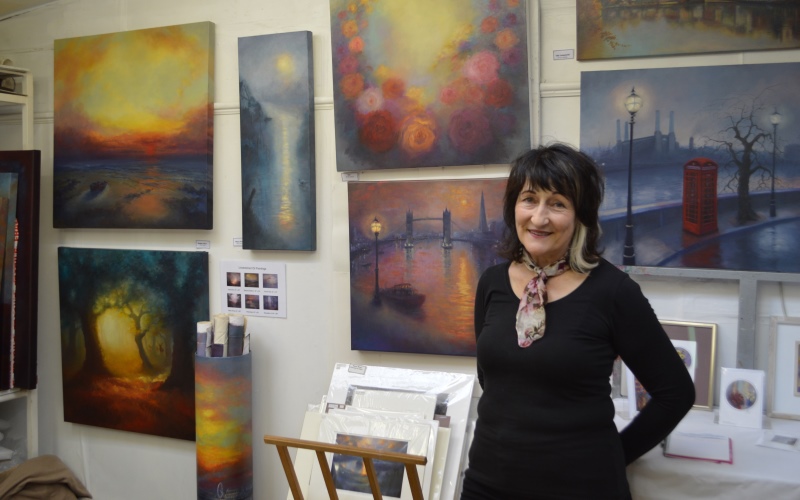 R-EEL-Y GOOD WORK: Ms Campbell has rented a studio on Eel Pie Island for more than a decade 
For Ms Campbell the environment has had a great influence on her work, with many of her paintings depicting forests of leaves or the fluctuations of the river tide.
She is always on the lookout for art residencies, having enjoyed terms at a physics lab, boatyards, and the Royal Ballet School in the past.
"I love painting so much that I try and keep them affordable so I can keep doing new work," she said.
"I get a lot of pleasure out of people enjoying my paintings."
Neighbouring artists Ms Richards and sculptor Delyth Jones have shared their studio since 2004 and sell the majority of their work at the open days.
"I throw domestic wear, which I've loved doing for about six years," said Ms Richards.
"I take imagery from the boatyard.
"The open day is lovely because you know who it's going to and you get to talk to them and they get to meet you."
Ms Jones' work is inspired by her upbringing on a farm in north Wales, which had been in family for four generations.
"It's all my memories that I have about the farm and the animals, I knew how they moved, how they reacted to things, how they connected with people as well," she said.
"I wanted to do something that would almost be like a permanent reminder of it."
Many of the artists hold teaching positions at Kingston University and often use their studio spaces for individual sessions or corporate workshops.
"You'll see Molly in accounts who you think is boring but you give her piece of charcoal and some paper and you'll be amazed at what she can do," said Ms Campbell.
"It's very empowering."
For more information visit www.eelpieislandartists.co.uk.