Every summer a wild circus of pomp and ceremony rolls into Wimbledon for the most prestigious event in the tennis calendar.
Fans arrive in their hordes for two weeks of strawberries and cream, gallons of Pimm's and the occasional sight of a furry yellow ball hit with great gusto.
But underneath the smiling façade of summer frolics and sporting athleticism a dark underbelly lurks…
Wimbledon's annual tennis festivities put fashion firmly on the agenda – some might even class it as a clothing class war.
"I'd definitely rethink my outfit if I was slumming it in the queue," 25-year-old Robert Clutterbuck said.
"There are years I have queued for tickets and kept things more casual but this is a bit different!"
Dressed to the nines in a combination of a navy blazer and a crisp white shirt, accented by a pair of burgundy chinos, he was attending as a guest of a member with all the VIP privileges it brings.

SMART: The Clutterbuck family pose for the camera before watching a match

His mother, Amanda Shock, 55, added: "There are some things you just have to wear in the members' area.
"It's blazers and chinos for the guys and very summery dresses for the girls – it's tradition, you can't do casual.
"Obviously all the girls have one pair of flats and one pair of heels. I saw one man pretend to throw his wife's Jimmy Choo's across the fence – she was shrieking!"
Working at Sugarpova, Maria Sharapova's infamous sweet shop pop-up, Alice Knight explained how the tennis starlet has inspired her choice in garments.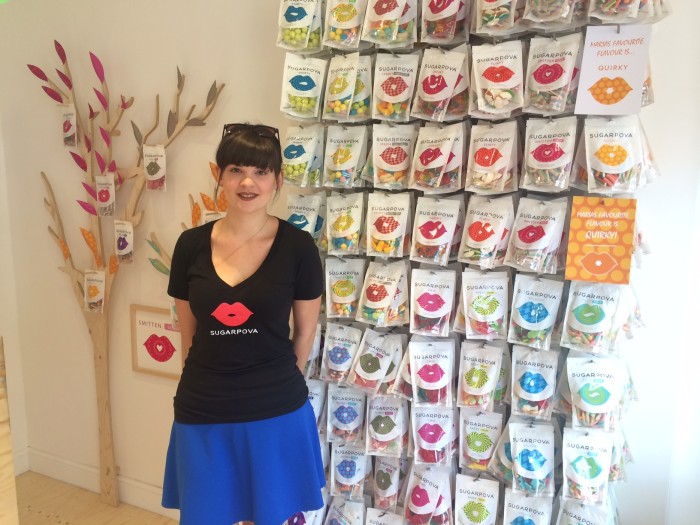 SWEET SENSE OF STYLE: Alice chats about Sharapova's polished style

"Sharapova is definitely very chic, she's very put together. Quite polished, with city shorts, button-downs, cute little dresses," she said.
"So to me, Wimbledon is all about very summery chic but quite modest. Maybe like when you go to the races but a bit played down."
Weather is a major player in proceedings for those who take the well-travelled route through the infamous queue
"Mostly the style here is comfortable but fashionable," Eugene Kim, 33, said.
"People tend to underestimate the British sun but in the queue you can't take any chances!"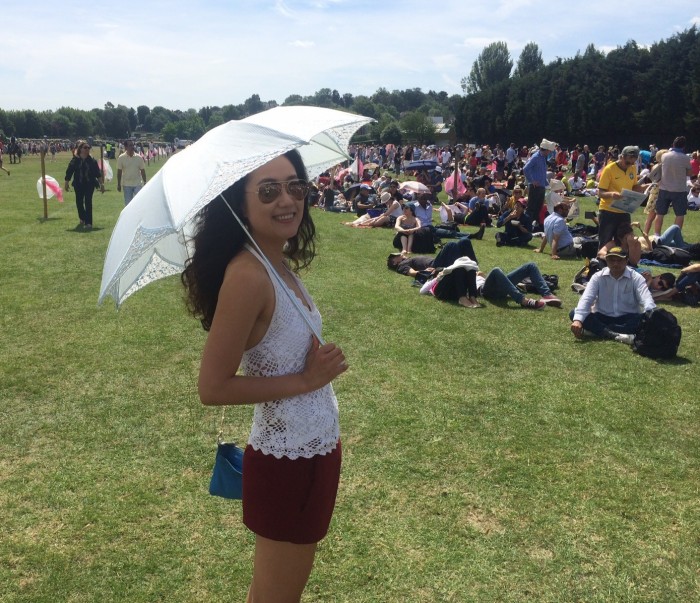 ALL WHITE: Eugene looks stylish and stays out of the midday sun with her parasol
Wearing a crocheted lace white top and a simple maroon skirt, the Swiss Cottage resident accessorised her outfit with a white parasol.
"The men are not so impressive, they don't give any effort. Once you get in you see the difference between those with tickets and the people from the queue, the outfits are much more stylish."
Minna Morgan, 18, agreed: "For girls it's almost the first opportunity to get the summer dresses out and the guys have to sweat it out in their suits – that's just the way it goes!"