A giant Wimbledon billboard emblazoned with the phrase 'no need to trim your lady lawn' has come under fire by campaigners who claim that the advert promotes a 'pornographic' view of women.
The advert, timed to coincide with the championship, is promoting hair removal system Philips Lumea which claims to offer an 'easier, less painful alternative' to other hair removal options.
Creative lead on the project Laura Rogers told SW Londoner that the billboard gave advertisers the chance to 'have some fun' and get people's attention.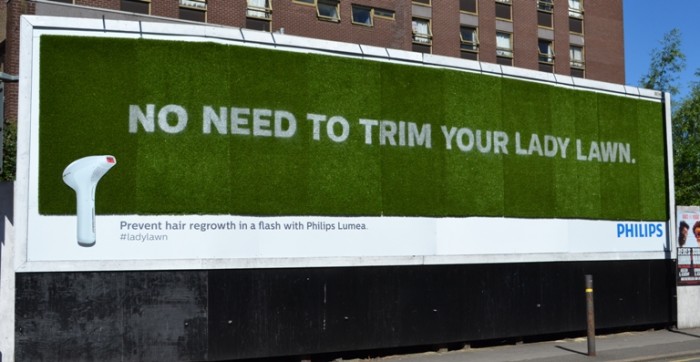 CONTROVERSIAL: Philips billboard in Wimbledon

She said: "With Wimbledon on everyone's mind it was the perfect opportunity to talk about lawns.
"The humour in the ad campaign is meant in a light-hearted and knowing way and will hopefully make women smile – that was the thinking behind the campaign.
"This head‐turning campaign celebrates summer while poking fun at the frustrations and taboos surround body hair in a light‐hearted, highly shareable way."
However Object campaigns officer Beti Baraki argued that the advert was another example of women being under pressure to look a certain way and could result in health problems.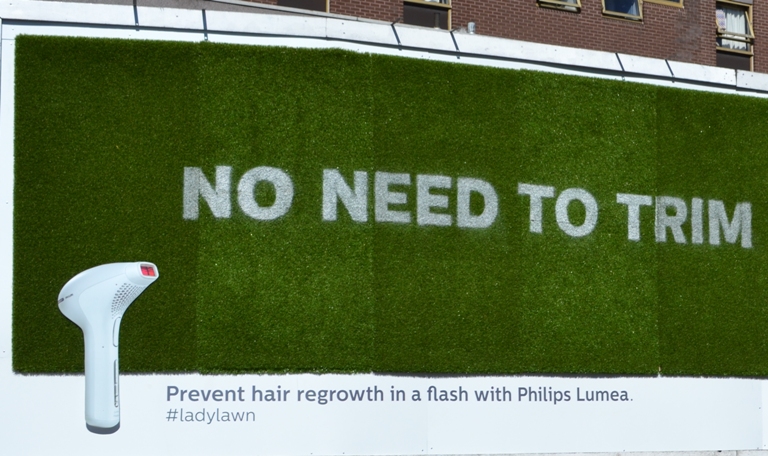 NO BEATING AROUND THE BUSH: Philips campaign promoting hair removal treatment

She said: "This is yet another example of women's standard of 'beauty' or appearance increasingly being defined by pornography.
"While in the past it was perhaps religious institutions that constantly peddled to us our role in society and how we should behave and look.
"Today that role has been taken over by the porn industry and it is just as restrictive and harmful.
"We are still hugely uncomfortable with women's bodies as they naturally are and women's bodies as a result is heavily policed, scrutinised and judged.
"We are constantly told that women's bodies is naturally defective in need of constant 'improvements' by the media which is increasingly becoming pornified and they depend on women hating their bodies and feeling body shame to secure their profits.
"Women are put under constant pressure to look a certain way  even if it results in painful procedures and health problems."
This is one of a series of adverts across London – customised with different types of artificial grass and vertical garden foliage – featuring phrases referring to the billboard's location.
The Shepherd's Bush advert reads 'Goodbye Shepherd's Bush', while the Westfield advert reads 'How does your Lady Garden grow?'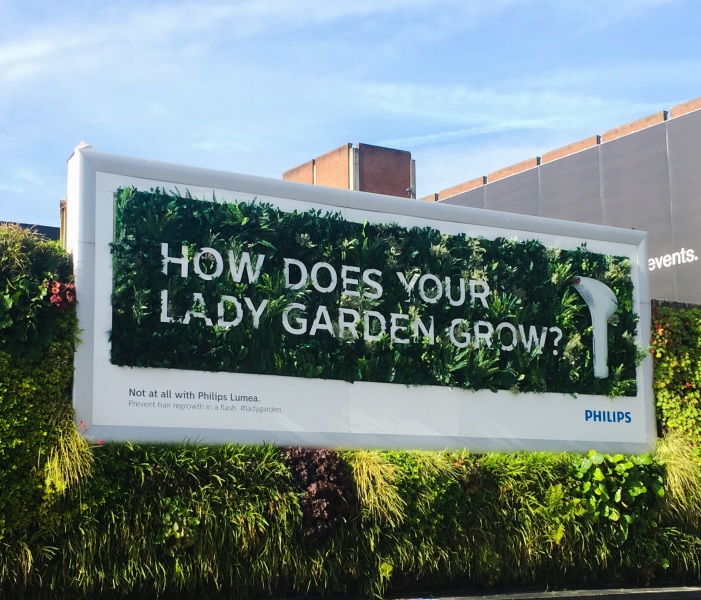 MARY, MARY, QUITE CONTRARY: Not quite the nursery rhyme we know and love

Magazine writer and self-professed menstrual maven Lisa Lister said that she was supportive of the advert's tone, but was disappointed it was being used to advertise a hair removal product.
She said: "I like anything that provokes a conversation about lady lawns and loved everything about this advert – it being funny and tongue in cheek – until I realised it was an ad for a hair removal product.
"Now personally I'm not for or against hair removal – it should be down to personal choice and preference, except often for women, it's not.
"In fact for the most part, and in the case of this advert, we're provided with a very clear message that total hair elimination is THE answer, as if our lady lawn is actually a 'problem'.
"I get that it's the way of advertising – make a problem where there isn't one and create a product to solve it.
"The campaign is clever, I'd just love for it not to be for a hair removal product!"