Reported rape cases have tripled in some areas of south west London while every other crime has decreased over the past seven years, according to figures from the Metropolitan Police.
In Croydon town centre, which has one of the highest crime rates in London, the monthly rate of reported sexual offences has increased dramatically by 192%, while in Richmond it has gone up by a startling 236%.
Overall, the number of reported rapes in 2010/2011 was 693 in south west London, doubling to 1,385 in 2016/2017.
This heavily contrasts the rest of crime in south west London which has decreased on average by 7%, with significant decreases in burglary, criminal damage and drugs, while the number of reported rape cases climbs year on year.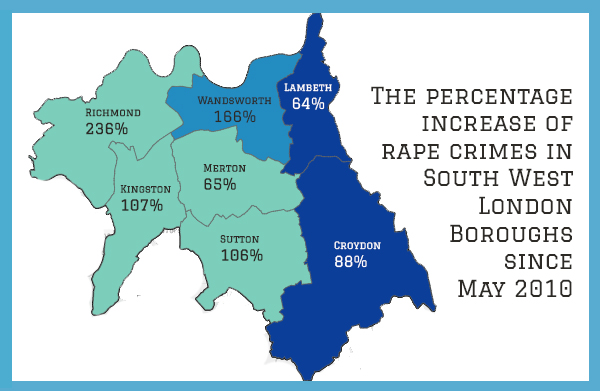 Rape Crisis England think this rise is linked to more women seeking justice if they believe they are a victim of a sexual offence.
A spokesperson said: "The shame around this abuse may be declining and the desire to seek justice increasing.
"Police, courts, government and everyone in frontline services and public life should do everything to keep driving this, including speaking out against victim-blaming attitudes."
This rise in reporting has been linked to the publicity from the Operation Yewtree investigation involving Jimmy Savile and other historical abuse cases.
This is believed to have lead to more adult survivors of child sexual abuse, as well as more recent victims, feeling empowered to come forward to tell the police about sexual abuse.
In south west London since Operation Yewtree in December 2012 the number of reported rape cases has increased by 76% , similar to the national trend.
Her Majesty's Inspectorate of Constabulary (HMIC) independently assesses and reports on the efficiency and effectiveness of police forces and policing from the work.
They said that the trend may not be due to an increase in prevalence of rape cases, but the result of improvements in how the police record these crimes.
It could be victims have an increased understanding that a crime has been committed and feel more confident in being believed when reporting what happened to them.
A HMIC statement said: "The police service works to prevent and therefore reduce crime, including rape.
"At the same time, the police service wants to encourage more victims to come forward and report rapes so that actions can be taken by a wide range of agencies to help them and bring the perpetrators to justice.
"'Prevention' and 'encouragement' are not mutually exclusive activities. Both are necessary if rape is to be tackled more effectively, but relying exclusively on the available data without further detailed analysis and interpretation may provide a misleading picture of how effectively rape is being tackled locally.
"In particular, improving the police's ability to investigate, solve and support the Crown Prosecution Service in prosecuting cases of rape is dependent upon understanding, and improving, many elements of rape investigations."