Stiletto-clad men and women, and a few semi-naked butlers, will brave blisters by taking part in a 2.4km charity run around Battersea Park tomorrow.
Hope in Heels will raise cash and awareness for charity HOPEHIV which supports young people affected by HIV and AIDS in sub-Saharan Africa.
Event organiser and full time personal trainer Sarah O'Neil, 34 from Streatham Hill, said: "Running in heels won't be easy but it's a small tribute to the tough path our beneficiaries walk every day of their lives."
It won't be all pain though as a series of motivational treats will appear along the route including Butlers in the Buff who will be cheering people on.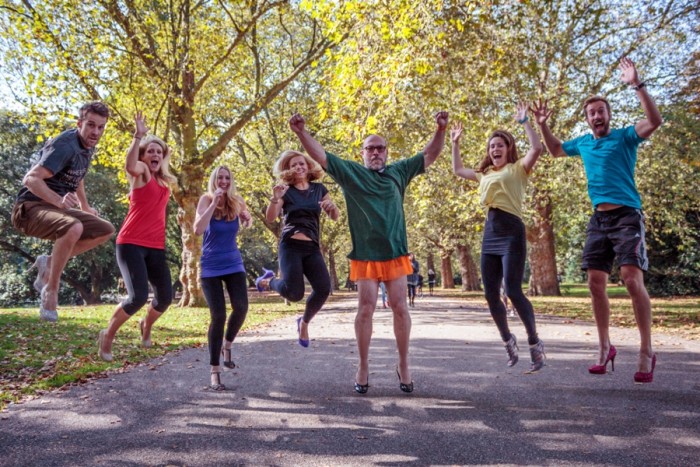 JUMP TO IT! Runners don their stilettos to raise charity money

Sarah explained: "I really couldn't think of a better way to mark out the kilometers!"
Drag queens will be dishing out sweets and vodka jelly orange segments before runners can head to the world's largest photo booth where they can pose with novelty props.
After the race the glamour will be turned up a notch with pamper areas offering manicures, pedicures, foot rubs, brunch and fizz.
A DJ set will make sure there's an after-party vibe and there's a complimentary goody bag full of treats for every race finisher.
And instead of doing squats and stretches to warm up, a team of London's top dancers will host a pop-fusion stiletto warm-up.
Full fancy dress is encouraged, with a prize being given out to the best outfit of individuals and teams.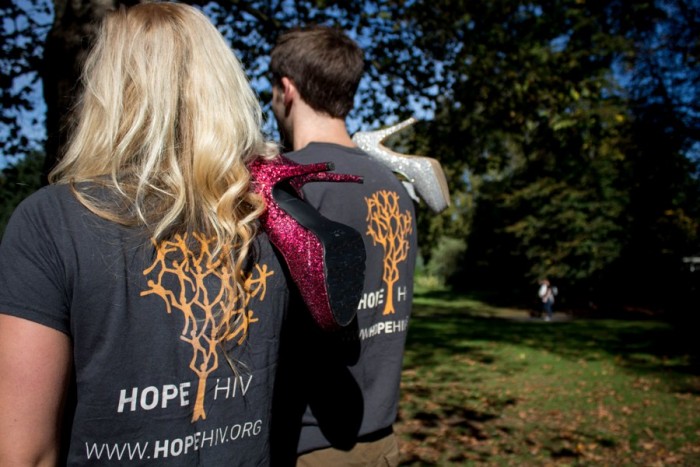 HEEL-Y GOOD IDEA: Battersea Park will host the glamorous event

Sarah said: "I am hoping to see lots of statement, vertiginous or lurid high heels, particularly on the men."
Men who raise more than £200 will receive a free foot rub and glass of fizz."
As well as raising money for charity, participants could also totter their way into the Guinness Book of World Records.
The event needs to attract 1000 runners to break the record for the world's largest high-heeled race – a title held by a group of 967 in Texas, which they've held since 2012.
Sarah said: "Guinness Book won't be attending but we will have to take photos of every pair of shoes and record the race to prove we have achieved it."
Sarah was part of an ambitious team that raised £150,000 for HOPEHIV in 2012 by doing 12 intense challenges in 12 months.
Four of the group finished the year by running 12 marathons in 12 days.
She said: "I've been to Africa three times with HOPEHIV and every time I visit I am more determined to raise funds for the incredible work they do."
There are currently around 14.8 million children who have lost their parents to AIDS in sub-Saharan Africa.
The charity aims to tap into the young people's potential to lead change in their families, communities and countries and create a better future for Africa.
Visit hopeinheels.co.uk/register for more information.