The perpetrators behinds one of the largest and 'most dangerous' cases of flytipping ever seen in Sutton are being hunted by police.
At 4am flytippers discarded a lorry-load of brick debris along a 100m-stretch of Queenswood Avenue in Wallington, waking residents.
The police were called and arrived to find about 7.5 tonnes of debris had been dumped from a lorry, which is likely to have had its tailgate open as it drove along Queenswood Avenue – leaving behind a trail of builders' rubbish.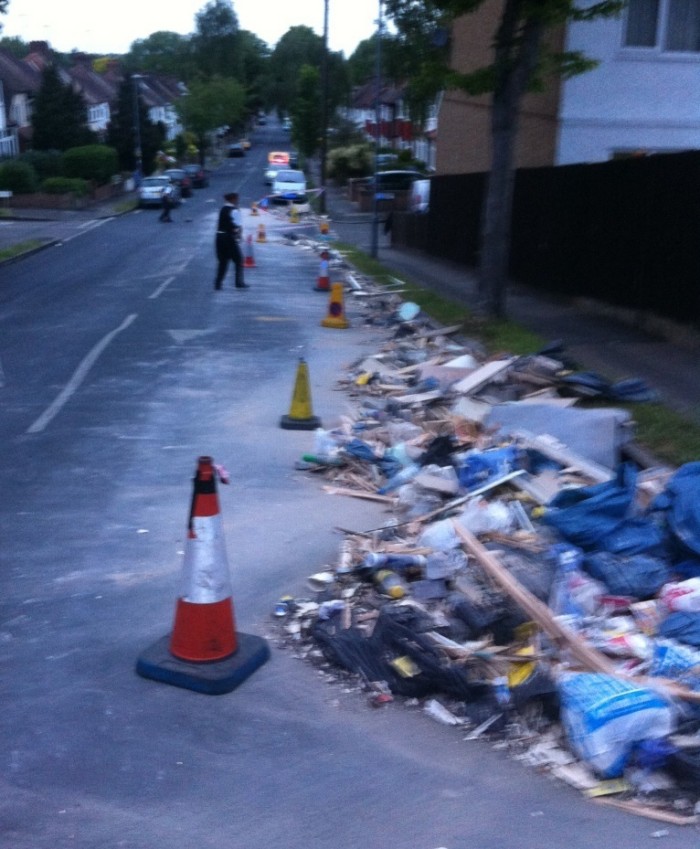 DANGEROUS: Flytipping in a residential Wallington area at 4am today

Sutton Police say it is one of the largest and most dangerous cases of flytipping they have ever seen in the borough.
Officers believe the debris may have come from a house or kitchen renovation and was dumped to avoid the costs of disposing of it properly.
Sutton Council workers cleared the debris within two hours of arriving onsite.
They arrived just after 6am and used a council lorry with a grab crane to remove the debris, then sent in a mechanical sweeper to clean the street, finishing before 8am.
Cllr Jill Whitehead, Chair of the Environment and Neighbourhood Committee at Sutton Council, said: "This is a truly shocking case of flytipping in the borough.
"The dumping of tonnes of builders' waste on a residential street in the middle of the night is an appalling and cynical act.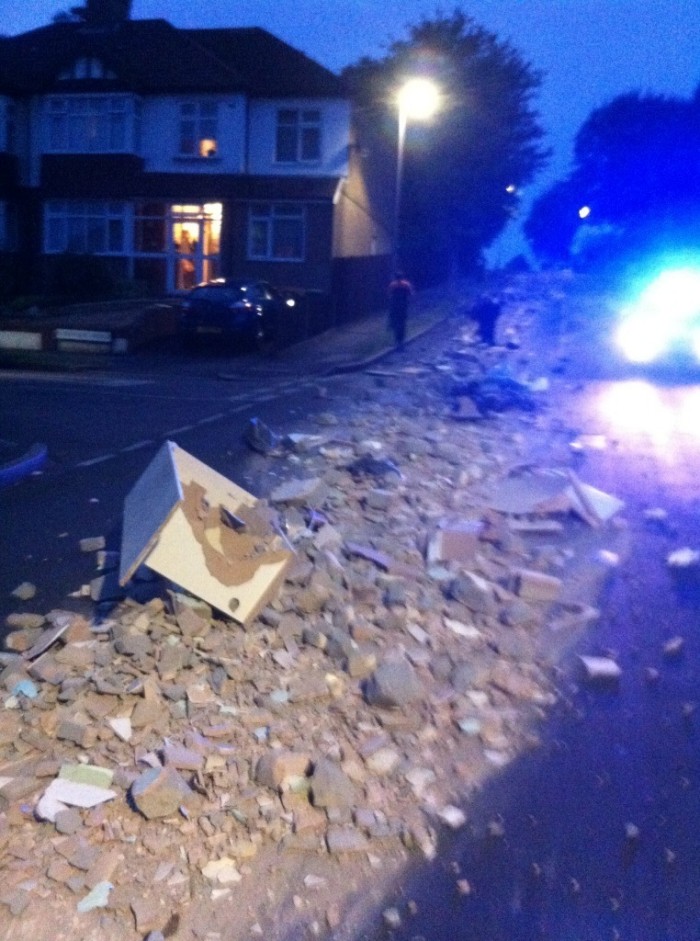 BUILDERS' BRICKS: 7.5 tonnes of waste was dumped today

"Sutton Council is working closely with the police in this matter – apart from having to clear tonnes of debris from Queenswood Avenue, we are keen to identify where the rubbish came from.
"Flytipping is an antisocial act that costs the council – and Sutton residents –  thousands of pounds each year.
"I cannot stress how important it is that any member of the public who gives their household waste to somebody to dispose of must check first that the people they give it to are licensed to take it.
"We are working with the police to identify where this builders' waste came from and are appealing for the householders to come forward so that we may identify these flytippers, whose actions on a public highway could have led to serious injury or loss of life."
As Sutton Council was informed of what had happened, Sutton police officers borrowed some brooms from residents and set about clearing and sweeping the debris to the side of the road to ensure residents could safely use the road before council contractors arrived.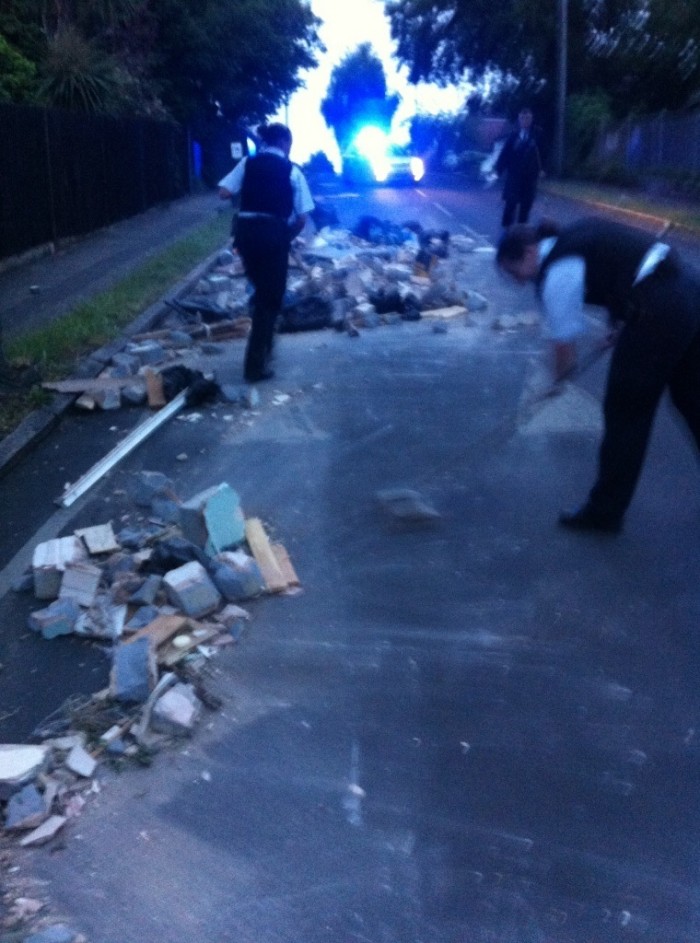 PITCHING IN: Police officers sweep away debris before council workers arrive on scene
Sutton Police Inspector Peter Stewart-Maunder said: "If a motorist had been coming over the brow of the hill at speed and hit the debris in the road there could have been a serious injury or even a fatality."
The flytippers have left behind two clues, which could lead to them being identified.
Among the debris, police have found some distinctive kitchen tiles and a Christmas card, which officers believe may have slipped down the back of the kitchen units over time and been included in the rubbish when it was being cleared.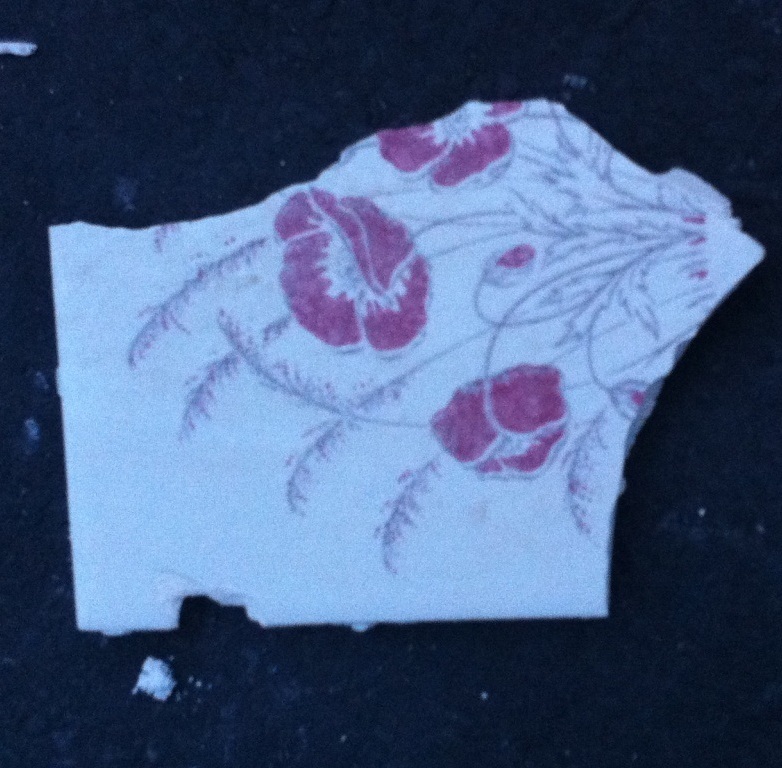 DISTINCTIVE: Do you recognise this kitchen tile?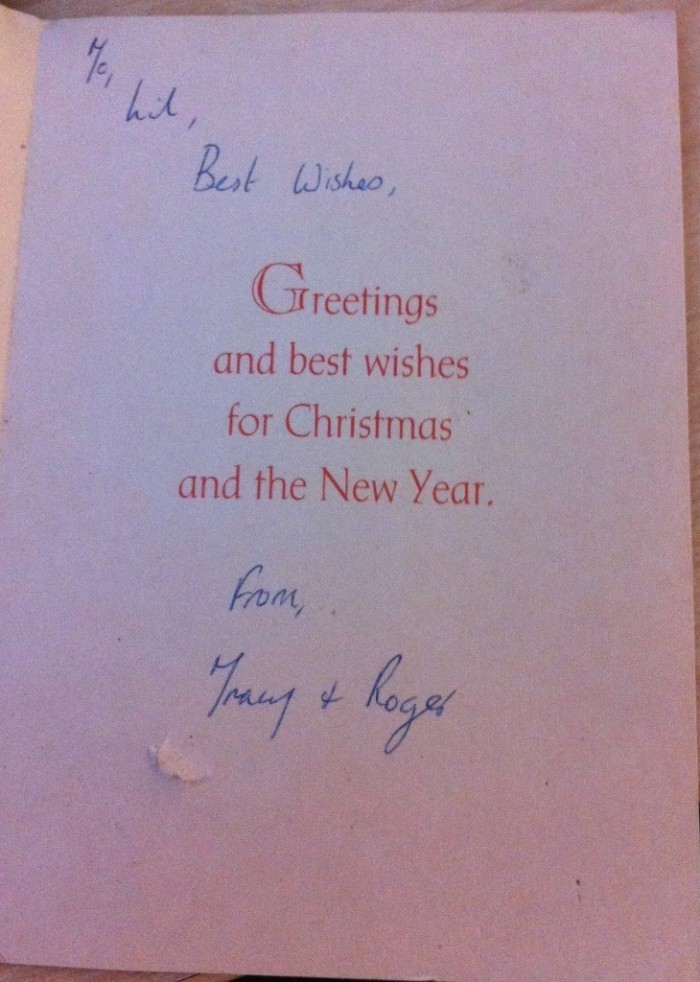 CHRISTMAS CARD: Do you know Lil, Tracy or Roger?
A Sutton police spokesman said that if they can find the property owners, who are likely to have paid for the rubbish to be disposed of properly as part of the cost of the work, then police may be able to identify the flytippers.
If you recognise the kitchen tiles or Christmas card, contact Sutton Police station on 101.
Alternatively, contact Crimestoppers anonymously on 0800 555 111.