South Western Railway (SWR) services that run to time are below the national average, according to figures obtained from the Office of Rail and Road (ORR).
Since the franchise replaced previous operator, South West Trains, in August 2017, an average of 82% of services have arrived at their destination on time as indicated by the Public Performance Measure (PPM).
That's compared to the nationwide average in the same time period which stands at 86%, although the figures do not account for delays beyond the control of the train company, such as Network Rail issues or fatalities.
Tony Dempsey, chairman of the Windsor Lines Passengers' Association (WLPA), insists this is not a debate about the merits of nationalisation over privatisation.
He said: "I think there is a problem in terms of management. The separation of Network Rail and South Western Railway has also caused problems.
"A huge number of trains are three, four, five minutes late, and when they are seriously late South Western Railway's ability to explain to the passengers what the problem is and offer advice is poor."
The group, which has represented passengers on services from London Waterloo to Windsor, Hounslow, Reading, Chertsey and Frimley since the 1980s, is much more than an outlet for complaints.
Despite conceding that SWR has failed to reach the same standards that South West Trains had in its peak, Dempsey believes continued progress is possible for both parties.
Just recently the WLPA had a constructive meeting with SWR to discuss possible ways they can collectively work together to improve the service.
Top of their agenda is stronger management to improve the morale of staff and pushing for closer cooperation between SWR and Network Rail to generate better accountability and an improved working relationship.
The news is actually worse for south west London users of Govia Thameslink, the nation's biggest train operator, which runs services from Brighton and Horsham in the south to destinations as varied as Bedford, Cambridge and Peterborough.
Govia's punctuality statistics sit at an average of 81% between quarter two in 2017 and quarter three for 2018-19, while SWR's performance high was in quarter one of 2018 when 87.6% of services ran on time.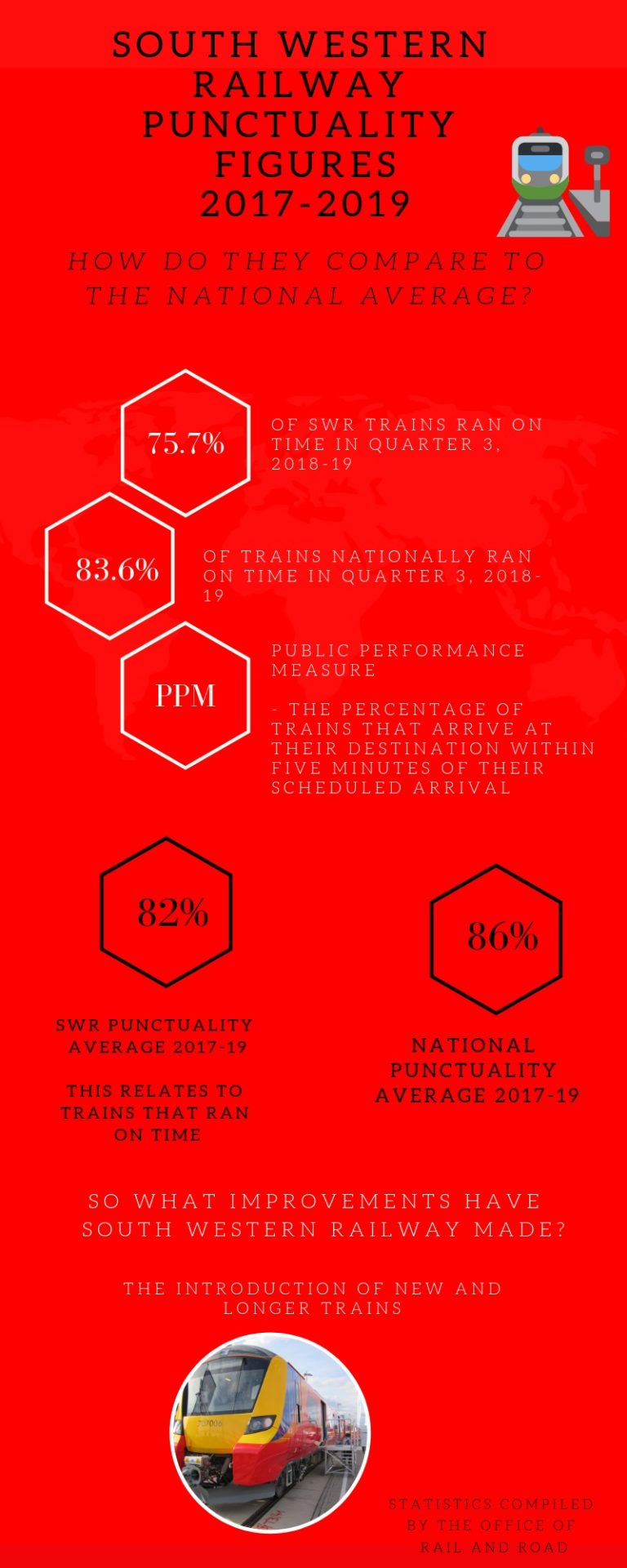 It is not all doom and gloom for regular users of South Western services to and from the capital, as recent investment would suggest.
Indeed, SWR has announced plans to strengthen peak time seating capacity out of Waterloo by 30% by December 2020.
Longer trains, with most services operating with 10-carriages during busy periods, and new trains with the introduction of the next generation of rolling stock have been noticeable improvements.
A bigger fleet has seen the company redeploy units to strengthen mainline services and they have committed themselves to a £110m refurbishment programme.
A South Western Railway spokesperson said: "We recognise that our performance has not been at the level we want, or our customers deserve. That's why we're working closer than ever with Network Rail to address the root causes of the delays.
"Typically, South Western Railway is responsible for around 25% of delays to services, while Network Rail is responsible for 70% and other train and freight operating companies the remaining 5%.
"With the forthcoming introduction of the May 2019 timetable, there will be more than 300 extra services a week across our network.
"By the end of the year, we plan to introduce our refurbished fleet of trains into service as well as brand new, state of the art Class 701 Aventras.
"We're investing £1.2bn over the course of the franchise to increase capacity, improve our services and enhance the customer experience with new trains and better station facilities."