Crowds of Leave voters gathered in Parliament Square today to protest for a swift exit from the EU because they feel their vote to leave is being ignored by MPs.
Thousands from across the country wore England flags, waved puntastic signs and chanted "What do we want? Brexit! When do we want it? Now!", as parliament voted down Theresa May's deal for a third time.
The March to Leave led by Nigel Farage, which began in Sunderland two weeks ago, arrived in Westminster laden with UKIP signs reading "Just LEAVE".
Barbara Rowing, 73, said: "We've come from Bishops Park, Putney Bridge and we've walked for about three and a half hours to get here – we're shattered now."
Alongside the marchers, plenty of people gathered together just for the day to support the Leave vote too.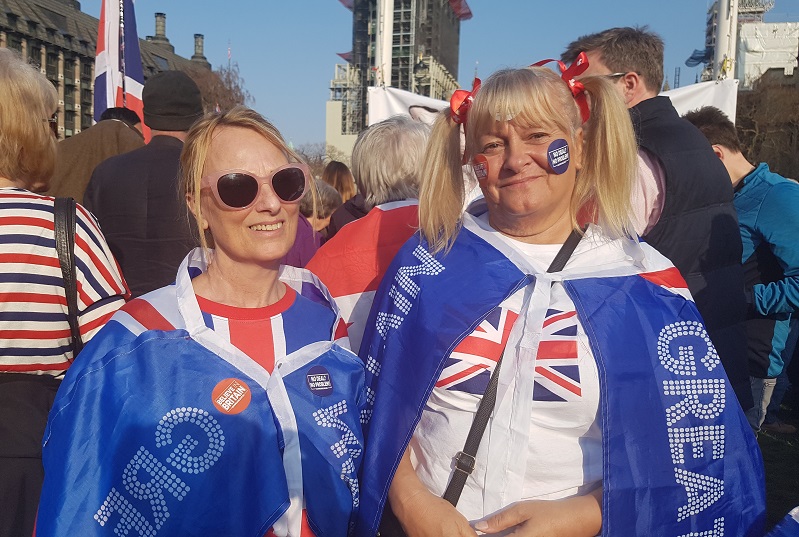 LEAVE MEANS LEAVE: Marlene Jackson, 56, came from Grantham for the event.
Amanada Eliasch, 58, from Chelsea said: "This is a travesty of democracy, it doesn't matter what side you're on.
"Brexiteers today have lost democracy and it's all over.
"They won through hard work and courageousness when nobody said they would win."
UKIP political advisor Tommy Robinson, real name Stephen Yaxley-Lennon, was among those speaking who received raucous cheers from crowds on the same stage which saw graphics of MPs booed and sworn at.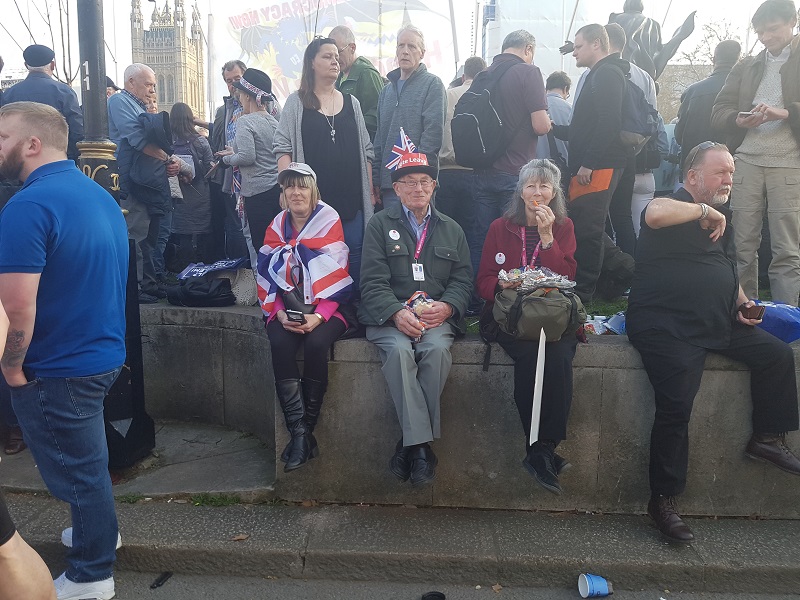 MAKING A DAY OF IT: Leave voters gathered at Parliament Square on the day Brexit was scheduled to happen.
But it wasn't just the older generation who turned out on such a long-awaited date in the Brexit diary.
Rob Fleming, a 19-year-old student from Essex, had something to say too.
"We're Pro-Brexit, for the 52% that voted to leave in the 2016 referendum," he said.
"We feel they've been betrayed by Theresa May and parliament, because parliament cannot agree on a Brexit deal to leave."
And despite it being an event for leaving the EU, Remain campaigners showed their faces too, seeing it as their duty to hear the other side of the argument.
Spokesperson for Our Future, Our Choice, Femi Oluwole, 29, is staunchly against Mrs May's deal like many other protesters there today.
"It's a deal that both Brexiteers and Remainers fundamentally hate which means we'd have a lifetime of blaming each other for Brexit going wrong," he said.
"Nobody trusts the political class, everyone knows that we have a country which is deeply unfair that is highly London-centric and has forgotten massive amounts of the country."