A crowd of protestors gathered at Ghana's High Commission in Knightsbridge last Saturday to rally against the country's proposed anti-LGBT bill.
The drafted bill submitted to Ghana's parliament for debate earlier this year seeks to introduce some of the harshest anti-LGBT laws on the continent.
It could lead to the criminalisation of LGBT people, and they, along with any activists or allies, may be imprisoned for up to 10 years.
Around 40 people attended Saturday's protest – the second of its kind organised by Ghana LGBT UK – including the well-known director of UK Black Pride Lady Phyll.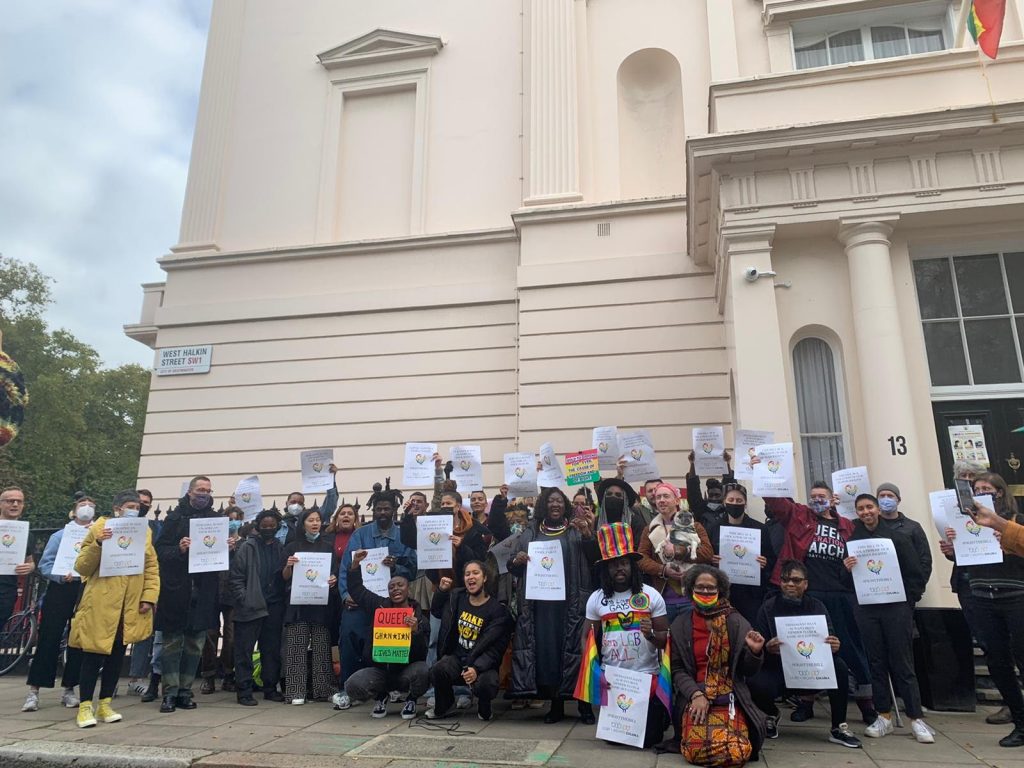 Lady Phyll said: "I'm here not just because I am a queer Ghanaian and a proud African lesbian woman, but because this is a bill which is set to harm our lives, to destroy who we are as queer Africans and that is unacceptable on every level."
During her speech Lady Phyll asked for a moment of silence for LGBT Ghanaians fearing for their safety, before leading a chant of "queer Ghanaian lives matter".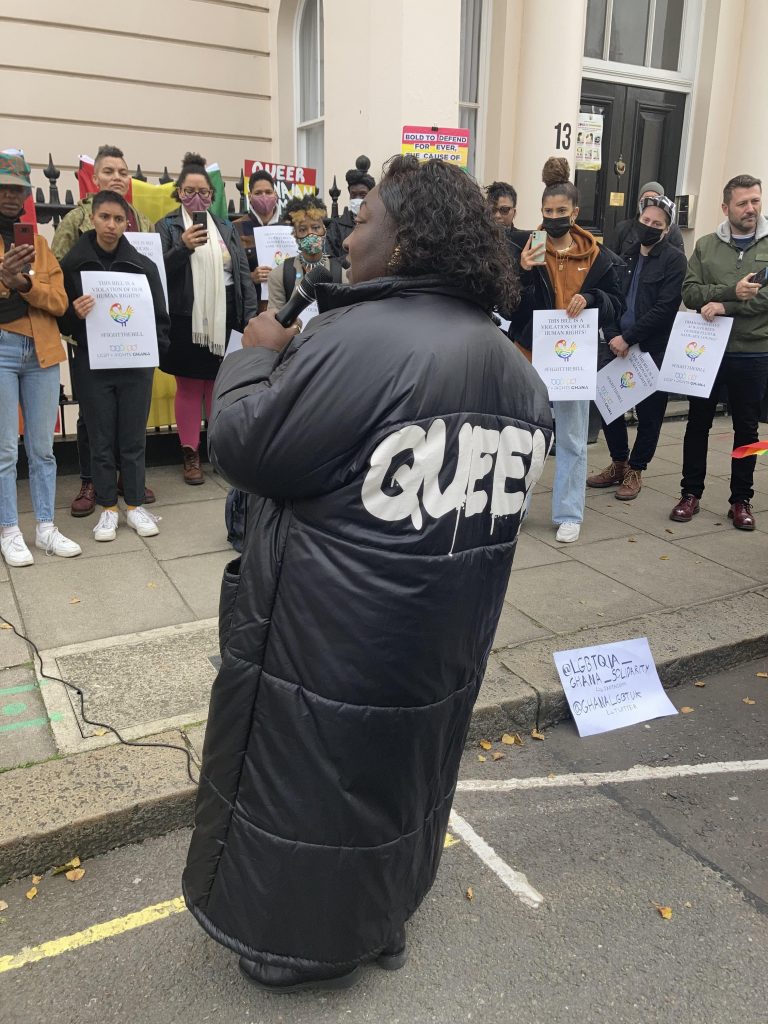 This was followed by chants of "kill the hate bill" and "solidarity with queer Ghanaians".
Protestors peacefully intercepted High Commission employees when they entered or exited the premises, inviting them to join the protest or to bring the protest leaflets into the building.
They also held a live call with TV3 Ghana's newsroom, encouraging viewers to fight against the bill in the name of pan-African liberation.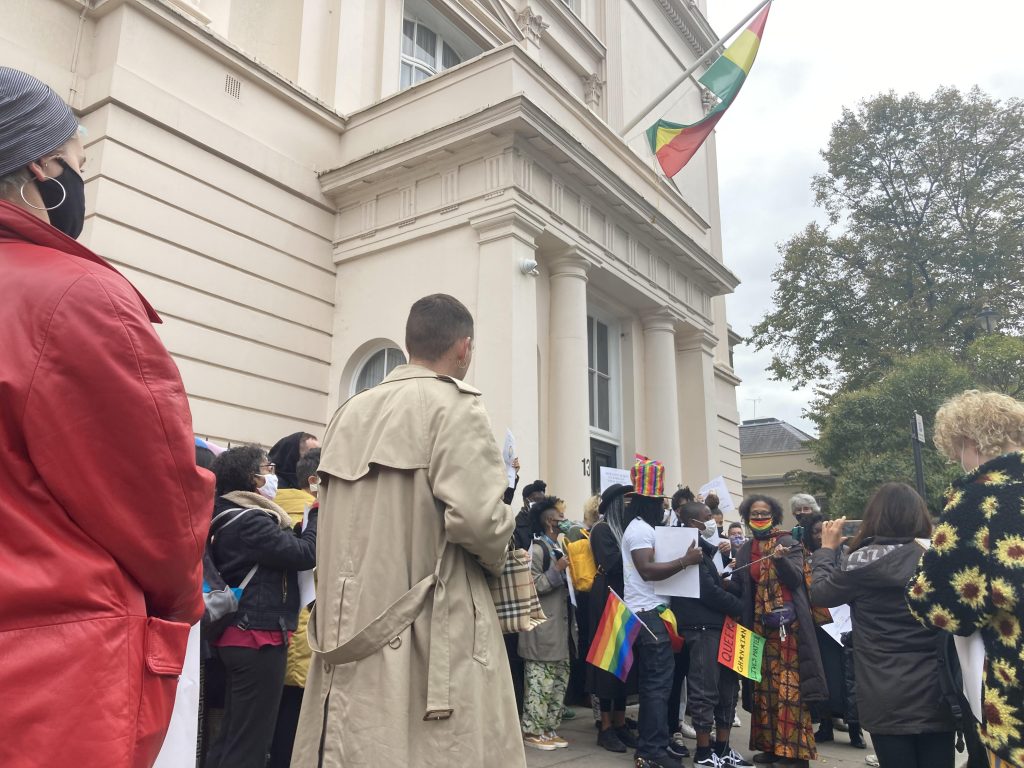 Poet and musician Abena Essah said: "We cannot have pan-African liberation unless we do it together. Queer African lives matter.
"What does it mean to be fighting oppression if the oppressor's rule still leads?"
Allegations by activists in Ghana about the influence of the conservative Christian coalition, the US-based World Congress of Families (WCF), on this bill were echoed by protest organiser Janice Acquah. 
Acquah added: "I cannot sit in silence while this is happening."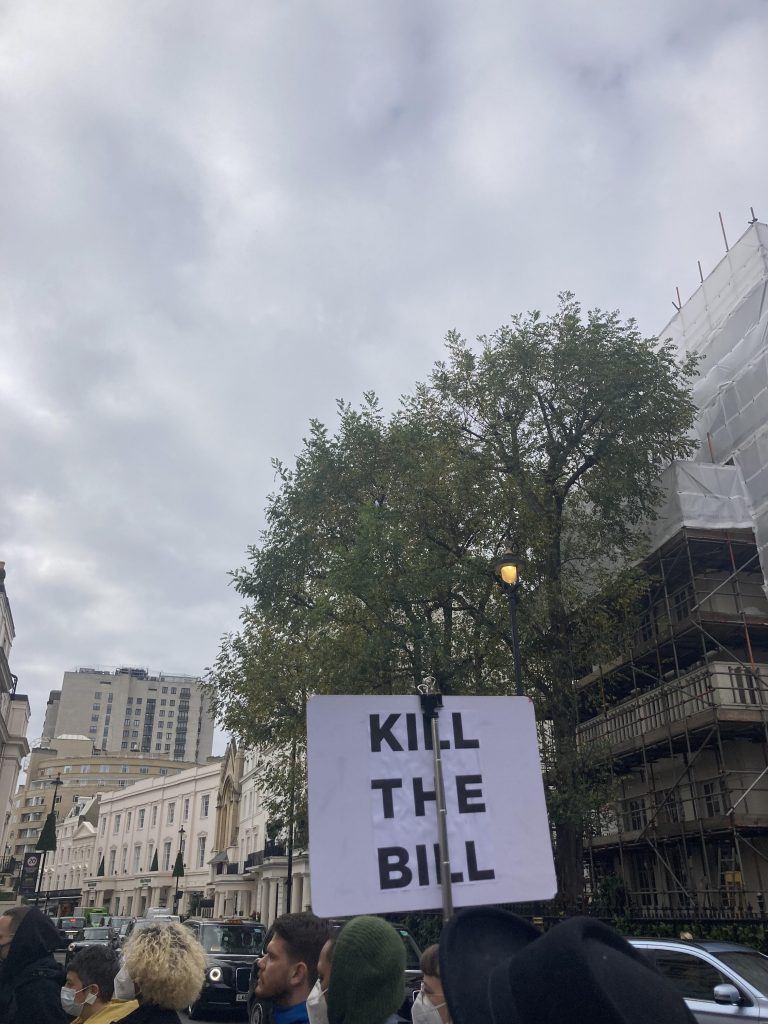 Ghanaian human rights activist Roslyn Mould – who attended the protest while visiting London for a Humanists International event – also reiterated this allegation about WCF, claiming the anti-LGBT movement in Ghana gained traction when WCF organised a conference there in 2019.
Mould added: "This bill would give every Ghanaian the duty to report on others, including on social media – it goes against the right to privacy.
"Ghana is a peaceful society, but this bill will make people turn against each other."
The Archbishop of Canterbury Justin Welby, alongside other UK church leaders, spoke out this week against the proposed bill on social media and said he would be speaking with the Archbishop of Ghana in the coming days.
The bill was set to be debated by the end of the month, but this date may be pushed back to November as a parliamentary committee is accepting memoranda about the bill from the public, according to Mould.
Addressing the protestors in Knightsbridge, Mould said: "Send memoranda to the parliamentary committee and keep speaking out because every time you protest it counts."
The Ghana High Commission did not respond to a request for a comment.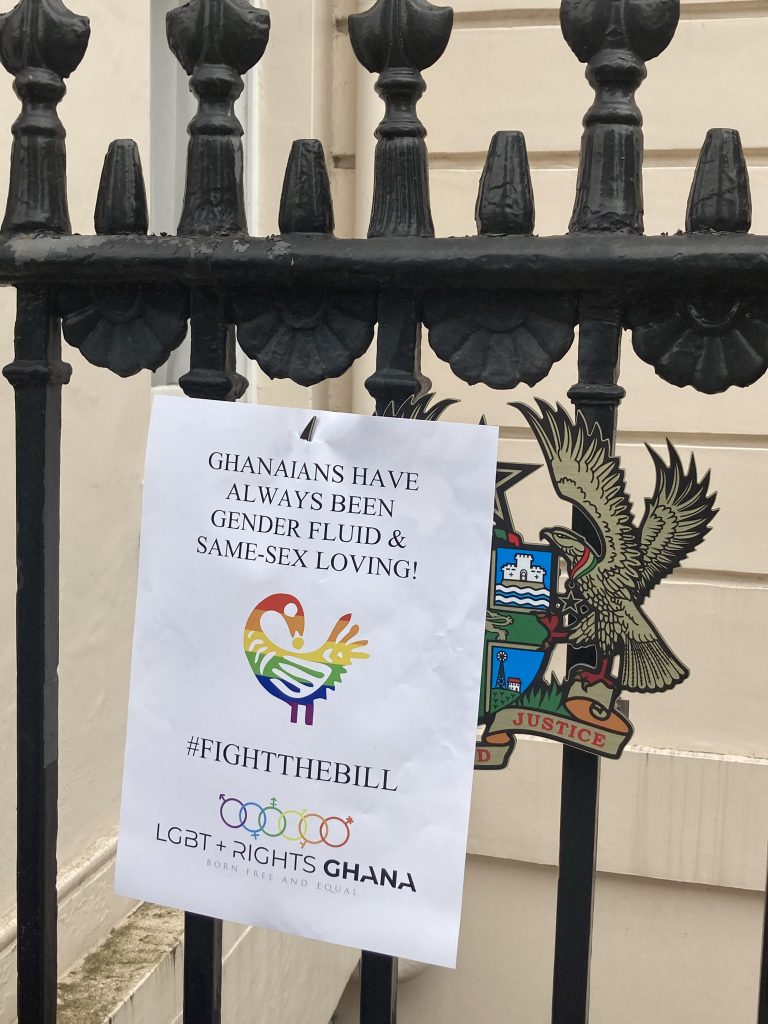 Images by Blanca Schofield