By Hannah Millington
January 28 2020, 18.30
Follow @SW_Londoner
Vegan animal rights activists have defended the point behind their more than two-year-long protest outside Canada Goose's Regent Street flagship store.
Badge of Hate is a London based vegan animal rights activist community who want to 'put an end to speciesism by fighting the fur, down and wool trade at Canada Douche'.
The group has not been deterred since the luxury winter clothing brand's store opened in November 2017, demonstrated by their three-day-a-week appearance outside its front doors.  
Lead protester Helen Maclean said: "To the people who say nothing will change, nothing will change if you don't do anything."
Leaflets handed out show images of coyotes 'skinned while alive' and wild animals in traps and cages, while displayed video footage shows mistreated geese.
As shoppers walked passed placards into Canada Goose, protesters shouted phrases such as 'shame on you' and 'look at her' in disgust.
Helen added: "We get so many people saying well done. We actually get people joining us."
On the contrary, she admitted to being attacked four times, including punched to the floor twice.
Another lead protester John Sasportas said: "Even if we don't [get what we want], we're still going to carry on because we're making a stand for the animals."
Protester Melanie Monty-Swift explained that with every social movement to bring about justice you have to act. 
She said: "We don't want to be here, we'd rather be at home with our families. But if you don't stick your neck out and get yourself out there nothing changes.
"We want to peacefully protest but we are vociferous and no-one is going to shut us down…and we receive a lot of abuse as you just heard."
Two teenage boys wearing Canada Goose jackets walked past shouting 'fuck the animals'. 
The garments can cost more than £1,000 and are often seen as a statement of wealth.
Do you think wearing real fur is wrong? (dm any reasons)#fur #fashion #clothing #research

— Hannah Millington (@hannahmils_) January 24, 2020
Badge of Hate members also use their claims against Canada Goose to raise awareness of current issues.
Melanie said: "It does shock me with the state of our planet and the animal extinctions happening every day.
"People need to understand the impact of their purchases and the impact on this planet because we are solely responsible for the desolation and extinction of so many species.
"And the time is coming, change isn't linear, the tipping point is really here, and if you're not on board, you'll be left behind."
She said Badge of Hate would demonstrate until Canada Goose closed down and explained progress had been made in regard to eradicating the fur industry.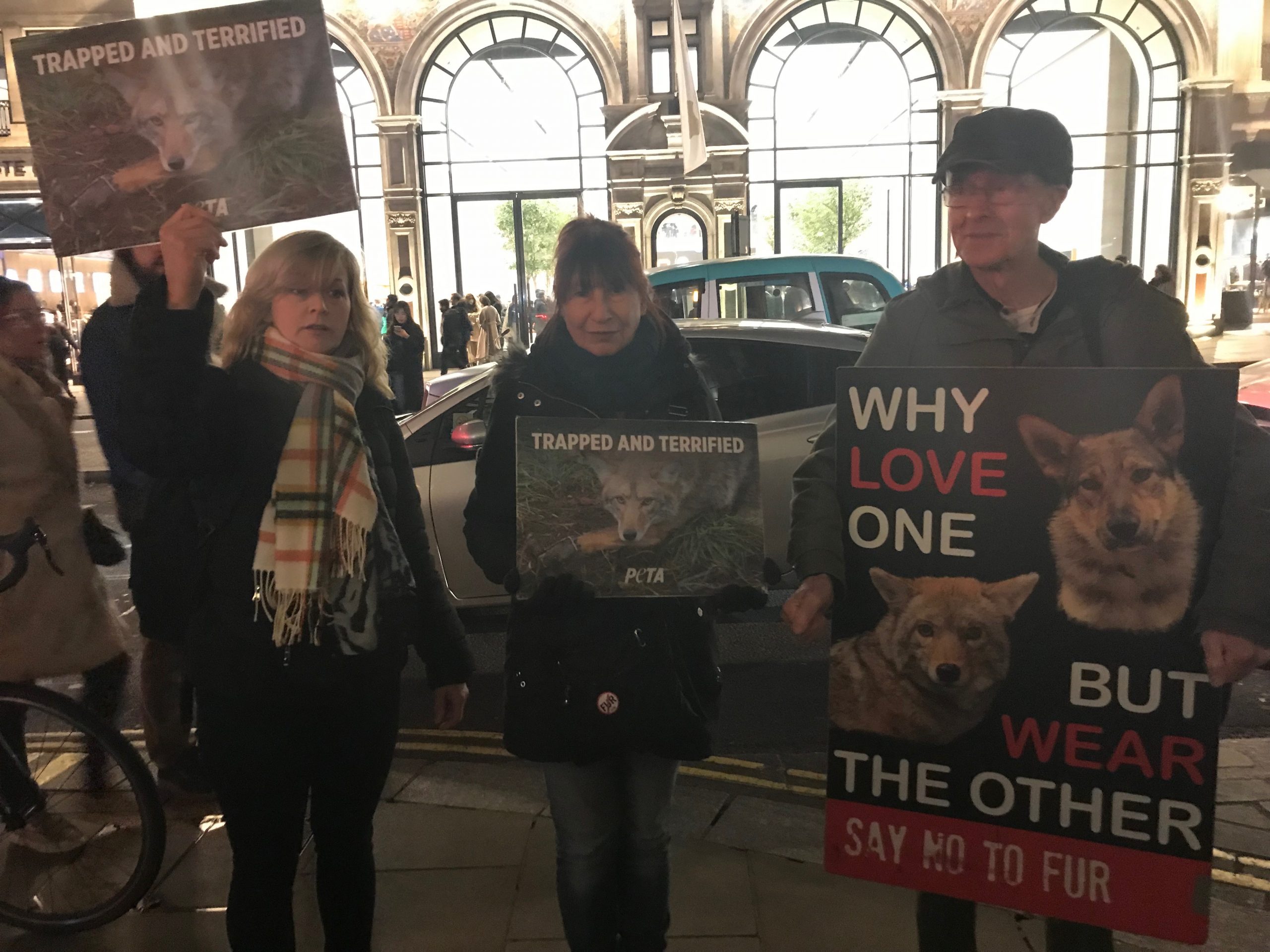 Protester Jan Roberts spoke of how her sacrificed time had made a difference.  
She said: "We've given out loads of leaflets to people who have said 'oh my god I didn't know, I will never buy anything there.'
"I don't know if we've affected the sales they've got, which mostly seems to be tourists, but certainly their stocks dropped quite globally because people don't want to be associated with them. How much of that is down to us I don't know." 
Jan added: "It seems as if the reaction is worse than it is because those that like Canada Goose and hate us are very out there."
She confirmed they had all been assaulted, including being slapped, pushed over, punched and spat at.
As told by Jan and Melanie, they get the odd 'grown-up man' coming out of the store, bags in hand, doing a 'victory dance' – whom they have coined the term 'body bags' for.
Jan reiterated they would leave when Canada Goose became fur and down free, but wasn't sure that would happen in her lifetime.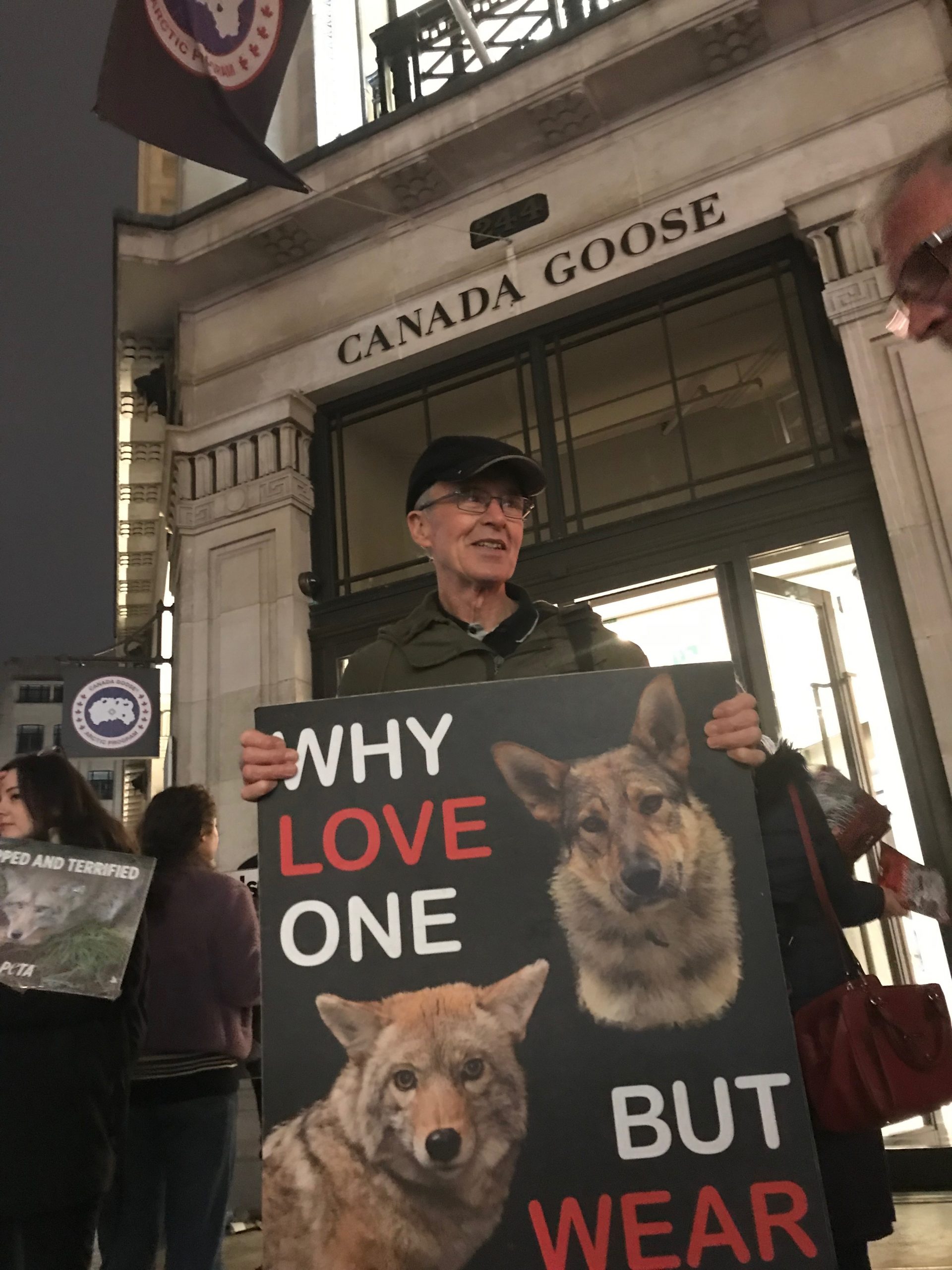 Adrian, who previously protested outside Harrods and Harvey Nichols, said: "People ask us shouldn't you be at home with your feet up?
"And my attitude is yeah you could be and you could let the other guy do it. But there's no other guy, you're the other guy." 
He added: "Sometimes we've talked people into taking their coats back."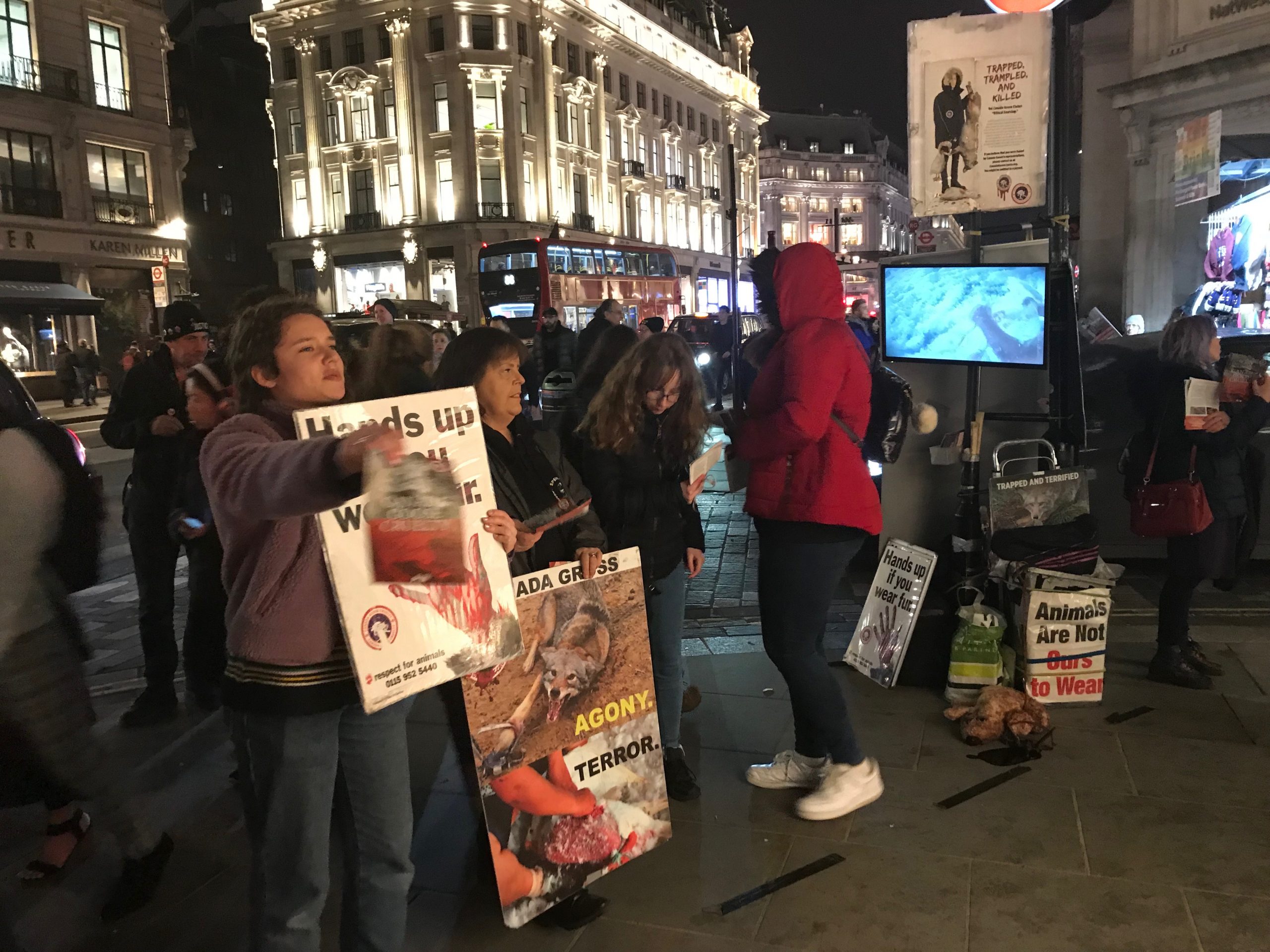 An injunction was enforced in 2017 to keep protests under control, made evident with a not-to-be-crossed line 2.5 metres from the store's doors.  
Further rules such as megaphone usage being limited to 15 minutes on and 15 minutes off apply.
Lead protester Helen said this was crushed last November, but Canada Goose appealed immediately so until the appeal in February, the injunction still stands.
Canada Goose did not respond to a request for comment but offer a 'word about fur and down' on their website:
"We believe all animals are entitled to humane treatment in life and death, and we are deeply committed to the ethical sourcing and responsible use of all animal materials in our products.
"We do not condone any willful mistreatment, neglect, or acts that maliciously cause animals undue suffering.
"Our standards for the sourcing and use of fur, down and wool reflect our commitment that materials are sourced from animals that are not subject to willful mistreatment or undue harm."