A Brixton cycling charity had schoolchildren in a spin as they helped launch a national framework to tackle physical inactivity last week.
Wheels for Wellbeing, which provides inclusive bicycles for people with disabilities, hosted the cycling session at the Kia Oval to coincide with the launch of Everybody Active Every Day.
The new Public Health England campaign is tackling the physical inactivity epidemic which causes one in six deaths and costs the country an estimated £7.4billion every year.
Isabelle Clement, director of Wheels for Wellbeing, said: "Public Health England's framework is all the more relevant for disabled people who are some of the people least likely to exercise.
"At Wheels for Wellbeing, whatever age you are and regardless of impairment, everyone can cycle."
"The freedom cycling gives me is exhilarating, it's like flying and sailing at the same time."
Kids from Lambeth schools Lark Hall Primary School and Ashmole Primary School took part in the event, which was also attended by Jane Ellison MP, Minister for Public Health.
Ms Ellison said: "Physical activity is vital for the emotional, physical and social development of young people, and also for them to get into healthy habits for life.
"And as we get older, physical activity is vital for maintaining good health, quality of life and independence."
The minister also said that £8.2billion would be invested in tackling priority health issues in local authorities over the next three years.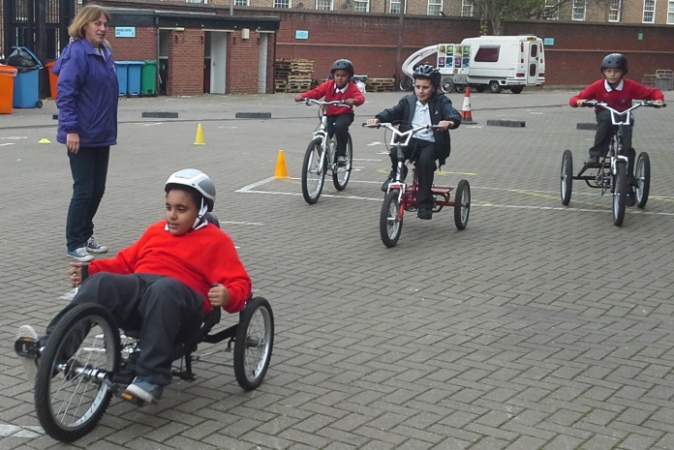 Everybody Active Every Day has been produced in cooperation with over 1,000 national and local exercise leaders.
Professor Kevin Fenton, executive director of Health and Wellbeing at PHE, said that physical inactivity was the fourth biggest cause of ill health in the UK.
He said: "Physical inactivity is unrecognised as a significant health, social and economic burden on individuals and communities in England."
Sport England chief executive Jennie Price, who also attended the event, said they would be making £5million of National Lottery funding available to projects focusing on the least active.
Founded in 2007, Wheels for Wellbeing gets people of all ages and abilities involved in cycling and holds outreach events across Lambeth, Southwark, Lewisham and Croydon.
One service user, Shani, who is registered blind, said: "Wheels for Wellbeing is everything to me.
"The freedom cycling gives me is exhilarating, it's like flying and sailing at the same time."