A Merton resident has launched a project to ensure no schoolgirl in the borough misses out on her education because of her period.
The Red Box Project is a community-driven initiative which places stocked boxes of sanitary wear in schools.
Lois Walters responded to a call-out on social media and in June this year set up the Merton branch of the project, aiming to provide support to every school in the borough.
Lois, who has lived in Merton since 1995, said: "Getting involved in the project is one of the nicest things I've ever done.
"There's a big body of people that want to get involved and donate. Seeing the kindness in people is really great."
She now oversees both the donation points and the receiving schools and said the aims of the project are to make sure no girl misses school because of a period, to grow the project and to take the load off schools.
She said: "One headteacher told us that she had been buying sanitary items for her students out of her own pocket.
"Another school I went to has an after school club that provides some free sanitary wear.
"What they're doing is amazing, but we just want to lighten the load for them a bit."
The boxes are in 10 primary and four secondary schools in the borough so far.
UK stats, collected in an August 2017 study by Plan International UK, show that one in 10 females between the ages of 14 and 21 have been unable to afford sanitary protection, whilst one in seven have struggled to afford it.
49% of girls have missed an entire day at school because of their period, 32% missing more than one day.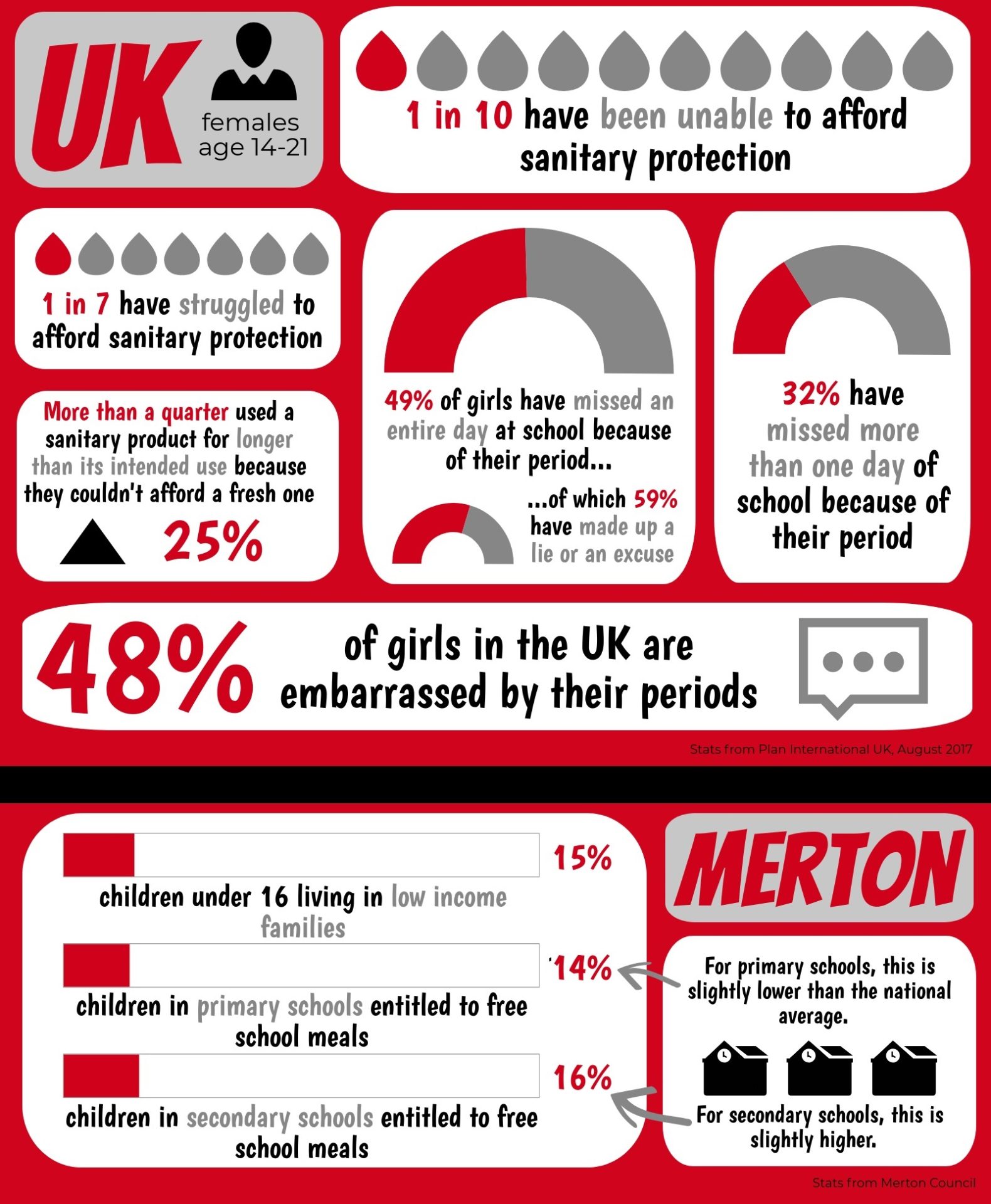 Mitcham and Morden MP Siobhain McDonagh said: "Hopefully I can organise a tour of parliament for all the volunteers to say thank you to them but also to inform MPs of all parties what the project's doing and how we can solve this problem.
"It's not beyond our ability to solve it."
Councillor Natasha Irons has also declared her support, putting Lois in touch with the cabinet member for education and contacting as many schools in Merton as possible.
She said: "As a project it's so important because I just think it's fair.
"If a girl can't afford to get to school because of her period it's not good enough in this day and age."
Rachel Stern, chair of governors at Singlegate Primary School and William Morris Primary School in Merton, said: "When I started my period when I was about 12, I was taught quite quickly that it was something you had to hide.
"I've now got a teenage daughter who will happily talk about periods and I love the fact that young women are able to be much more open about something that happens to all of us at some point if we're women."
Megan Hendrie, a 15-year-old student in Merton, said: "I think it's absolutely important and I am no doubt okay with talking about my period.
"If someone asks you a question about it, you should be free to talk about it because everybody who is a woman or a lady or a girl goes through it so there's no point keeping it quiet."
Raphel Spencer, 26, learned about the necessity for sanitary wear first hand when his daughter Kara was born last year and his partner Sophie Godding needed sanitary protection. The first batch were free but then Raphel had to source them himself.
He said: "Having both of my girls and not being able to help and support them or even having the help to find whatever we needed really hurt me.
"I just hope one day when Kara is older that she doesn't have to go through this."
Raphel and Sophie work at Coffee in the Wood in Merton, one of the Red Box Project donation points.
She said: "My customers are a lot more involved with the box than I thought they would be which is really nice to see."
"Looking after our girls and making sure that they can still get an education is amazing," she added.
And as for the future, Councillor Irons said: "If we can get into as many schools in Merton as possible then that means there's going to be a generation of young women who go out into the world not embarrassed about periods and not embarrassed to talk about the fact they are living in poverty.
"Then let's look at the youth groups so that out of term time we have coverage for those girls too and then let's see where we go from there.
"The sky's the limit I think."
To find out where you can donate and get more information on how to get involved, follow Facebook, Twitter and Instagram.