Jeremy Corbyn has the opportunity to shrug off the party's neoliberal image and become a 'genuine alternative' for voters at the ballot box, claims a Kingston University professor.
Professor Steve Keen, Head of the School of Economics, Politics and History, is backing the Islington North MP and frontrunner for the role as he believes his economic policies – dubbed Corbynomics – are credible.
He said: "All the other candidates in this election are simply spouting the standard 'Neoliberal' group-think about economic policy, without being aware that the apparent success of Neoliberalism was a side effect of a huge expansion in private credit.
"Those days are over we are effectively at or near 'peak private debt' – so the growth Neoliberals promise they can deliver simply won't happen.
"Those policies today will bring at best stagnant growth, and if the government attempts to achieve a balanced budget or a surplus, those policies will lead to recession."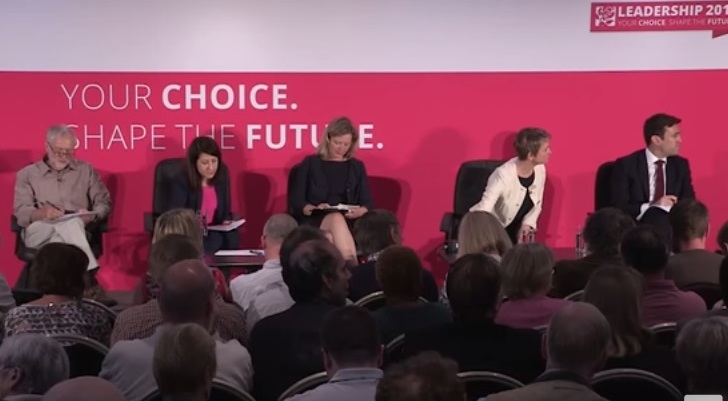 LEADERSHIP RACE: The four candidates at a hustings (© Labour Party)
Professor Keen, along with 26 other professors, sent a letter to the Guardian publicly endorsing Corbyn.
It read: "There is a possibility that academics who have always felt that their research – whether on social policy, public health, economics, sociology or other disciplines – was ignored by policymakers may now be more in tune with the leadership of the Labour party.
"Corbyn at least is highly sceptical of the Neoliberal policy mix – that raises the possibility of a genuine alternative to Tory policies", Professor Keen said. "He is also likely to invest in infrastructure and public services which will be positive both for growth and the standard of living in the UK.
Professor Keen is aware that Corbyn is very much a 'Marmite' figure in Labour party circles.
"He certainly brings a complete shift in perspective for the Labour Party, which has been Tory-Lite ever since Tony Blair," he explained. "I think he will face almost as much opposition from behind him as he will see in front of him in Westminster, so it should lead to interesting times in the Labour Party and certainly upset the cosy-but-deluded consensus that they've fallen into.
"Corbyn has the chance to forge a different path for Labour, and I think he should be given the chance."
"I think he should be given the chance."
However the frontrunner of the Labour leadership contest doesn't enjoy support from everyone in the party.
High profile New Labour figures including Tony Blair, Gordon Brown, David Miliband and John Prescott have publicly-denounced his candidature claiming it will pave the way for the Conservatives to maintain power for years to come.
Merton Councillor and Labour parliamentary candidate for Wimbledon Andrew Judge said that although his standing for the leadership may excite some card-carrying members, they are a vocal minority.
He explained: "Jeremy Corbyn has been in politics for a very long time, and in terms of his wider politics I don't think he's made any constructive contribution.
"From my extensive experience speaking to people on the doorstep across Merton and Wimbledon when fighting several local elections I've talked to thousands of people and found that the politics of Jeremy Corbyn only appeal to a small minority of people.
"Labour lost the last election not because of our policies, we had very coherent policy standpoint under Ed Miliband, the argument was that we would go into a coalition with the SNP who would get getting undue influence."
Councillor Judge believes that the party would be best served under shadow home secretary Yvette Cooper.
He said: "I think Yvette is an outstanding person who is very capable. If Jeremy Corbyn is elected we are gifting the Conservatives with many more years of power.
"If Jeremy Corbyn is elected we are gifting the Conservatives with many more years of power."
"She is progressive, looks to the future, is very strong with women's issues and if you have a woman leader you have a different perspective on politics and understand that we have both work and family responsibilities.
"I think it would be great to have a woman leader of the Labour Party – never had one before and it's about time.
"Of the four candidates she is far more credible than Jeremy Corbyn and I think she's the one I can envisage as being a prime minister."
Image courtesy of BBC via YouTube, with thanks