This week has seen the hottest day of 2018, with temperatures set to rise higher still.
The Met Office has warned of temperatures above 34C tomorrow and Friday.
These sweltering temperatures beg the question: should people be allowed time off work or school when temperatures reach these heights?
We took to the streets of Wimbledon to ask the public their views and found half of those surveyed supported the idea and half were against it.
Yes                      No
50%                     50%
This fifty/fifty split may be down to age. We found the difference in opinion between "yes" and "no" contrasted most among younger and older participants. Ironically, it was retirees – those no longer having to brave hot offices and sticky commutes – who were most adamant a day off was unnecessary.
One such retired gentlemen told us his working experiences in the military working in hot desert conditions – with "no beer!" – was far worse than those experienced by workers in South West London this week.
However, all students we spoke to thought otherwise. One student enjoying her summer break told us the heat and stuffy classrooms made it too difficult to concentrate and affected her work.
Amelia Maycock, 17, a sixth former at Esher College, Thames Ditton, supported the idea that she and other young people would benefit from days off when the temperature rose above 30 degrees.
University student Haru, 25, agreed. Despite it being eight years since she wore a school uniform, she sympathised with younger students and suit-wearing office workers sweltering in traditional work clothes.
Two teachers, Sam Laurens and Tegan Sessions, were adamant students needed to be in school whatever the weather pointing out students in other countries still attended lessons no matter the temperature. However, they agreed summer uniform should be made available to those studying in these conditions.
Pensioner Paul Willson, 66, is a regular traveler to Singapore. He explained countries like Singapore with hotter climates were better equipped with 'air conditioning at every corner.'
Mr Willson was more sympathetic towards students and workers but believed with better planning and ventilation there was no reason for them to take any days off.
He suggested working hours could be tailored to avoid the hottest parts of the day. In some Indian schools lessons start at 7:30am with students sent home at 1:30pm before returning back to school between 4:30pm and 7:30pm.
Many people argued that in a world where air conditioning is so readily available, it was unnecessary to take time off work due to the heat. Workers in offices and shops that are kept cool admitted that, as much as they would like, they did not need to spend the day at home.
However, one Centre Court worker, Michael, complained insufficient air conditioning in his shop sometimes made his long shifts unbearable.
Most people believed time off work or school depended on the type of job. The majority of people asked felt outdoor jobs such as construction work and manual labour should have more flexible working hours.
Francis Fordjour, an employee in Centre Court, said the heat was not an issue for him but for people working outside in direct sunlight it was more difficult. This sentiment was echoed by two construction workers Danny and Adam who supported the idea of taking time off work because of the heat.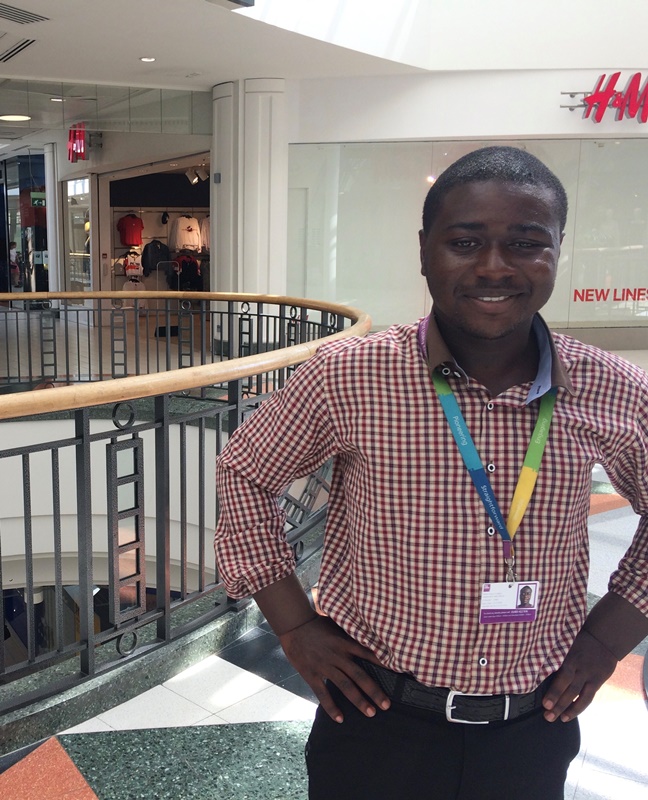 KEEPING COOL: Heat's not an issue for Francis
Several people surveyed remarked on the dangers of working in very high heat. For example, dehydration can lead to illnesses and injury, and melanoma – skin cancer caused by exposure to sunlight is the fifth most common cancer.
For now, however, it seems Brits will have to politely grin and bear their sweaty offices until the heat wave subsides.