Kingston cycling campaigners are hoping this year will prove to be a big twelve months in Kingston's search for sustainable and safe travel despite being frustrated with slow progress on the scheme so far.
Kingston was one of three local authorities to receive an allocation of over £30 million in 2014 from the Mayor of London and Transport for London under the Mini-Holland Programme to improve cycle infrastructure in the borough.
Since then a lot of work has gone into encouraging more people to cycle and to provide better facilities to enhance cyclists' safety, but the project is far from finished with many schemes incomplete.
Jon Fray, a Kingston Cycle Campaign member, admitted much of the completed work is bringing great benefits to the area but is taking too long to construct.
He said: "It has been good to see some progress. We have seen the Portsmouth Road scheme completed and some works in Surbiton.
"Works on Wheatfield Way and Kingston town centre is very much advanced, but we have been a bit frustrated with the overall pace of delivery. It's been four years since the award was made and still work is going on.
"On the Portsmouth Road we have been very pleased with the quality of the scheme. The latest statistics I've seen show there has been a doubling in the number of people using it.
"There isn't a complete network, so doubling the number of people using that route is a good result."
There is much hope by the end of 2019 a new cycle network should start to be visible connecting all corners of the borough as a number of different routes will join up.
Kingston Cycle Campaign is currently in the midst of liaising with Kingston Council and TfL to make sure this happens and all the developments are of a high standard.
As well as works around Wheatfield Way, a route between New Malden and Raynes Park is under construction along with works around Kingston station and Kingston University as the network begins to take form.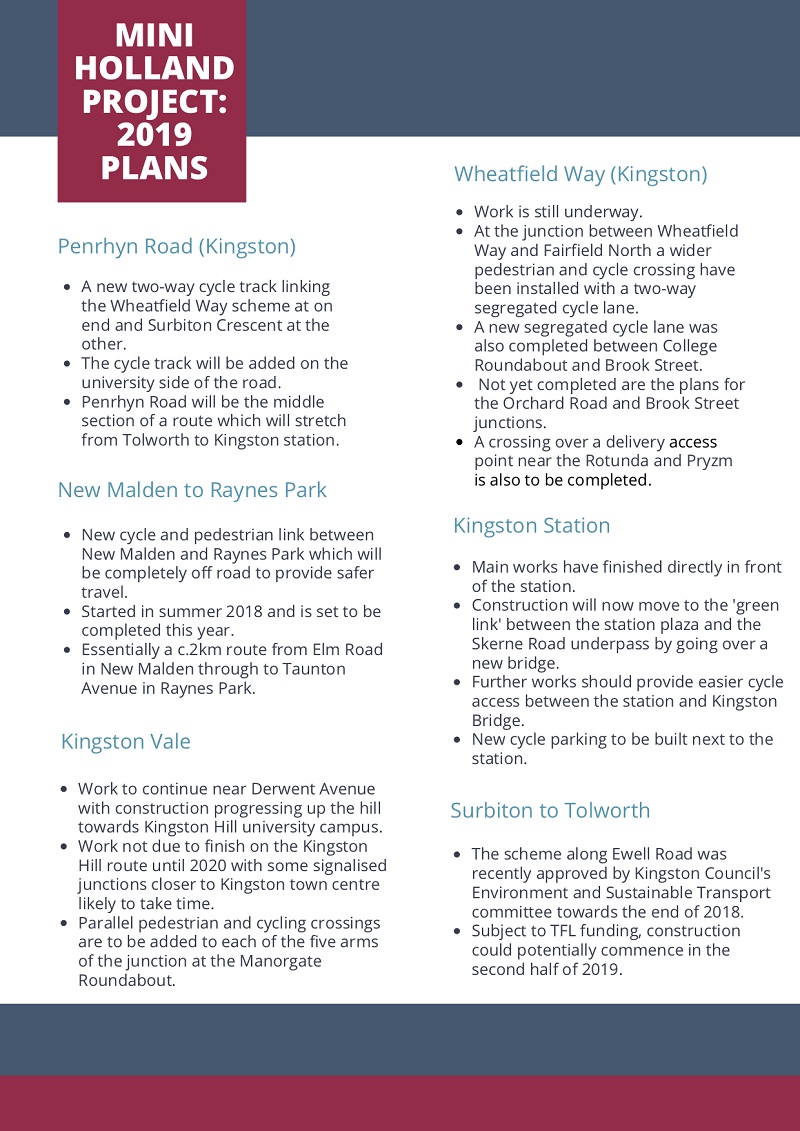 The new cycle network will be essential for Kingston considering figures provided by the council which show the population of the borough is set to grow by 30 per cent by 2050.
Hilary Gander, Kingston Council's portfolio holder for sustainability said: "Kingston is committed to being one of the most openly accessible places to cycle in London and we are pleased to see that Kingston residents and visitors are engaging with cycling and taking to their bikes in record numbers.
"Our investment in cycle routes, thanks in part to TfL funding, will ensure that Kingston continues to provide safe and convenient cycling routes for commuting and for pleasure."